HOTEL REVIEW : THE ST. REGIS BALI
This year has been anything but normal and a giant pause button on travel has been pressed for the world. After more than 6 months staying at home in Bali, we figured out that a "staycation" might be the new vacation and that it was time for us to have a good time. Luckily, not only is Bali an idyllic location but the island is also home to some of the most beautiful resorts in the world.
For as long as we can remember, we've been dreaming of staying at the St.Regis Bali so we were beyond excited to spend 2 nights there.
The St.Regis Bali remains one of the top luxury properties on the island and has received plenty of noteworthy awards since its opening in 2008.
From the extraordinary huge saltwater pool to the picture-postcard white sand beach, from the incredible breakfast experience to the exceptional fine dining cuisine, the astonishing villas to the lush tropical gardens… Everyone seeking exquisite luxury is guaranteed to have the ultimate staycation at this unforgettable Marriott property.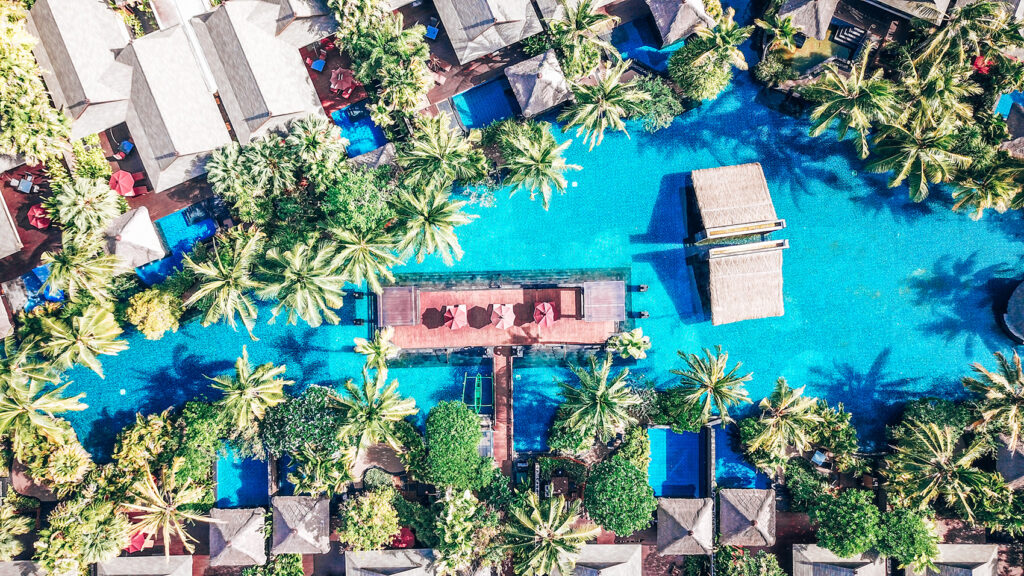 Location
The St.Regis Bali is situated along Nusa Dua's most beautiful white sand beach, only a quick 20 minutes ride from Ngurah Rai International airport. The resort is extremely big, spread across 9 hectares of luxuriant gardens in the middle of the "Gardens of Bali" and next door to the Bali National Golf Club.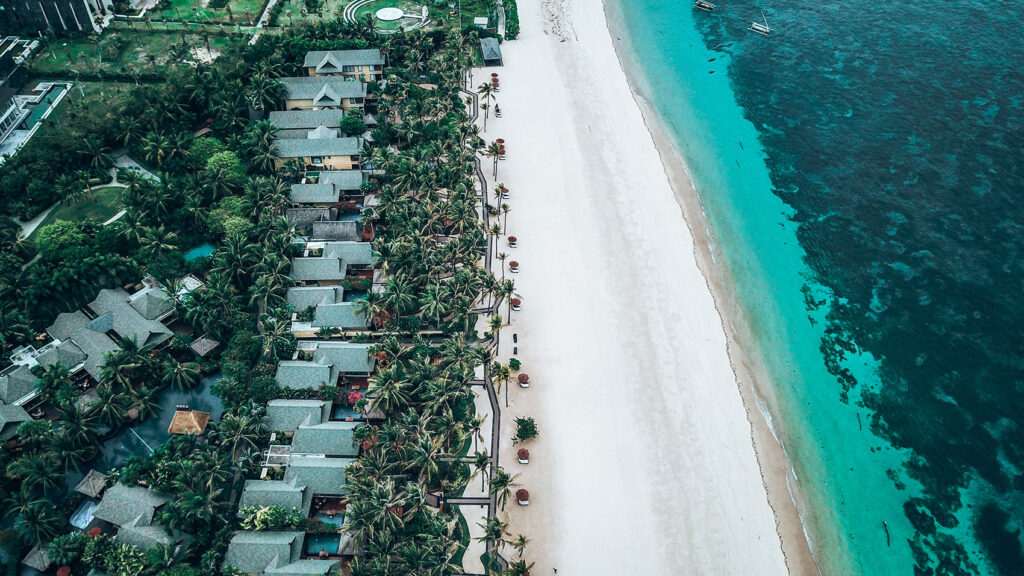 Private Pool Villa with Lagoon access
As we stepped into the impressive lobby, we were greeted by our personal butler that escorted us to our villa on a buggy for a private check-in while our luggage was carefully disinfected.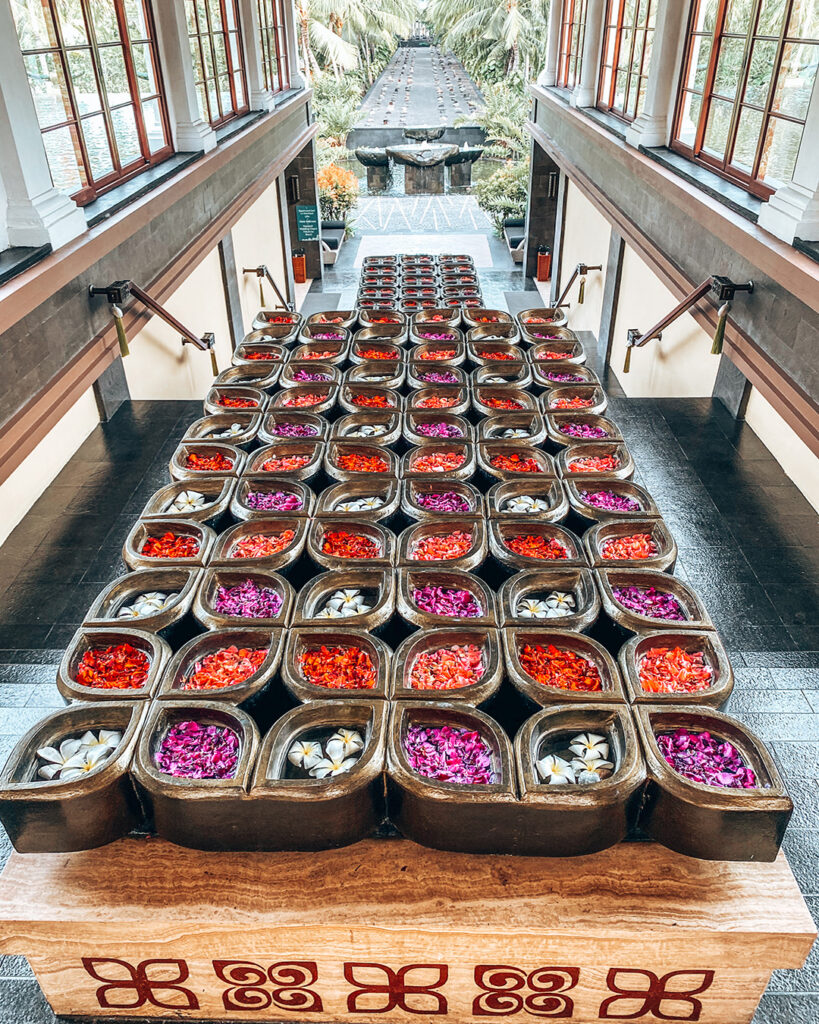 From the moment we entered our villa, we knew that our stay would be like no other.
The incredibly spacious 371 sqm villa comes with its own garden, a private plunge pool with sunbeds, an Indonesian-style gazebo, a table for romantic al-fresco dining and direct access to the Saltwater Lagoon. We were highly tempted to stay in one of their beachfront villas, but we really liked the idea of having direct access to the spectacular Saltwater Lagoon. Somehow, it made us feel like we were staying in an overwater bungalow. Don't ask us why, but we've been obsessed by this place since the first we visited the resort for their Sunday Brunch and every time we visited, we liked it more.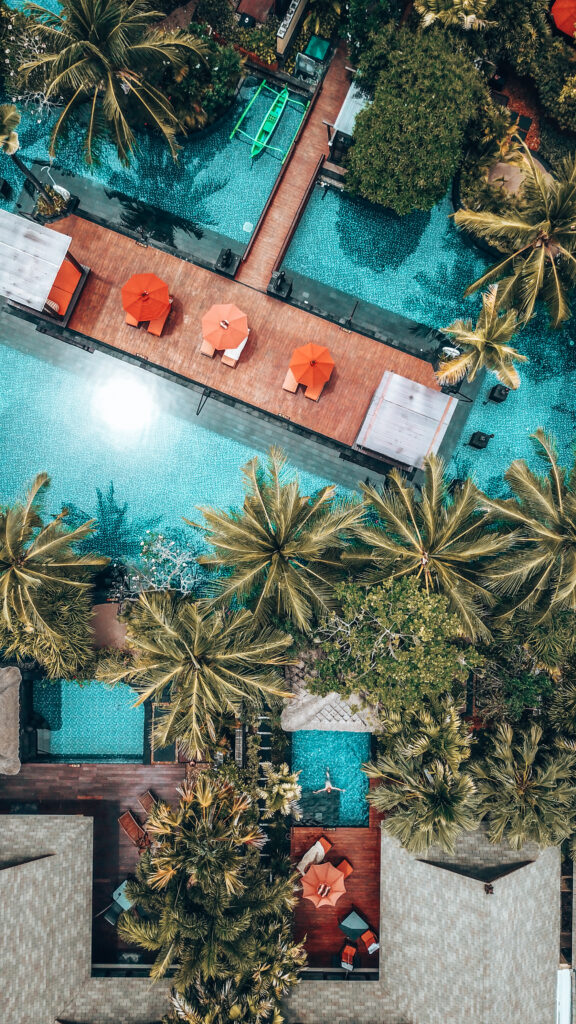 This villa is a blissful private sanctuary, with expansive indoor and outdoor living spaces appointed with luxurious materials and handcrafted Balinese art. Splashes of vibrant colours contrast with the dark wood while sumptuous crystal chandeliers in the bedroom add an enchanting, warm touch to the décor. The full marble bathroom is modern and has ample space, featuring a stand-alone insanely huge bathtub, separate jet shower, double vanities. All of this is completed by the amazing amenities from The Remède Spa.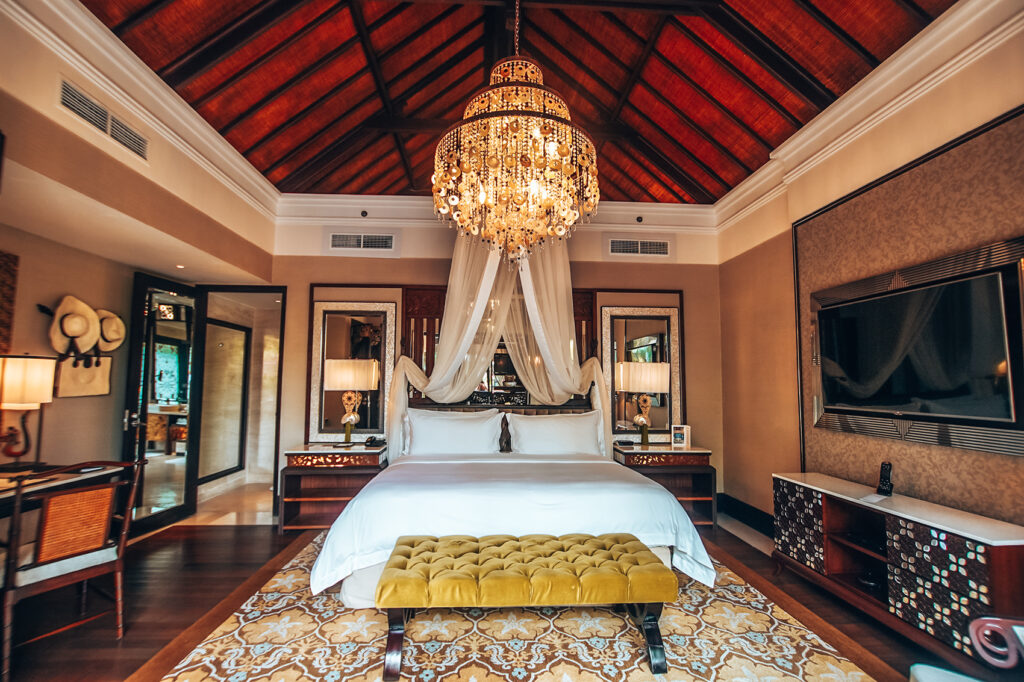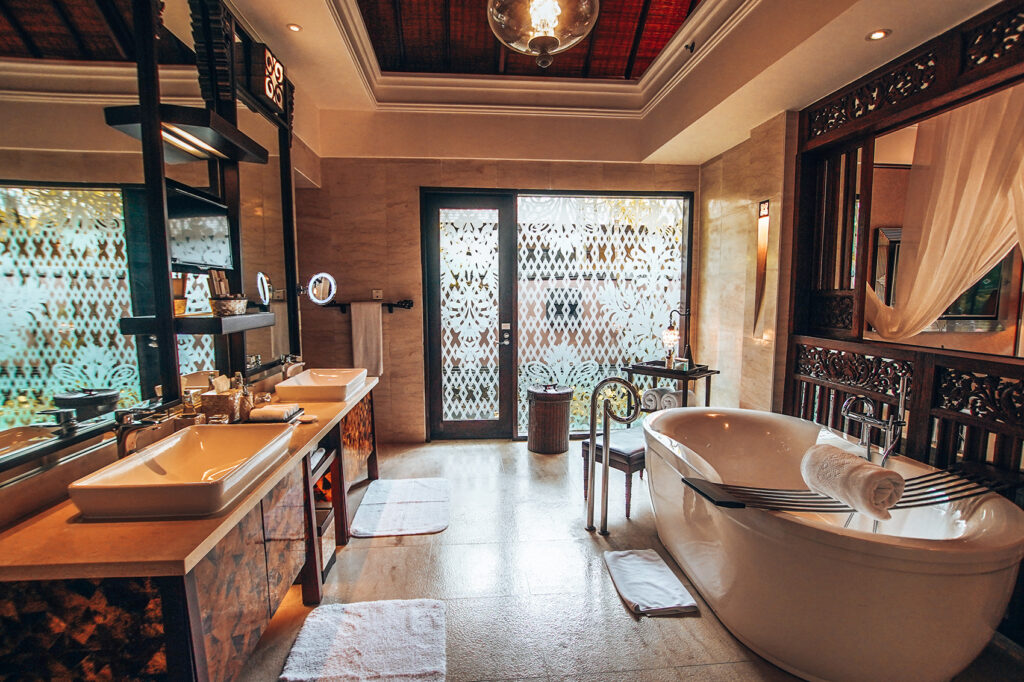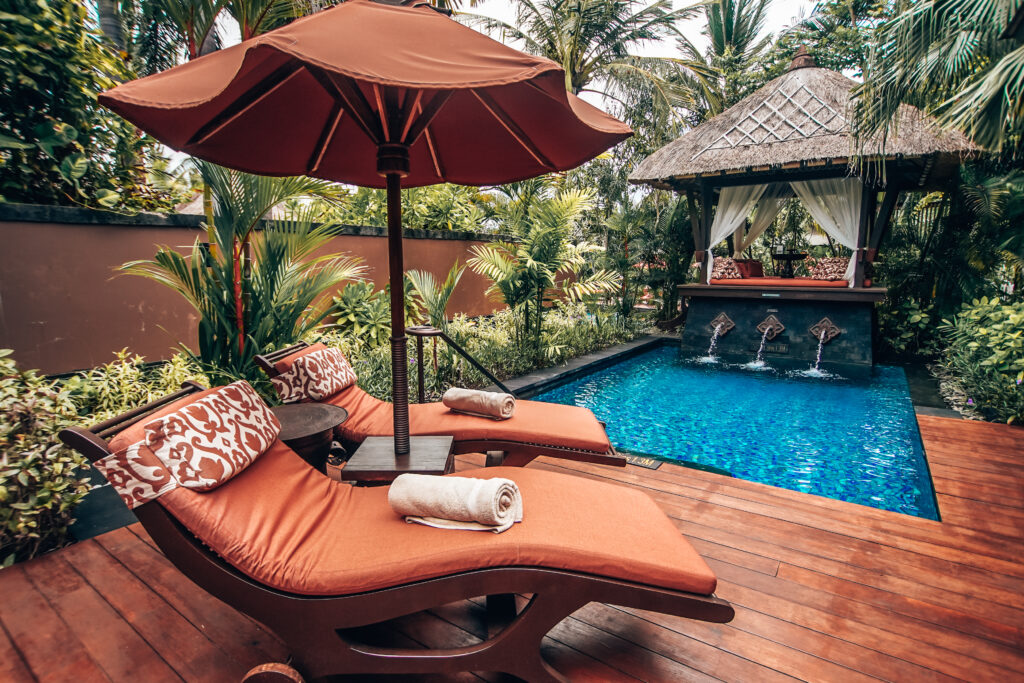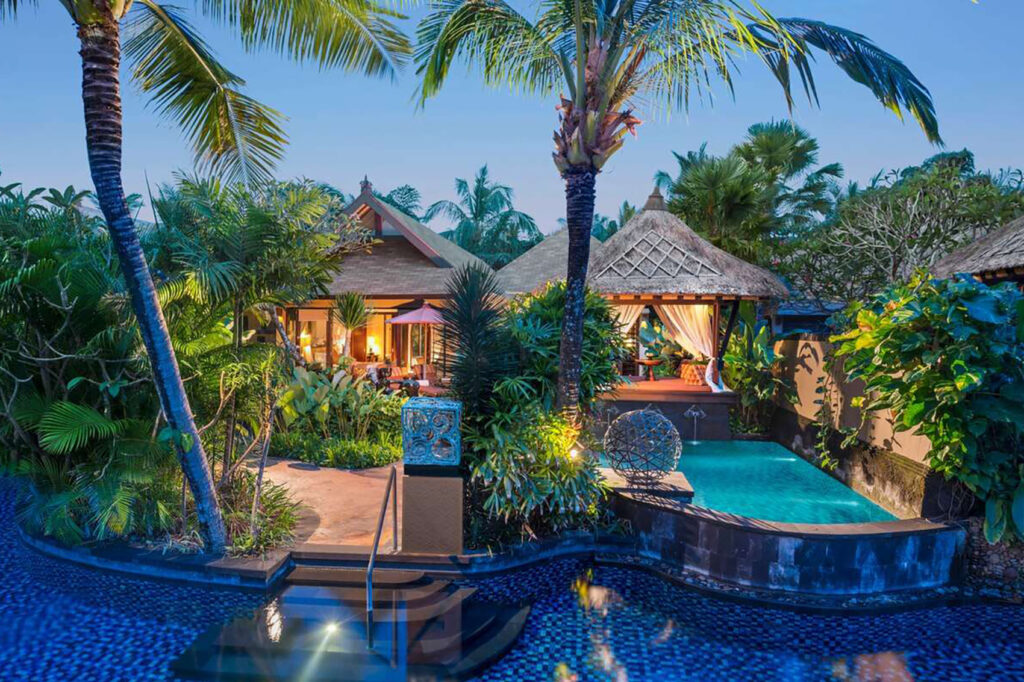 Having a butler ready to answer your every desire is part of the package when you stay at The St.Regis Bali. They offer everything from unpacking and packing your luggage, to bringing you some delicious fresh Cappuccino, making bookings for you, finding your favorite bottle of champagne, giving you the best advice etc… They are truly dedicated and would do anything to make you happy. Do not hesitate to contact them; they will be glad to fulfill even your craziest requests. (Disclaimer: apart from some coffee and ice cubes we didn't ask for anything special :) )
The Resort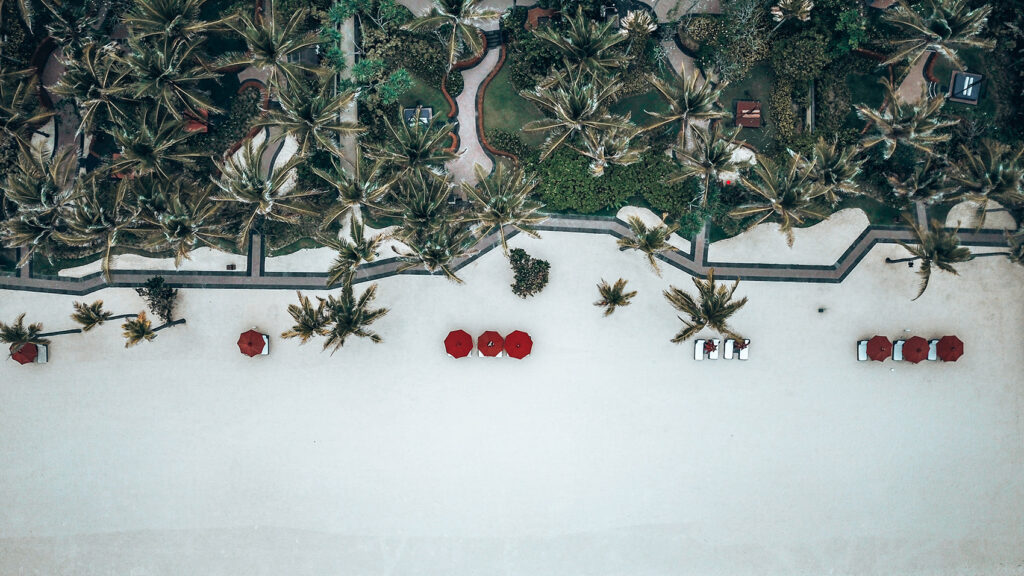 The resort is much bigger than you would imagine, with plenty of beautiful areas to explore. We always hear people saying that they don't like big resorts, but believe us, this ultra-luxurious property will make you feel just like you are on a private island, lost somewhere between lush tropical gardens and epic turquoise lagoons. The amount of palm trees is just unbelievable and we were amazed how green and perfectly manicured the gardens were.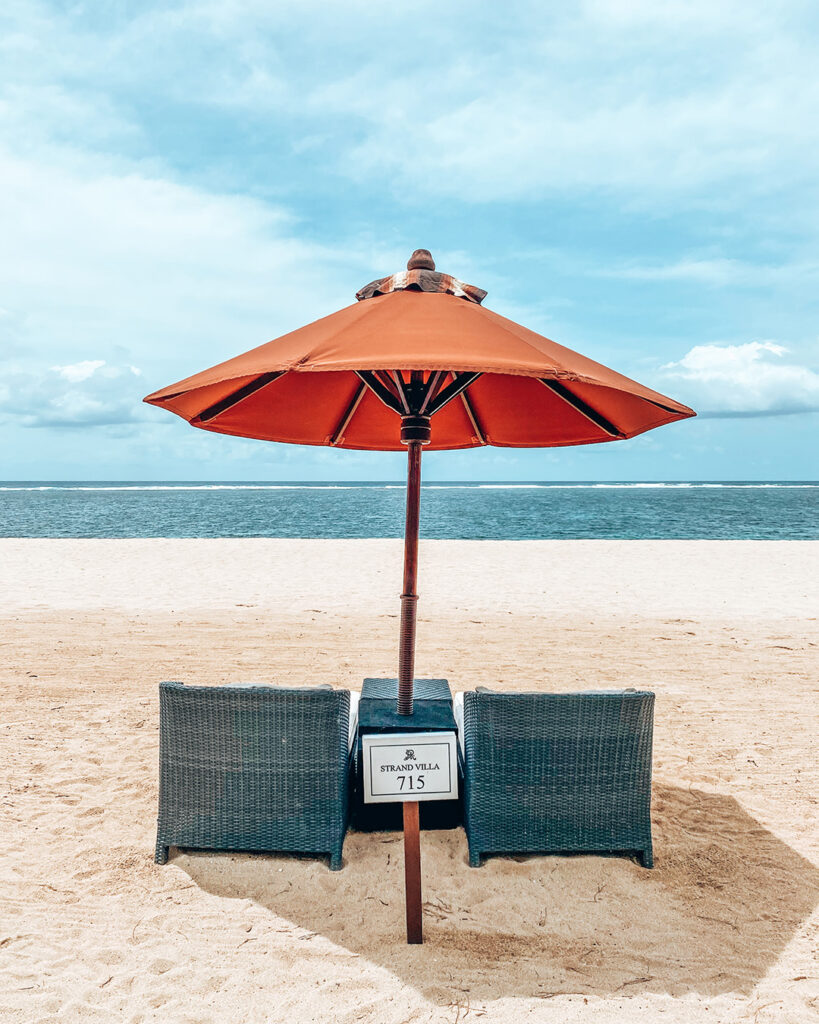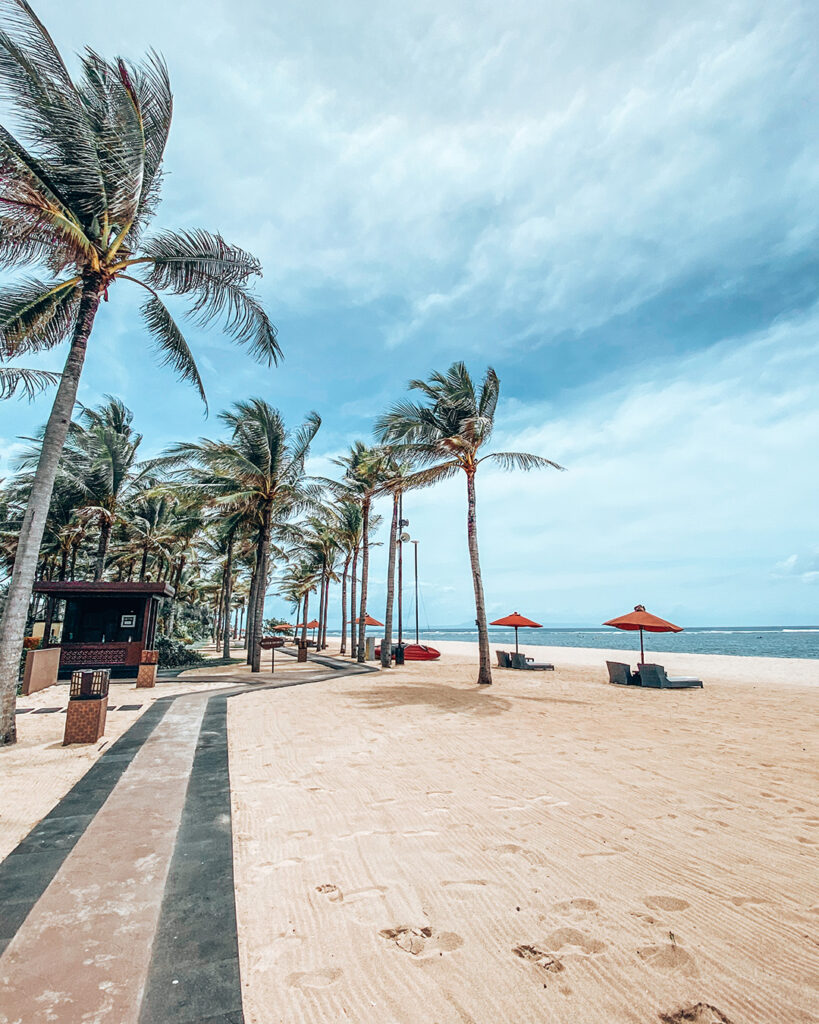 The private beach of the St.Regis Bali, features comfy sunbeds with beach attendants to offer you refreshments and fulfill all your needs. If you're not feeling in the mood for chilling you can always visit the water sports centre or pay a visit to the fitness centre that opens 24h/7days a week.
The Iridium Spa consists of 2,800 sqm of relaxing space to help you escape into a world of peace and serenity during your stay.
Two freshwater pools can be found nearby the beach, surrounded by luxurious wooden cabanas with white plush mattresses on which to relax.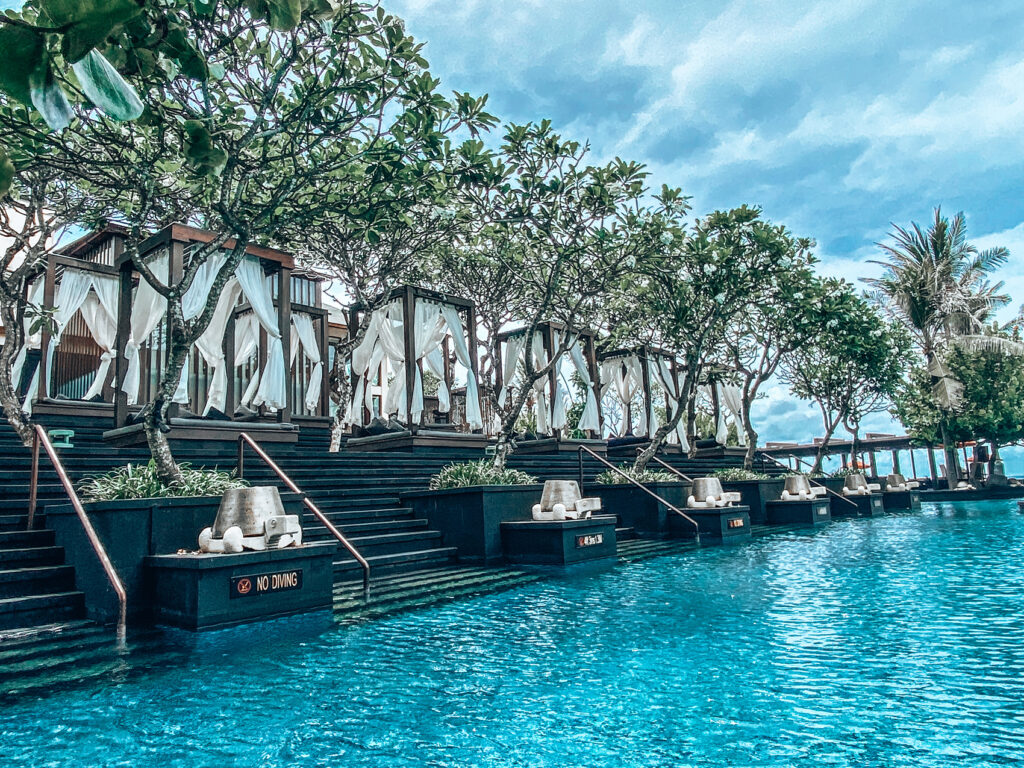 Our favourite part is the Saltwater Lagoon which is incredibly big: 3668sqm of swimmable lagoon. You won't realize how huge and impressive it is until you look at it from the sky.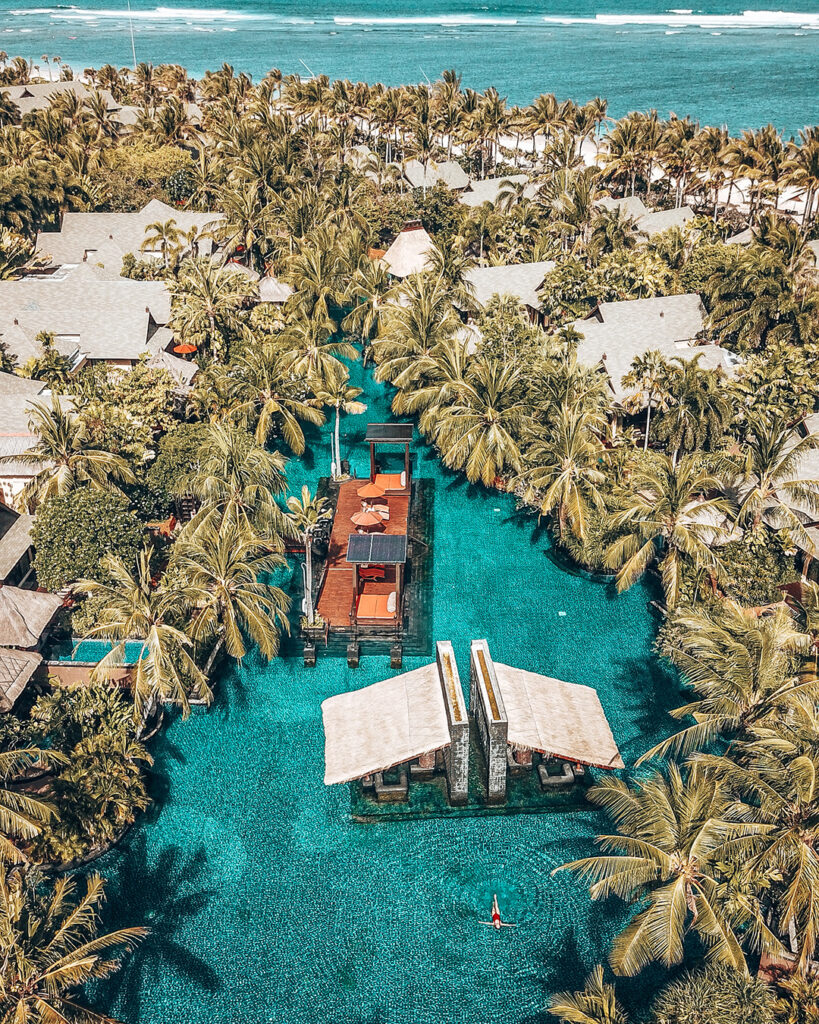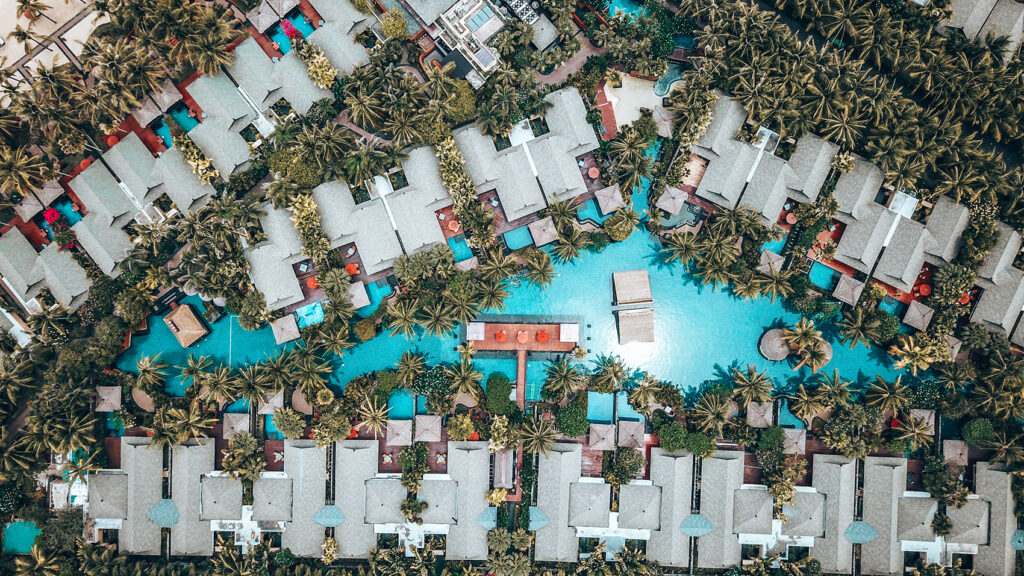 It features two tropical straw gazebos with a jacuzzi and a wooden deck with sunbeds.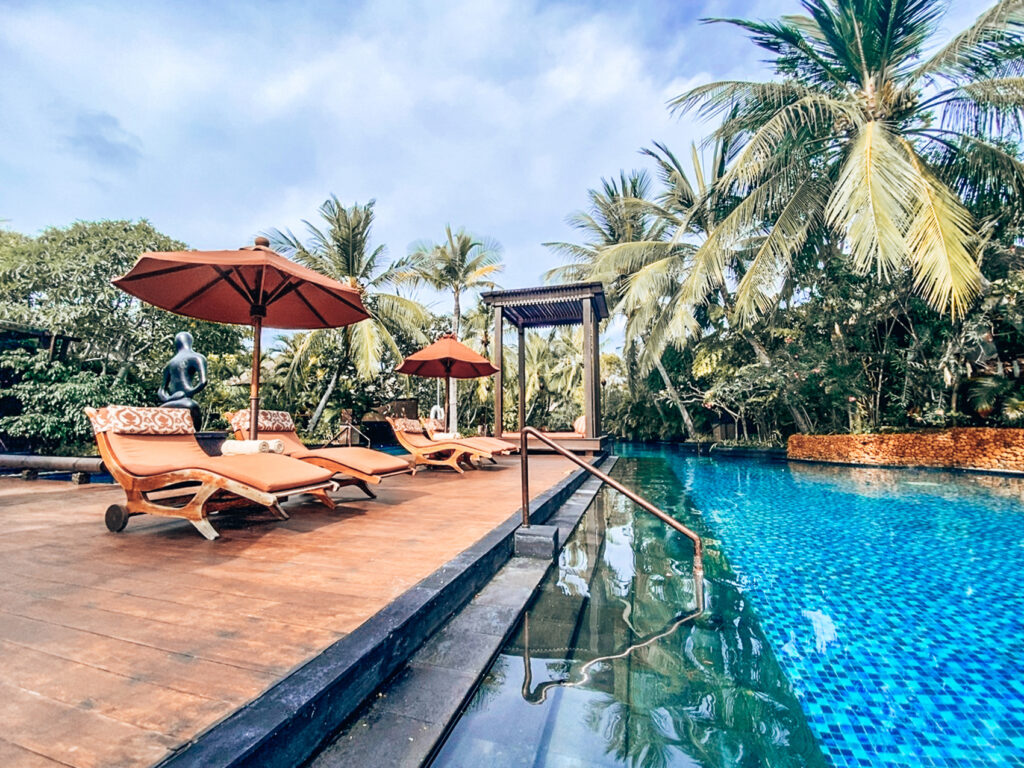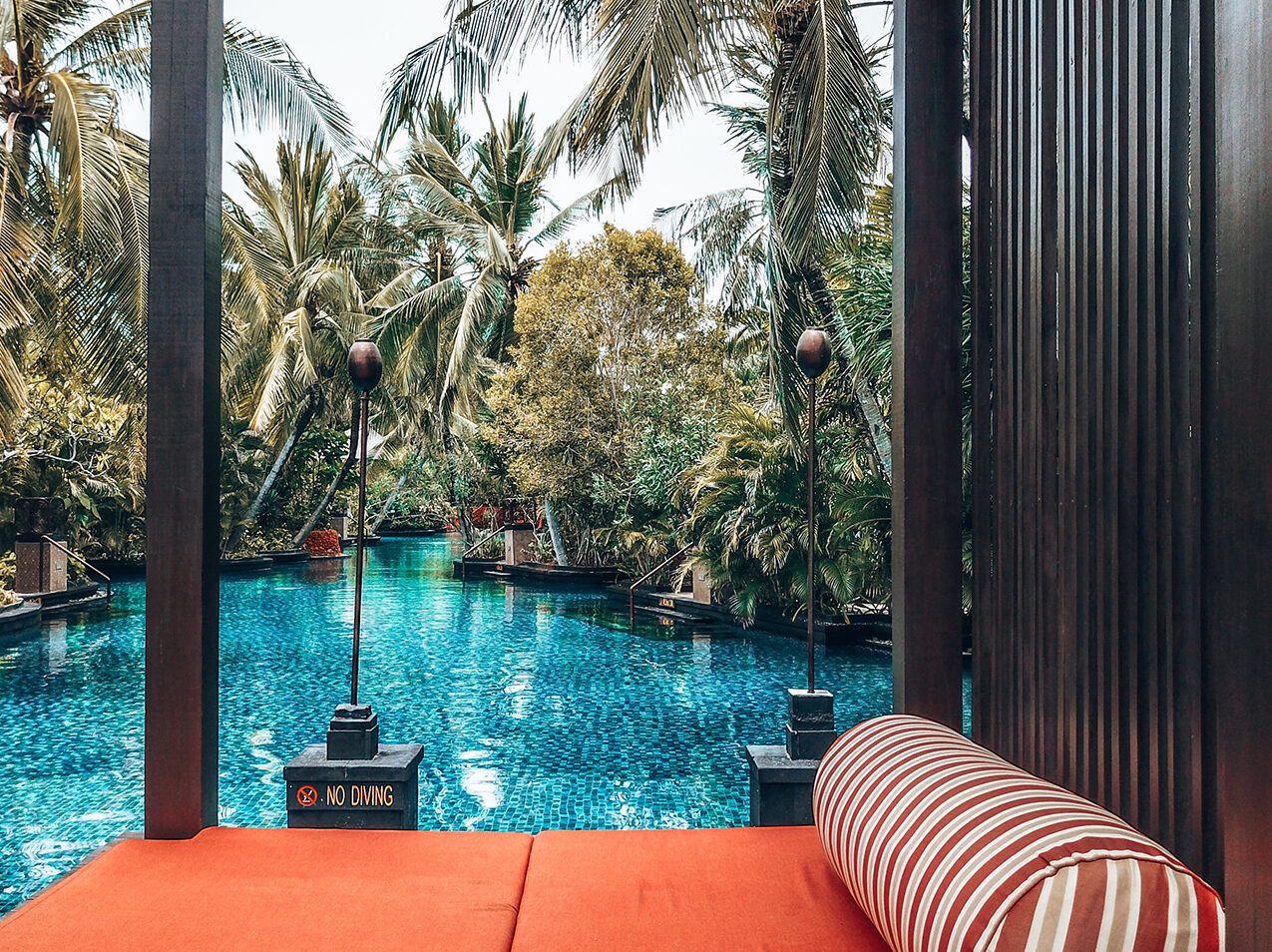 We must give a special mention to the cocktail and coconut service by boat so you don't even need to go out to enjoy your refreshments.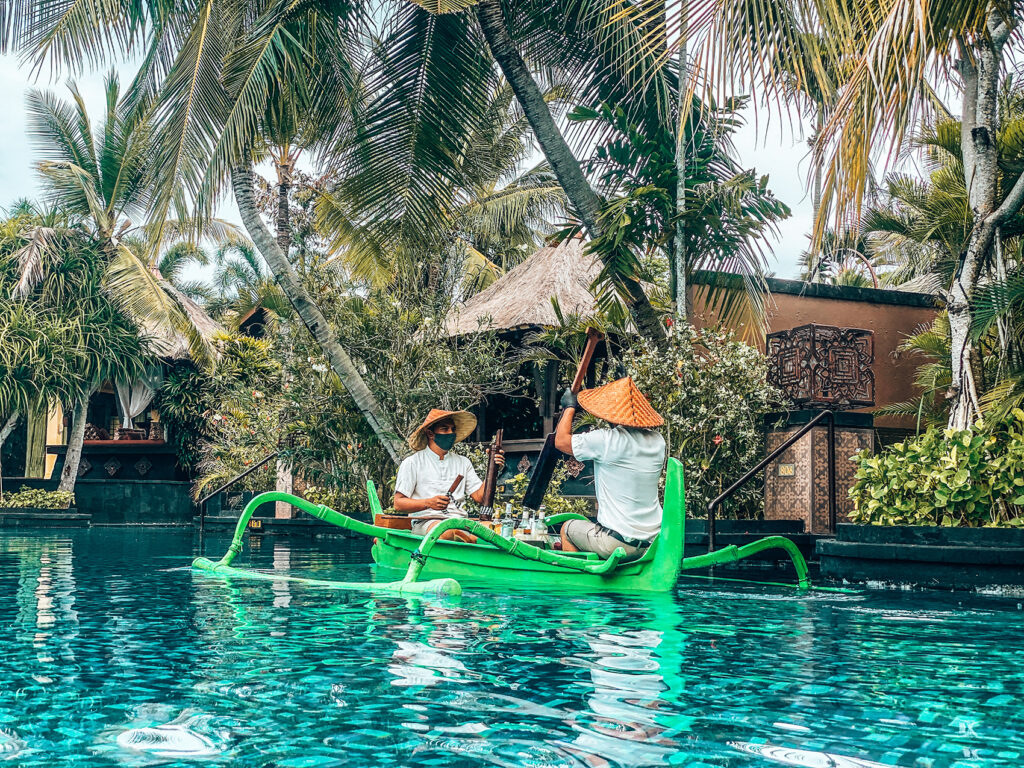 Exquisite dinner at Kayuputi
Kayuputi, which means white wood in Indonesian, is without a doubt one of Nusa Dua's most sophisticated fine dining venues. The restaurant is elegantly decorated with mainly white tones and some elements of the local culture incorporated smoothly into the design. Kayuputi offers Pan-Asian haute cuisine prepared by a talented team in an open kitchen; this is complemented by an incredible wine list that has won the renowned Wine Spectator Award for eight consecutive years.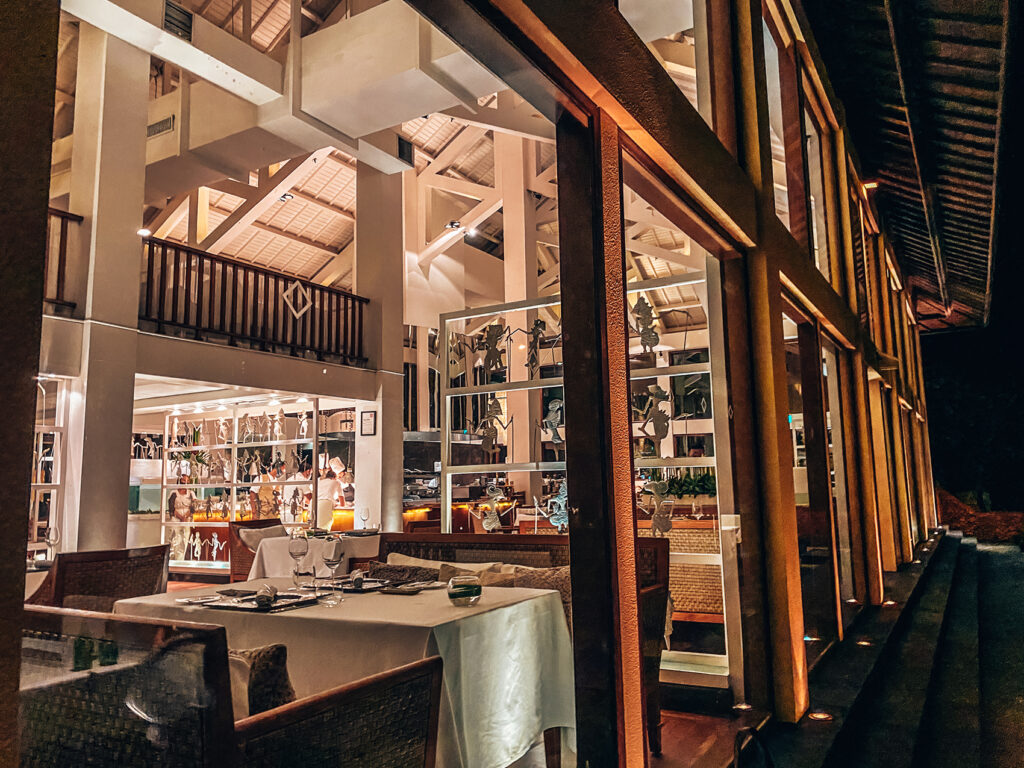 As we love to eat gourmet food, we decided to try the Exquisite dinner, which is a 3 to 6 course tasting menu made with some of the finest ingredients from land and sea. This night was one of the highlights of our stay, and from surprising amuse-bouche to delightful main courses and desserts, we had a 'magnifique' evening. We would recommend this place to anyone looking for a gastronomic experience in a romantic and intimate setting.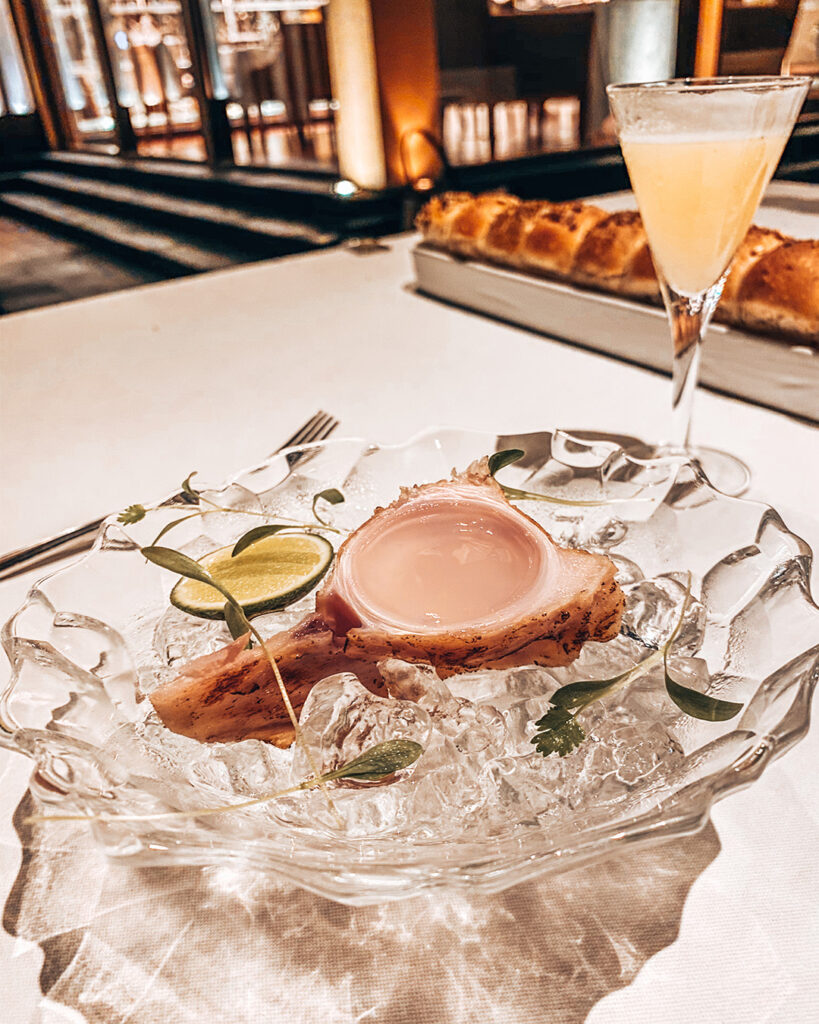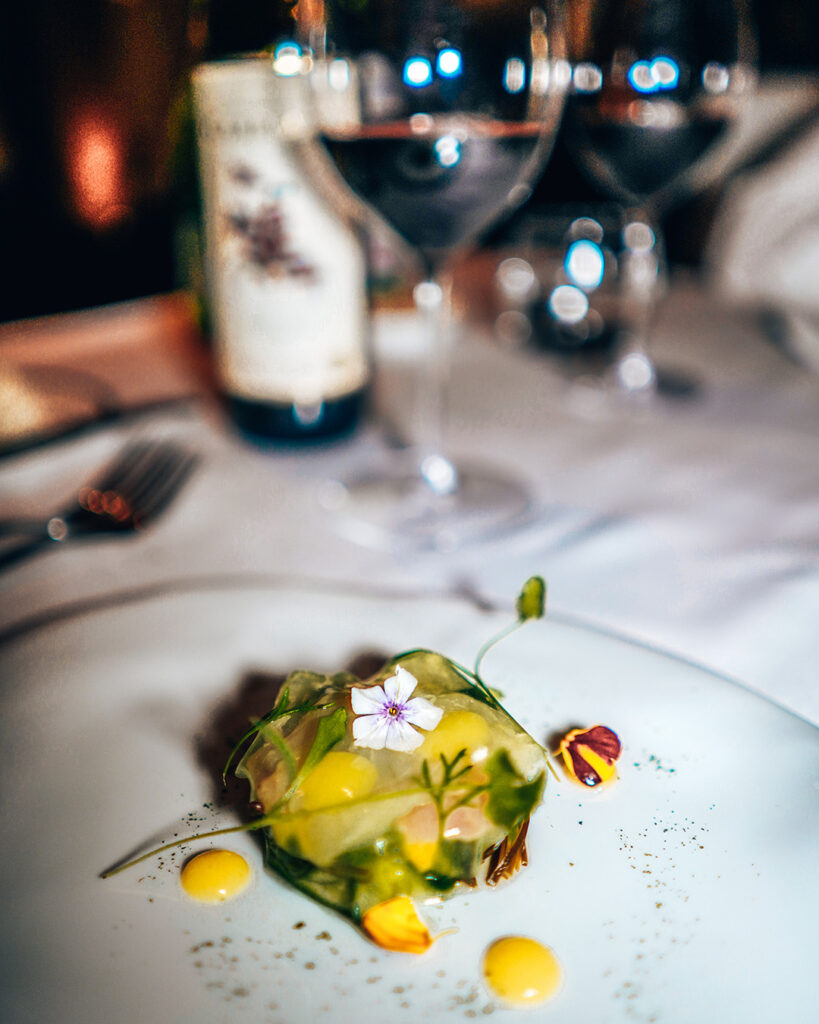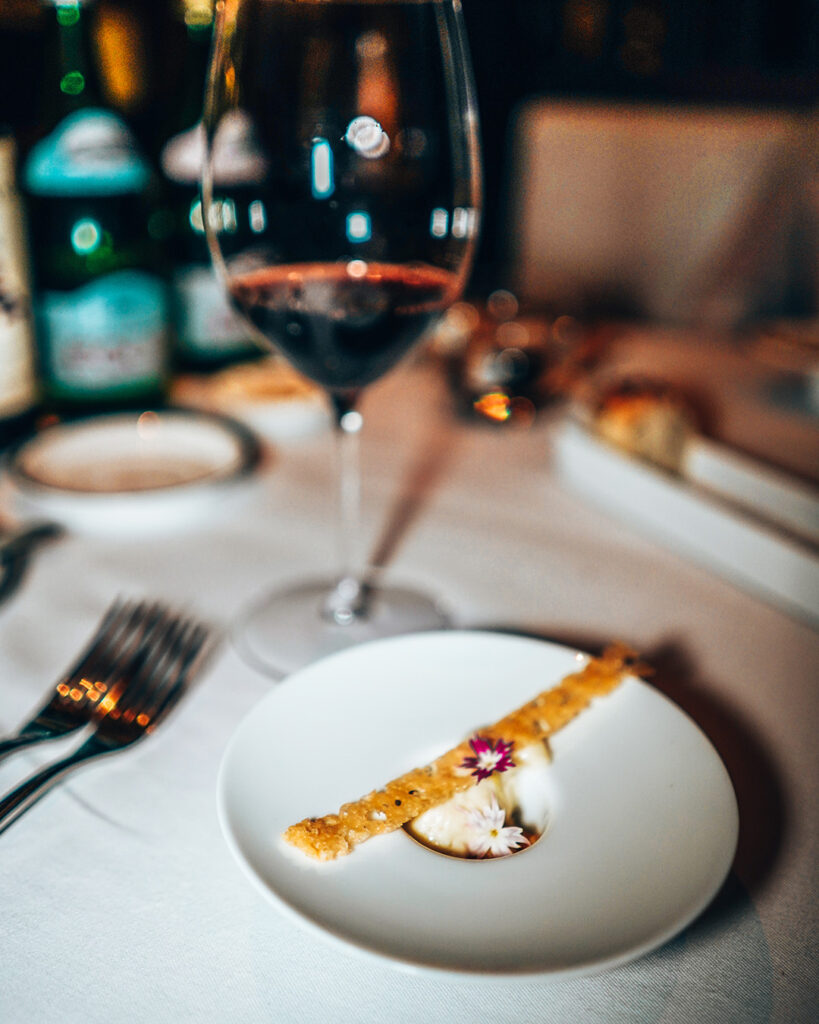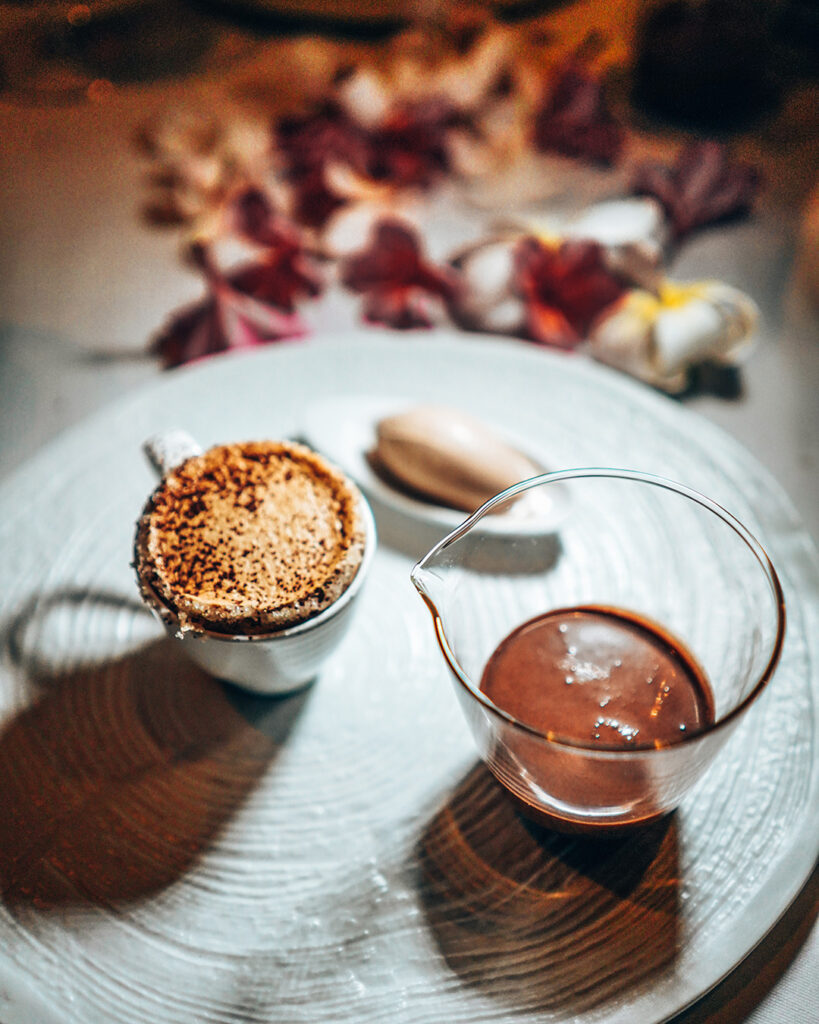 Breakfast at Kayuputi
Let's get straight to the point here… having breakfast at Kayuputi is an experience in itself. Towering ceilings and vast windows overlook the majestic Indian Ocean which makes it all feel very impressive.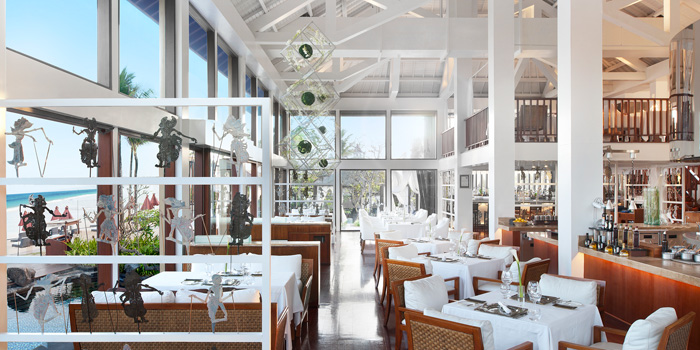 While you can sit inside with air-conditioning, we highly recommend you have your breakfast in one of the stylish wooden cabanas facing the beach to make the most of the view and to enjoy the delicious morning sea breeze.
The A la carte breakfast menu looks like a brunch feast as there are so many varieties. Every dish is prepared 'à la minute' and includes some international classics as well as some specialties like lobster omelet, pan-seared foie gras, steak and eggs and so much more to surprise and satisfy everyone's palate.
Kayuputi breakfast must be one of the most exquisite and exclusive breakfasts we've ever had and we were really impressed.
Sunrise pic-nic breakfast
The St.Regis Bali takes breakfast time really seriously, but what if we told you that they can organize a scrumptious picnic exclusively for you to enjoy on the beach while watching the sunrise? Sounds magical right? For our second morning at The St. Regis Bali, we woke up at 5.30 am to be on the beach before dawn where a lovely picnic was waiting for us. It was just so romantic and we felt really blessed to experience this dreamy setting in such a peaceful environment.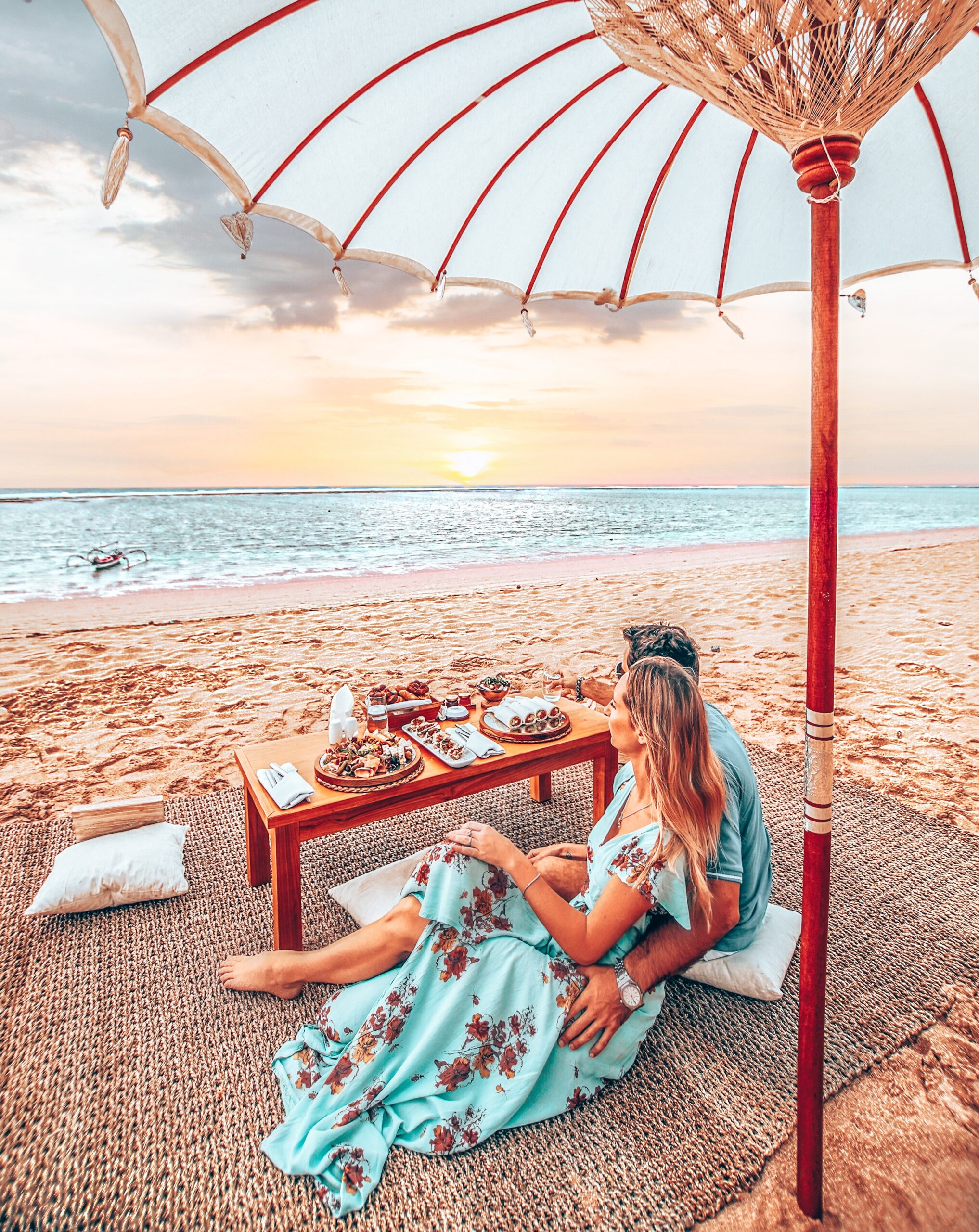 While everyone else was still sleeping, the sun rose slowly, we listened to the sound of the waves, we woke our palates up with a selection of pastries fresh from the oven, special baked oysters with sautéed baby spinach, smoked salmon wraps along with assorted cold cuts and cheeses, and some freshly squeezed juices.
Definitely an exclusive and perfect experience for a breakfast we will never forget.
Our thoughts on The St. Regis Bali
The St.Regis brand is known for its stunning, extremely luxurious properties around the world and The St.Regis Bali Resort is definitely no different. Round the clock butler service, sumptuous design, peaceful atmosphere, flawless private beach, exceptional facilities and a lavish fine dining experience make this hotel our top choice for luxury connoisseurs seeking exclusive holidays in Bali.