Rottnest Island is a very popular destination in Western Australia, located only a short 30-minute ferry ride from Fremantle; it is the perfect destination for those who want to escape the busy city life of Perth. Famous as the home of the "happiest animals in the world", the quokkas. These cute and funny little animals can be found everywhere on the island but nowhere else on earth. They have become very accustomed to humans and love to get close to visitors for a selfie.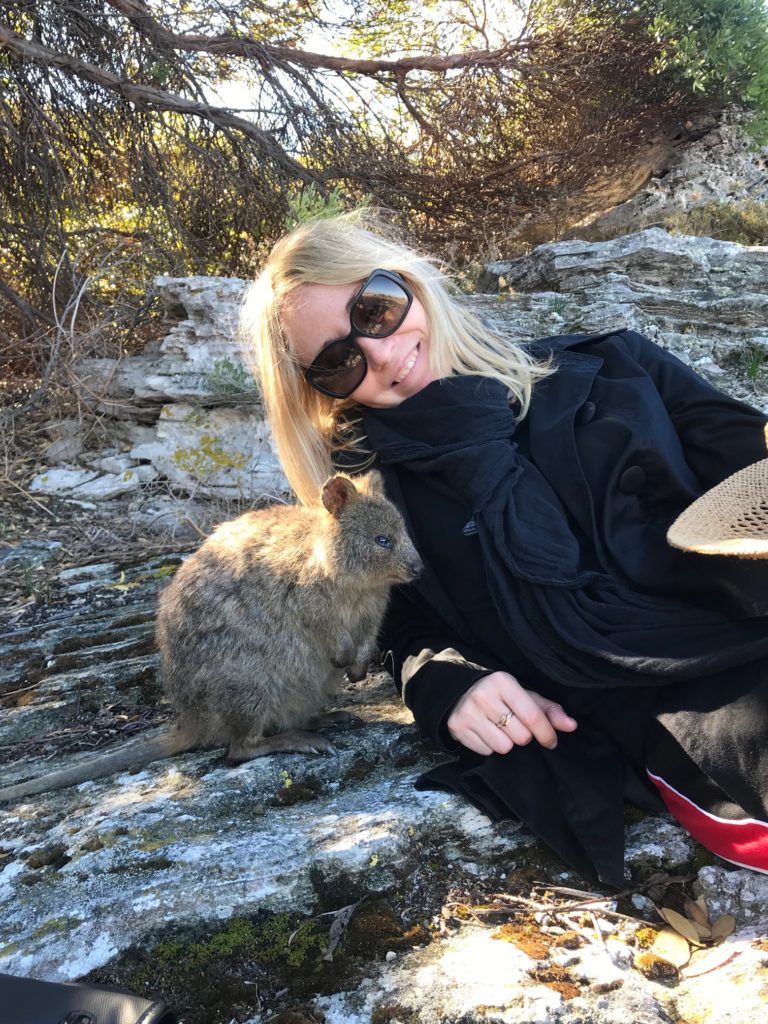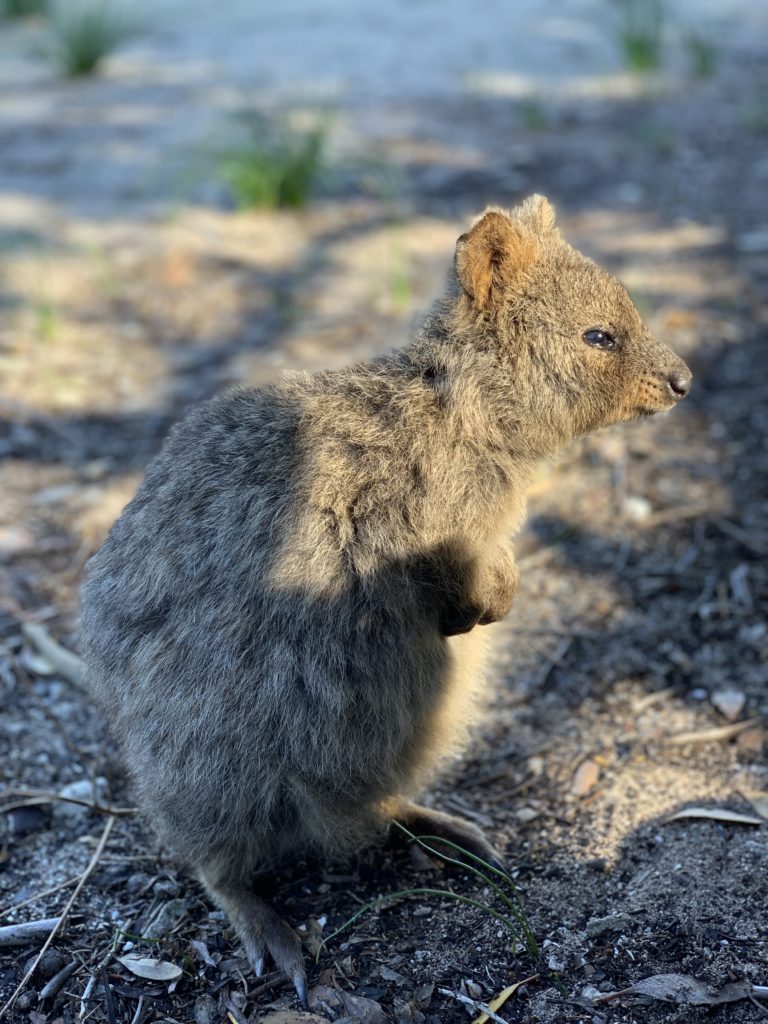 Apart from this, Rottnest Island is also known for its heavenly white sand beaches (there are 63 on the island) and translucent waters that are the perfect scenery for a weekend getaway. As the island is predominantly free of cars, the best way to get around is by bicycle, but you can also go for a bus tour with a guide, or just walk around.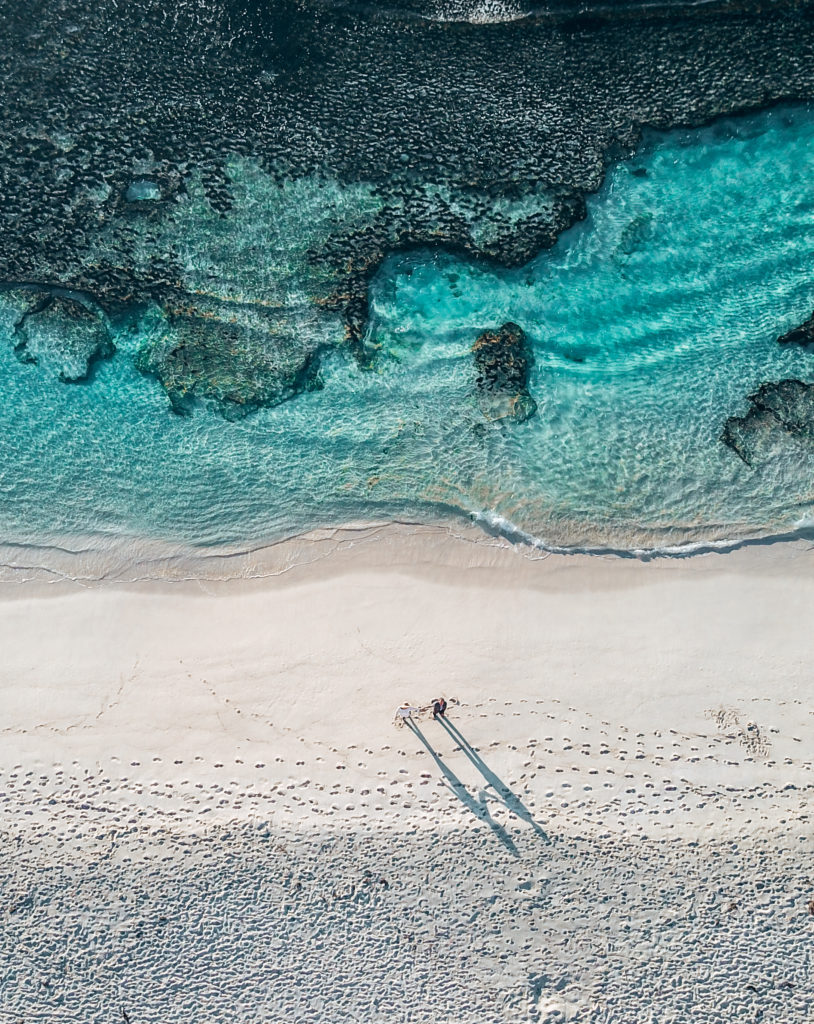 While ferry companies offer quick day trips to Rottnest Island, we highly recommend you to stay for at least a night (the longer the better) and take the opportunity to live a unique experience with Discovery Rottnest Island, the one and only glamping resort on the island.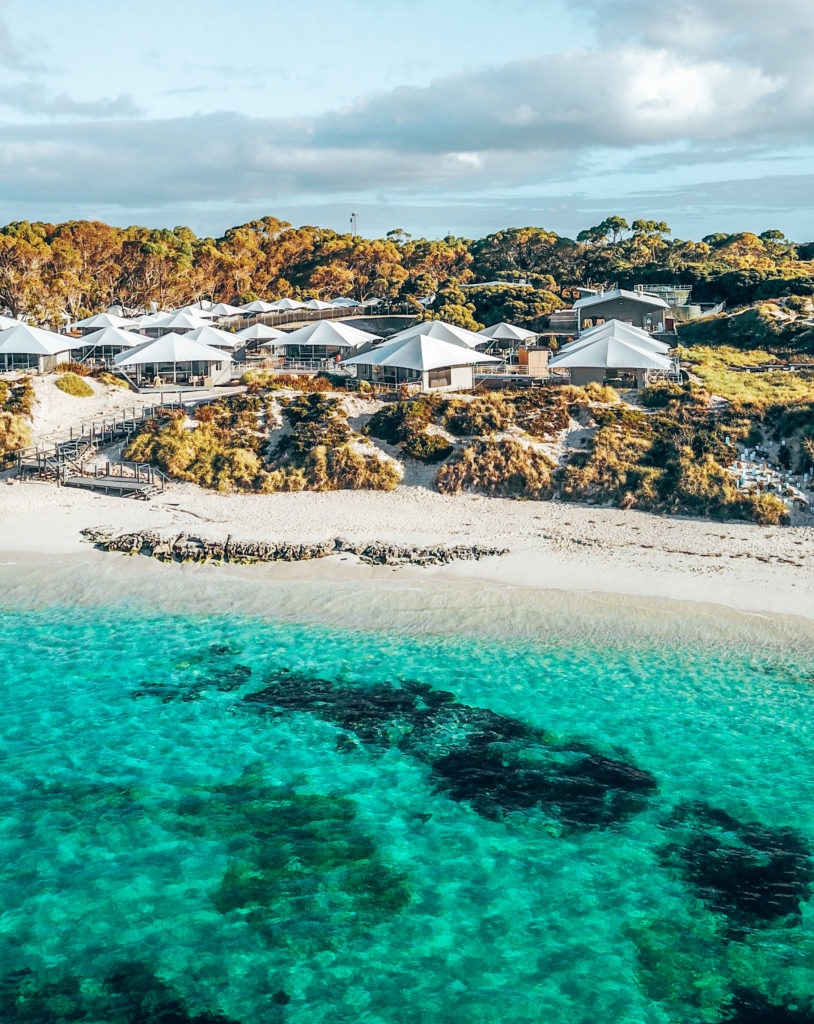 Glamping has become a major trend in the tourism industry these last years and is a contraction of glamour and camping, a luxury way of camping in a fully equipped tent in the middle of nature.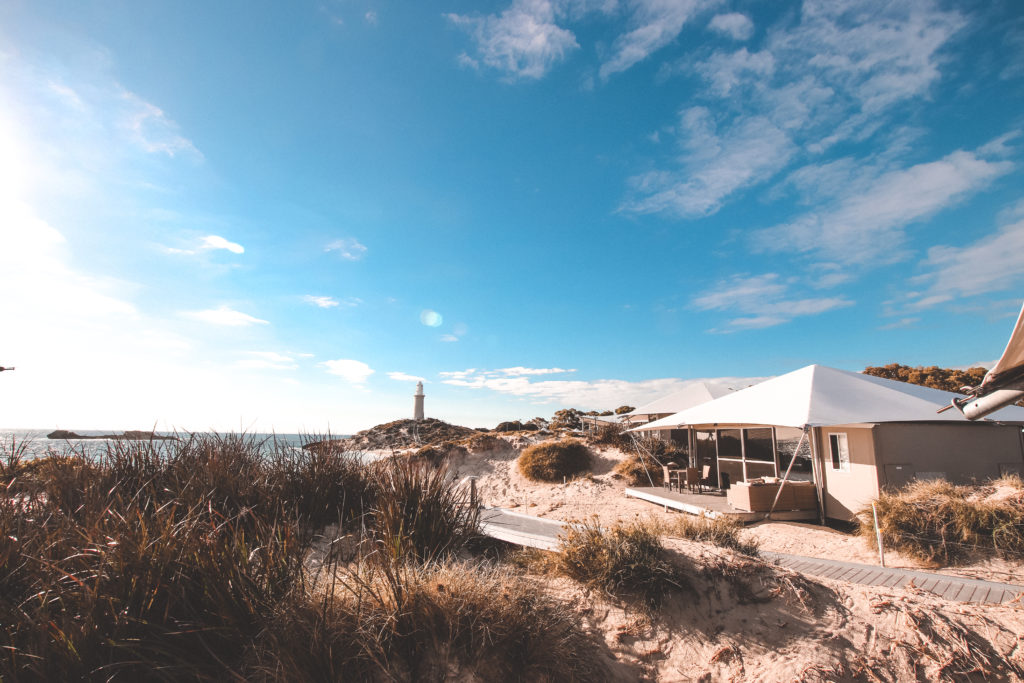 Discovery-Rottnest Island
Discovery-Rottnest Island opened in April 2019 and has 83 eco-tents, a beach club (restaurant-all day dining), a 30m swimming pool, free WIFI as well as direct beach access from the property.
They have different categories of tents, from the basic one to the most luxurious one: the deluxe with ocean view was the one we experienced for 1 night. This spacious tent of 36sqm features a large bed with ensuite bathroom, a closet, a sofa, a desk, and a kitchenette (equipped with an electric kettle, microwave, refrigerator, toaster, wine glasses, cutlery). We particularly appreciated the outdoor private balcony which offers a beautiful view of the ocean with comfortable outdoor furniture, a Gaz BBQ and a dining table. Definitely the perfect place to relax after a busy day on the island.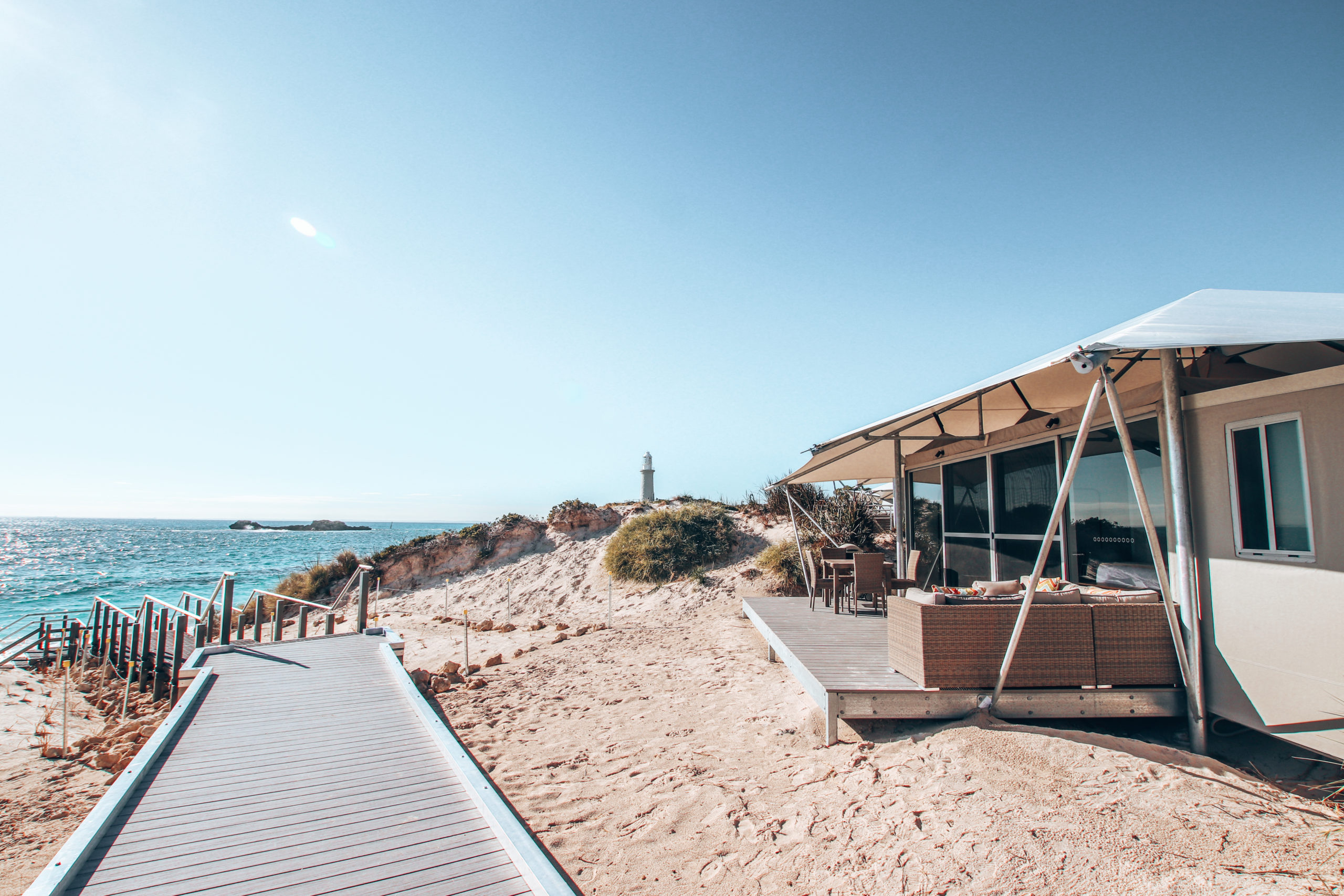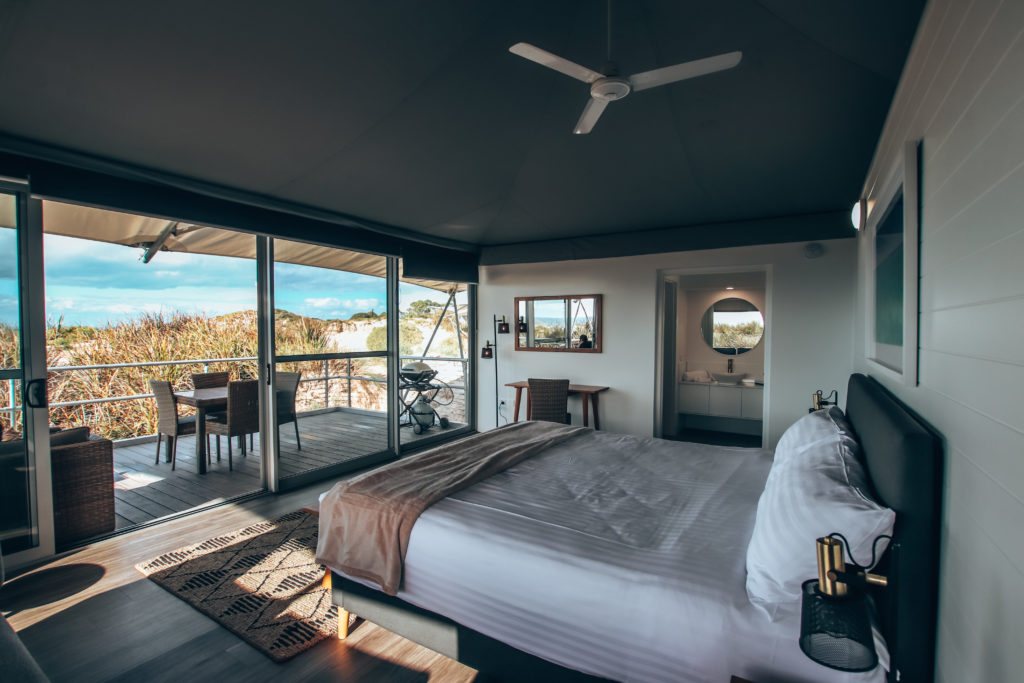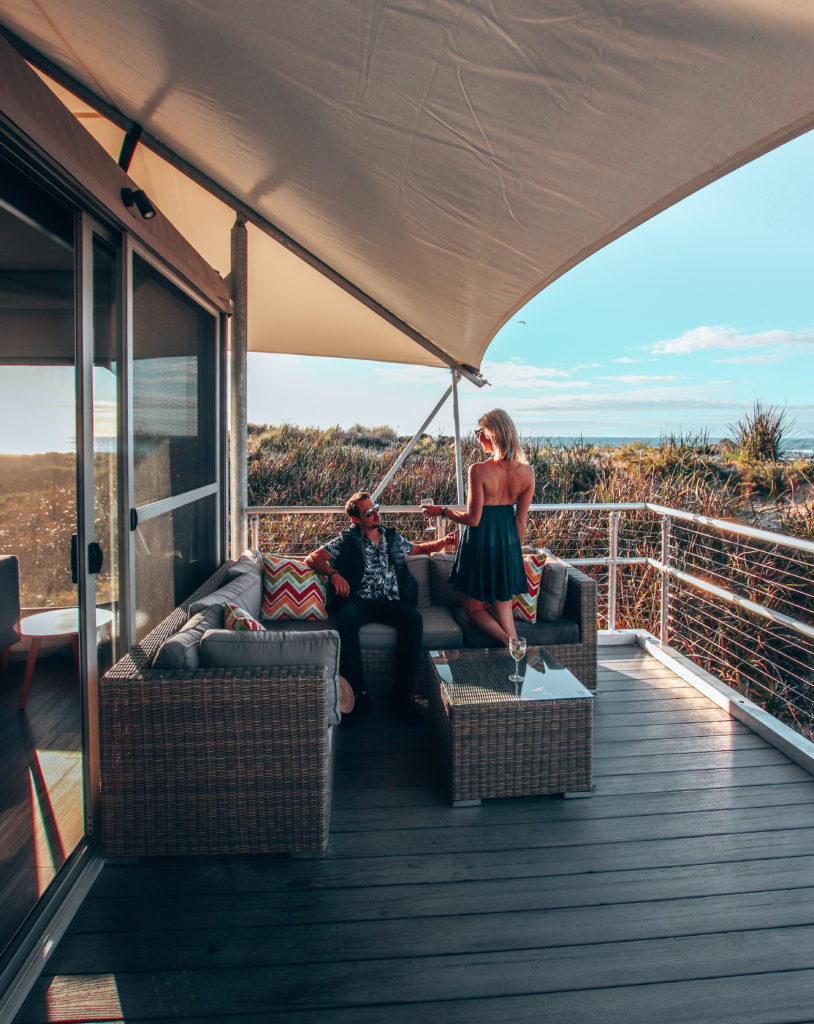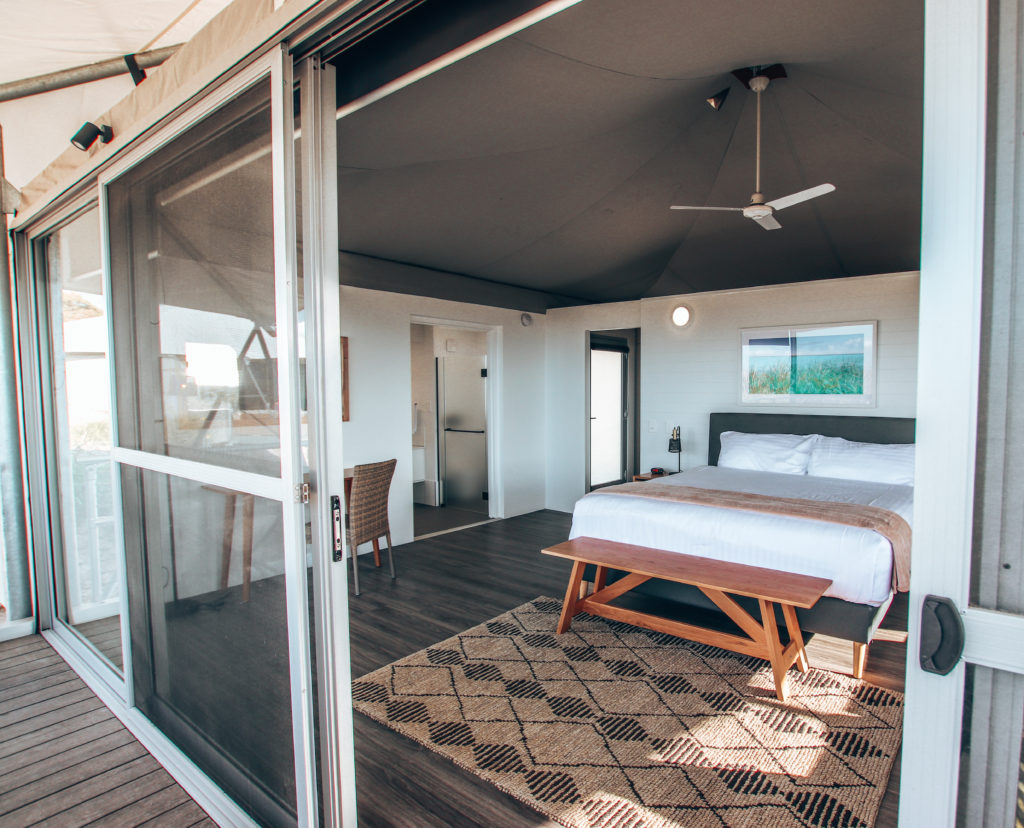 Discovery – Rottnest Island is the first accommodation development on the island in 30 years. It took this privilege very seriously and aimed at minimizing its environmental impact with glamping eco-tents made from sustainable materials and designed to ensure natural ventilation, so air conditioning is not necessary. The property has also started a revegetation plan and operates with the eco-accredited energy, water and waste resources supplied by the Rottnest Island Authority. Drinking water refill stations are available to help reduce plastic waste so feel free to use them to contribute to the low impact movement.
How was our first glamping experience?
We really liked it! Discovery-Rottnest Island is an amazing property, and our only regret is we couldn't stay longer. We were very surprised by the comfort and all the equipment of our tent that even exceeded our expectations. The outdoor terrace was super cozy and we appreciated chilling on the sofa overlooking the ocean. As we said before there is no air-conditioning in the tent, but to be honest, we didn't need it, we could feel the fresh breeze coming from the sea and it was lovely.
The hotel was still in soft opening when we stayed there but the staff was already well-prepared and ready to help in all circumstances. Breakfast is included in the room rate and was delicious; we really enjoyed having it outside with a view of the ocean.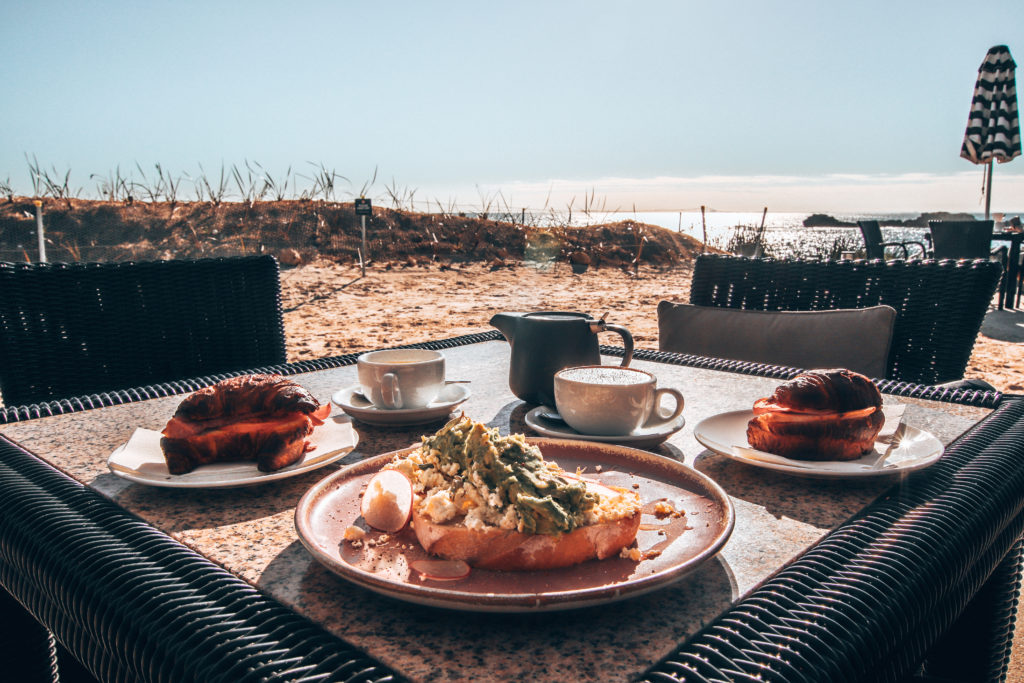 How to get there ?
You need to take a ferry from Perth to Rottnest Island. There are 3 ferry companies: Sealink (The one we used), Rottnest Express and Rottnest Fast Ferries. They operate 5-7 times a day in off-peak season and 10-12 times a day in high season (December-March) and offer departures at several locations around Perth. We chose to reach Fremantle harbor which gives you the fastest ferry ride (around 30min) compared to around 1h45 if you leave from Barrack Street Jetty. If you plan to stay overnight, we advise you to book an extended return ticket and pre-book you return seats in advance, especially during high season. If you have some luggage it will be tagged upon boarding and sent directly to your hotel.
Discovery-Rottnest Island is located only 10 minutes on foot but you can also rent a bike and transfers can be organized on request.
Note that you can hire bikes and snorkels from the ferry companies and they also offer some tours.
What to do on Rottnest Island ?
-Visit one of the 63 beaches-Snorkel in the clearest waters
-Take a selfie with a Quokka
-Walk or rent a bike to explore the island
-Go on a whale watching cruises (seasonal)
-Book a glass bottom kayak tour
-Set off on a Segway adventure
-Skydive over turquoise waters
-Offer yourself a scenic flight to get the best view of Rottnest island