HOTEL REVIEW : MANDAPA, A RITZ-CARLTON RESERVE
There are some hotels that really stand out above the rest, some hotels that leave you speechless on all counts… Mandapa, A Ritz-Carlton Reserve is one of them.
Located only 10 minutes away from the cultural heart of Ubud, this incredible property is the third in the world's prestigious Ritz-Carlton Reserve collection. This collection is a brand extension that offers exclusive service and amenities in the most peaceful and exotic locations.
The Reserve is for travelers seeking a singular location and peerless resort that, through its design and services, has a distinctive personality that blends seamlessly with the culture, history and heritage of its setting. The Reserve brand extension will differ from other award-winning resorts as it will offer guests' exotic, hand-selected 'hideaway' destinations globally; a relaxed, casually elegant atmosphere; and an even greater level of individualized service through a higher staff to guest ratio.

— The Ritz Carlton Brand
The Resort
Nestled between rice paddies on one side and the Ayung river on the other side, Mandapa, A Ritz-Carlton Reserve is a relaxing temple, as its name indicates. Indeed, 'Mandapa' is the Sanskrit word for temple, and we have to admit that from the moment we entered the resort we felt a deep spiritual energy emanating.
This magical property consists of 35 luxury suites and 25 private pool villas with 3 restaurants, a full-service spa, a 24-hour fitness centre and a bar as well as the Mandapa educational camp for family and children's activities.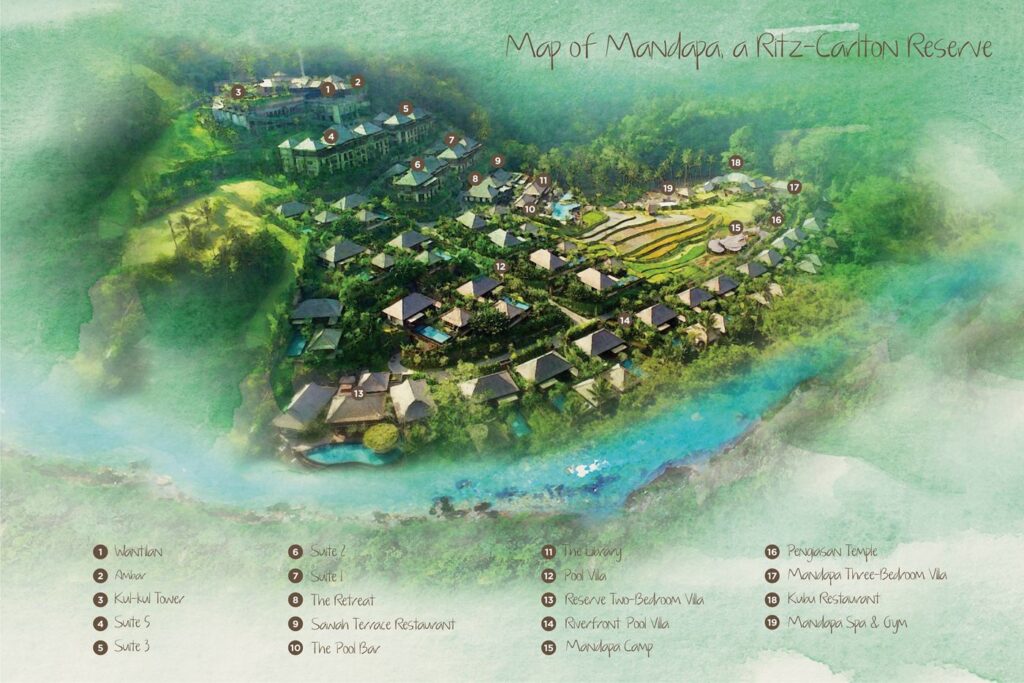 As we arrived at the resort, we were warmly greeted and led to a huge, beautiful open-air Joglo style building to enjoy a welcome drink and a cold towel surrounded by impressive views of the resort and the valley. After these delightful refreshments, we were introduced to our Patih (villa butler – aka the person in charge of assisting a guest's every need 24 hours a day). He kindly suggested that we jump on a buggy so he could give us a tour of the property that is a replica of a Balinese village before we check in to the comfort of our villa.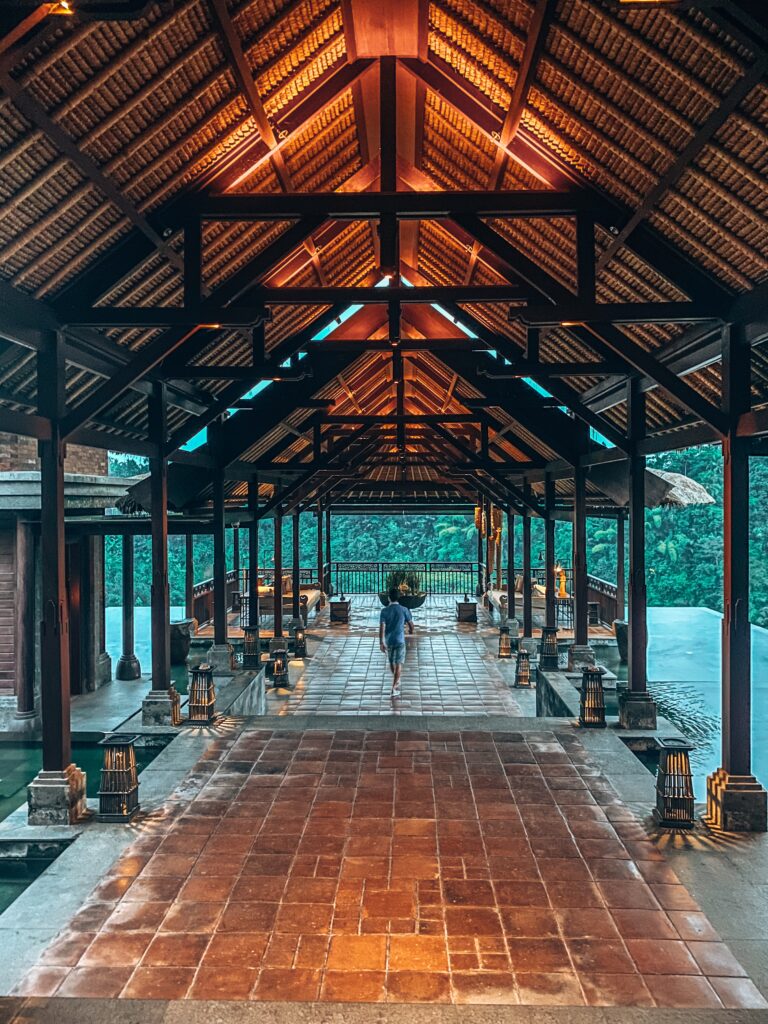 One Bedroom River Front Pool Villa
The 431 sqm One Bedroom River Front Pool Villa, at Mandapa, A Ritz-Carlton Reserve offers unparalleled comfort and luxury in a stunning natural environment. The gorgeous outdoor space boasts a private 10m Balinese infinity pool with far-reaching views of the river, complemented by sun loungers to relax on while listening to the sound of nature.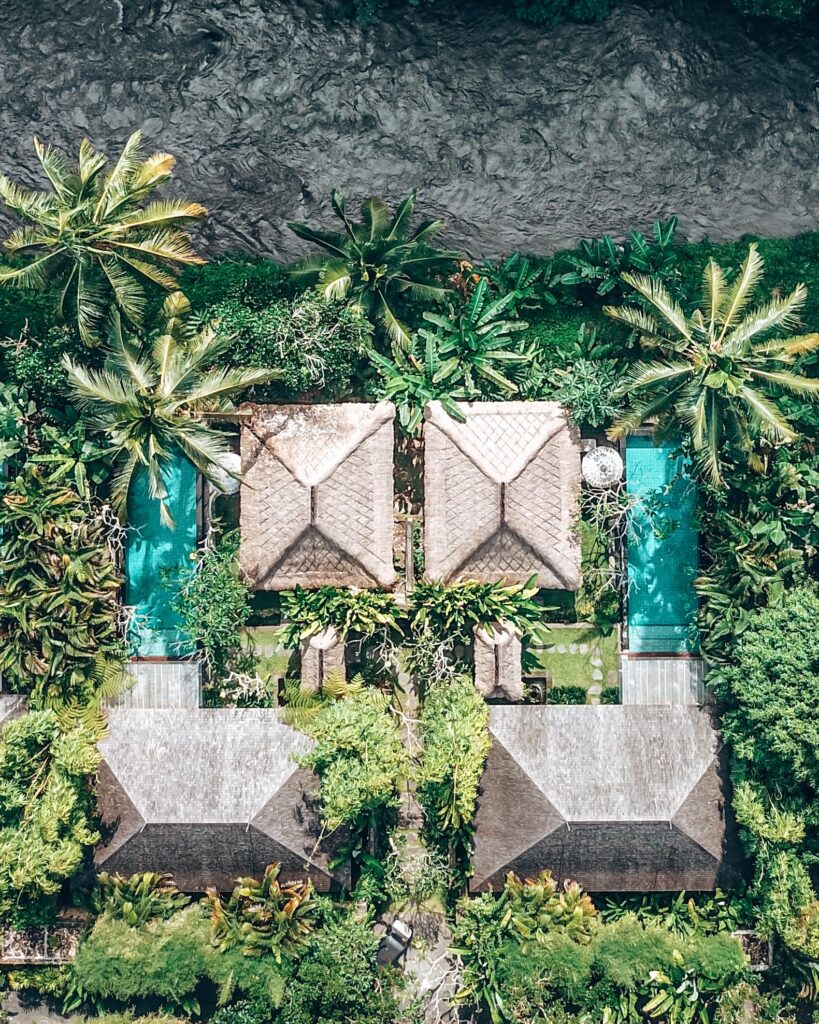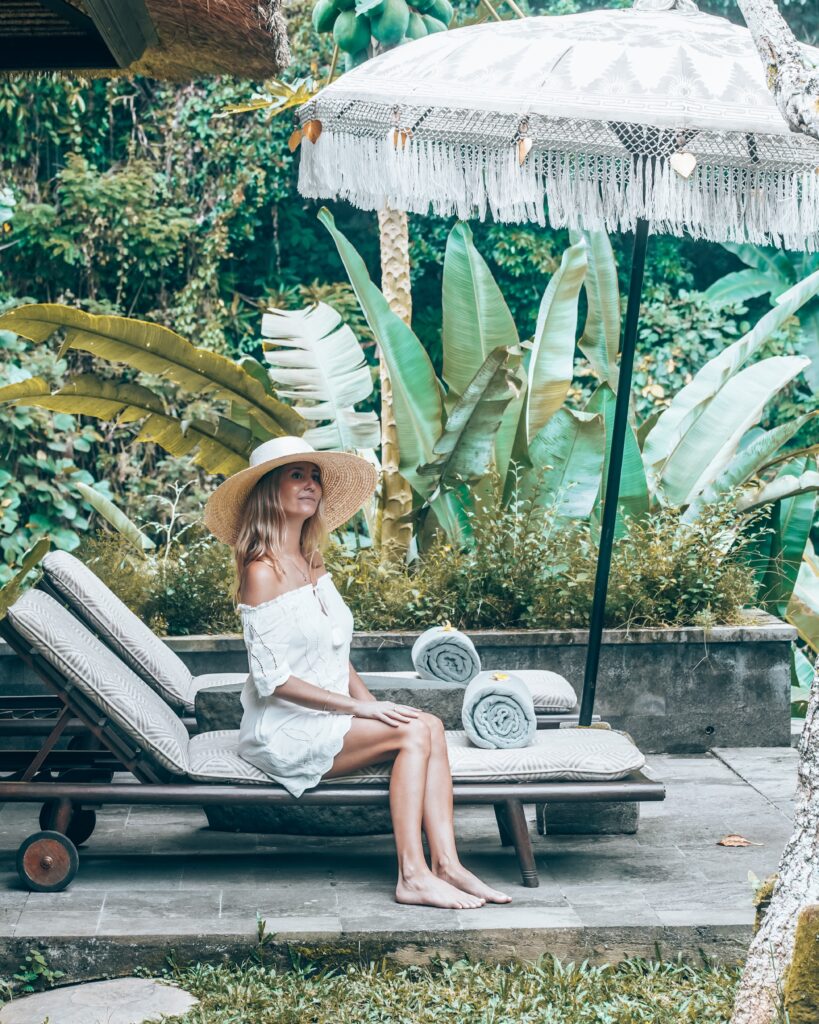 The villa's bedroom opens out onto a poolside terrace area; it is spacious and elegantly decorated with colorful Balinese artwork contrasting with the luxurious dark tones of the omnipresent wood. The bathroom, which is absolutely sumptuous, provides a large space with his and hers vanity, a stand-alone bathtub, a make-up area, and an indoor shower as well as an outdoor shower connecting directly to the pool. Large windows allow those inside the bathroom to enjoy the lush green surroundings.
The living room is housed separately and provides a comfortable fully air-conditioned area, perfect for dining, chilling or entertaining with a view of the pool and the valley.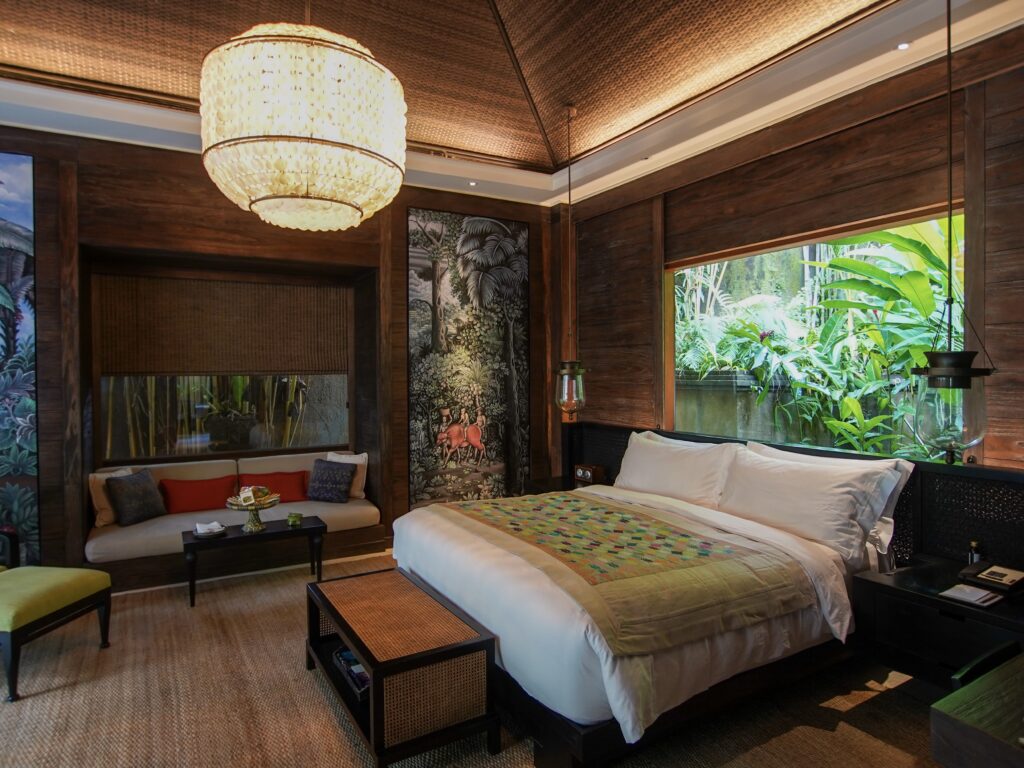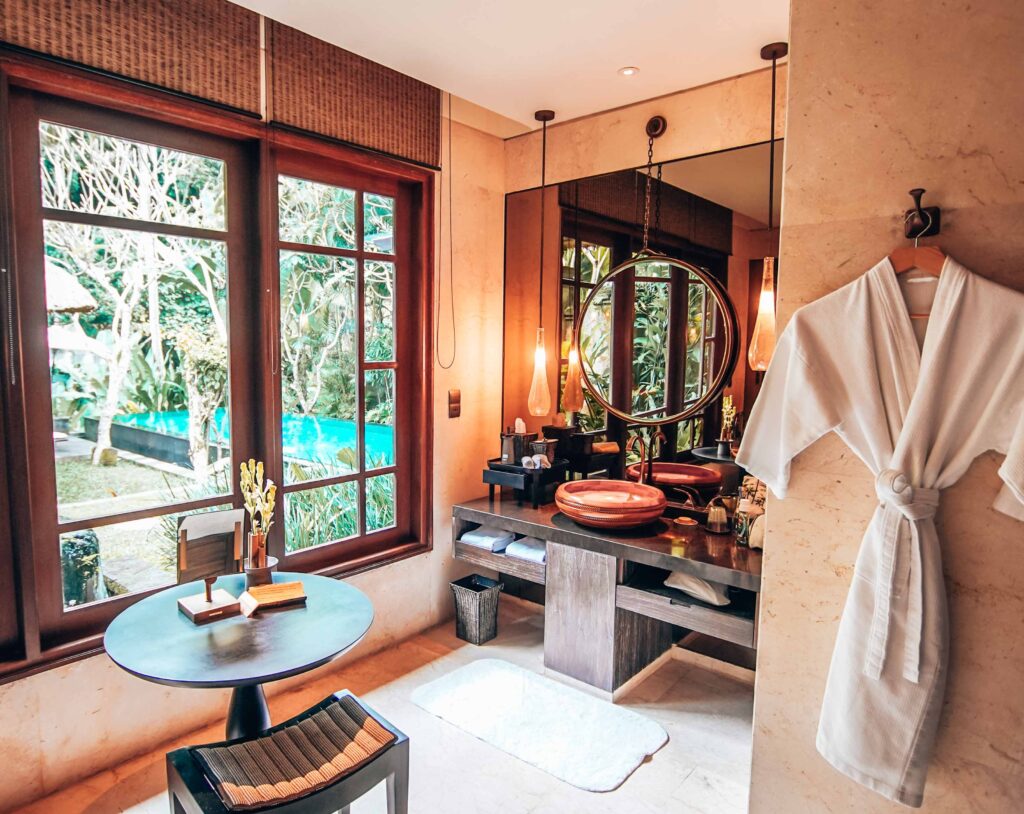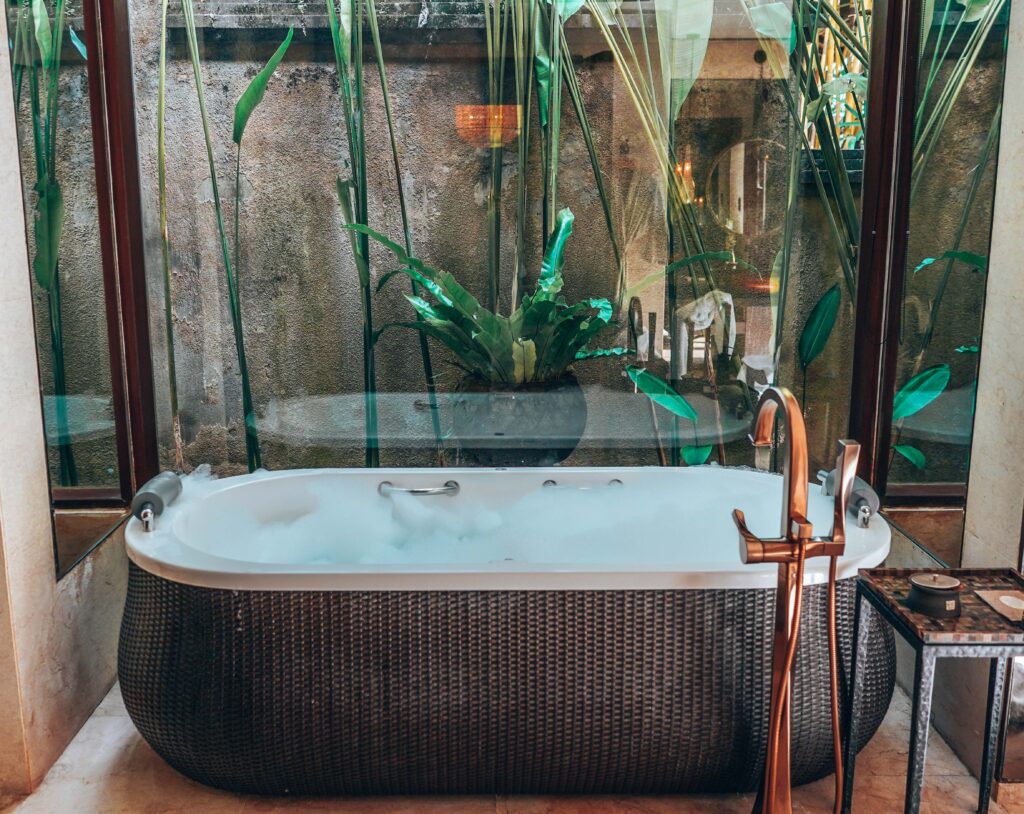 Main pool at Mandapa, A Ritz-Carlton Reserve
Set in the centre of the resort, the gorgeous pool area overlooks the perfectly manicured rice fields and the lush jungle beyond. There are two swimming pools you can choose from; one is heated while the other one is at ambient temperature. Both pools are complemented by beautiful single sun loungers, comfortable couple sofas, and some cabanas that can be found at the right-end corner of the pool.

The pool bar & the library are located behind the pool. The pool bar serves all-time classics along with some light meals like salad and sandwiches. Some juice and tea for the health-conscious are also offered, accompanied by a dedicated pool service. The library is a traditionally elegant lounge that serves refreshments and finger food throughout the day.
Activities at Mandapa, A Ritz-Carlton Reserve
Mandapa, A Ritz-Carlton Reserve offers a plethora of wonderful offsite activities and excursions to explore Ubud and its surrounding in style.
One of the most popular experiences is the Volkswagen Vintage tour, a fabulous half-day journey in a classic VW 181 convertible.
We left the resort at 8.30 am to explore some magical places, discovering some secret paths with our lovely driver and guide. After stopping at Tegallalang Rice Terraces, Gunung Kawi Temple, and Tirta Empul holy water temple, we ended the Vintage Tour with a delicious picnic freshly prepared and handcrafted by the chef, followed by a tea and coffee tasting at a local plantation site.
We really appreciated this way of discovering beautiful spots around the resort; it was a super nice experience and a must to do if you are staying at Mandapa, A Ritz-Carlton Reserve.
Romantic dinner at The Cliff at Sawah
For our last night at Mandapa, A Ritz-Carlton Reserve, we had the chance to experience the Romantic Candlelight Dinner at The Cliff at Sawah…
Set on a private terrace on the cliff-edge of the Reserve Valley, a beautifully decorated table for two surrounded by dozens of candles was waiting for us. Totally dream-like, this peaceful and magical décor was completed by the view of the calming Ayung river and the majestic jungle.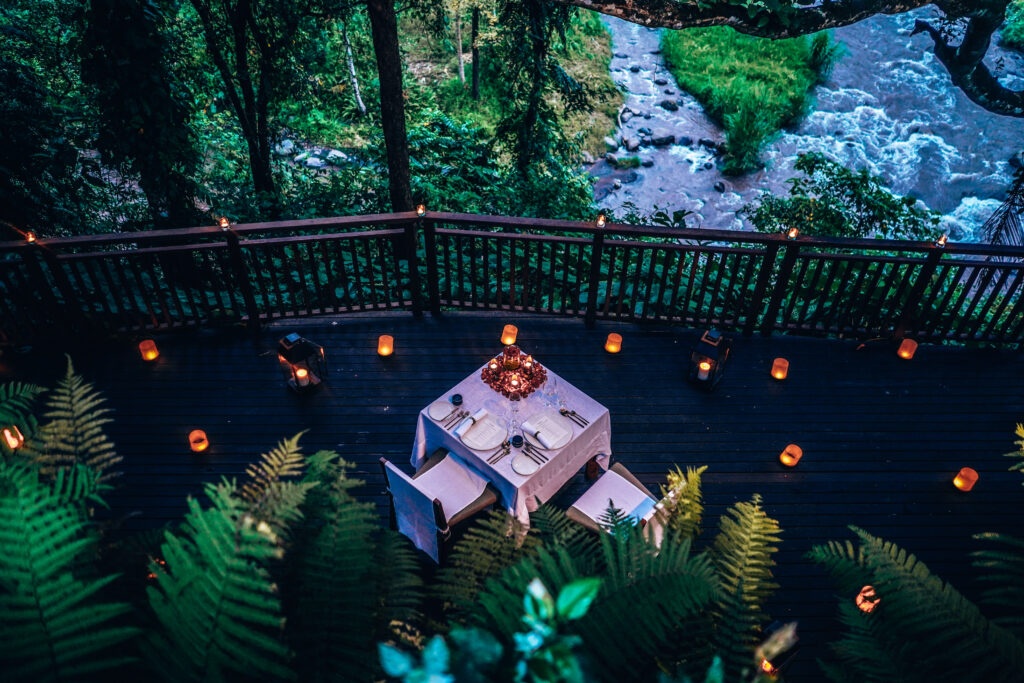 We indulged in an eight-course degustation menu showcasing the finest contemporary Indonesian cuisine. Foie gras, rock lobster, scallop, black Angus tenderloin and so many other amazing ingredients were part of the feast, and we were delighted with a wine pairing to complement the delicious and sophisticated culinary creations from the Chef.
We really enjoyed the intimacy and exceptional natural surroundings; it was a super romantic night, with excellent food and flawless service.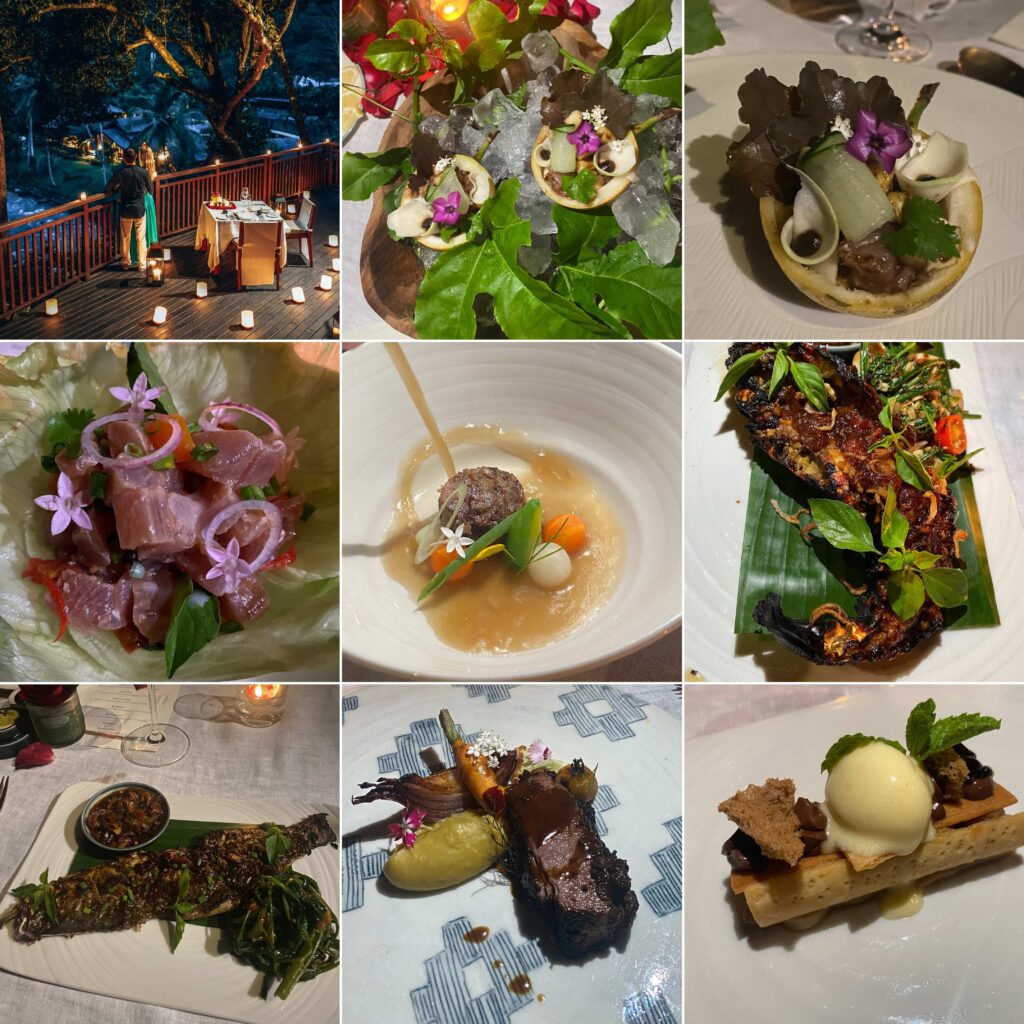 Breakfast at Mandapa, A Ritz-Carlton Reserve
Breakfast can be enjoyed every morning on the Sawah Terrace. In peaceful scenery, facing the Ayung River, we tried several classic breakfast options like a homemade warm pastry basket, fresh seasonal fruits, cheese and a cold cut board as well as some elaborately made à la minute dishes like prosciutto, egg benedict, smoked salmon avocado toast, caramelized banana pancake and coconut French toast. Everything was delicious and we would easily place Mandapa, A Ritz-Carlton Reserve in our top 5 of the best hotels breakfast in Bali.
In room breakfast in the One-bedroom Riverfront Pool Villa
Let's be honest, one of the numerous advantages of staying in a villa is to be able to enjoy breakfast in the privacy of your own outdoor space.
Waking up facing the infinity pool, looking at the mist slowly coming up from the valley, while waiting for a fabulous breakfast to be delivered at our doorstep…that's probably something we could get used to. Just like the first morning, the food was perfect, well presented and incredibly tasteful.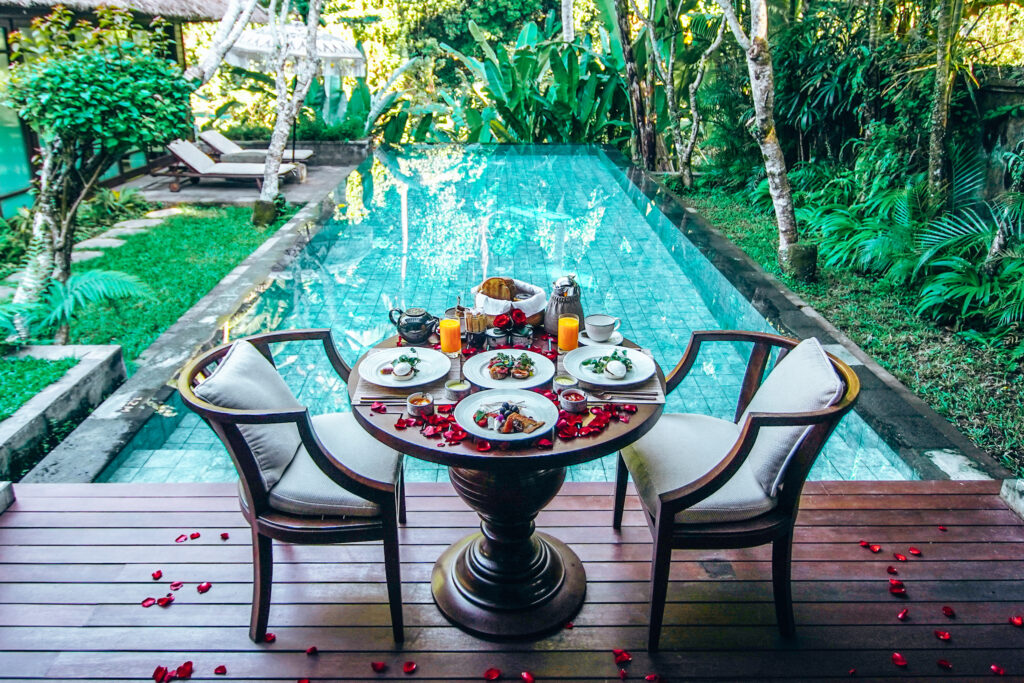 Mandapa SPA at Mandapa, A Ritz-Carlton Reserve
The riverfront Mandapa Spa is a total blissful sanctuary, a proper wellness temple that boasts five treatment rooms with a view, a yoga pavilion, a meditation temple, a vitality pool and a 24-hour fitness centre with saunas and relaxation areas. The extensive treatments menu includes Balinese-inspired massages, natural healing traditions, bodywork therapies and energy healing to give yourself the gift of a deep connection for your body, mind and spirit. At Mandapa Spa, you can also indulge in a unique opportunity to get a session with a local Balinese healer.
We had a divine time at Mandapa Spa. We treated ourselves to a 60-minute full body massage with some of the gentlest qualified therapists we've ever met. It was so good and relaxing that we decided to book another massage just before checking out. As for today, we just wish we lived closer to Mandapa, A Ritz-Carlton Reserve to be able to visit the SPA on a weekly routine.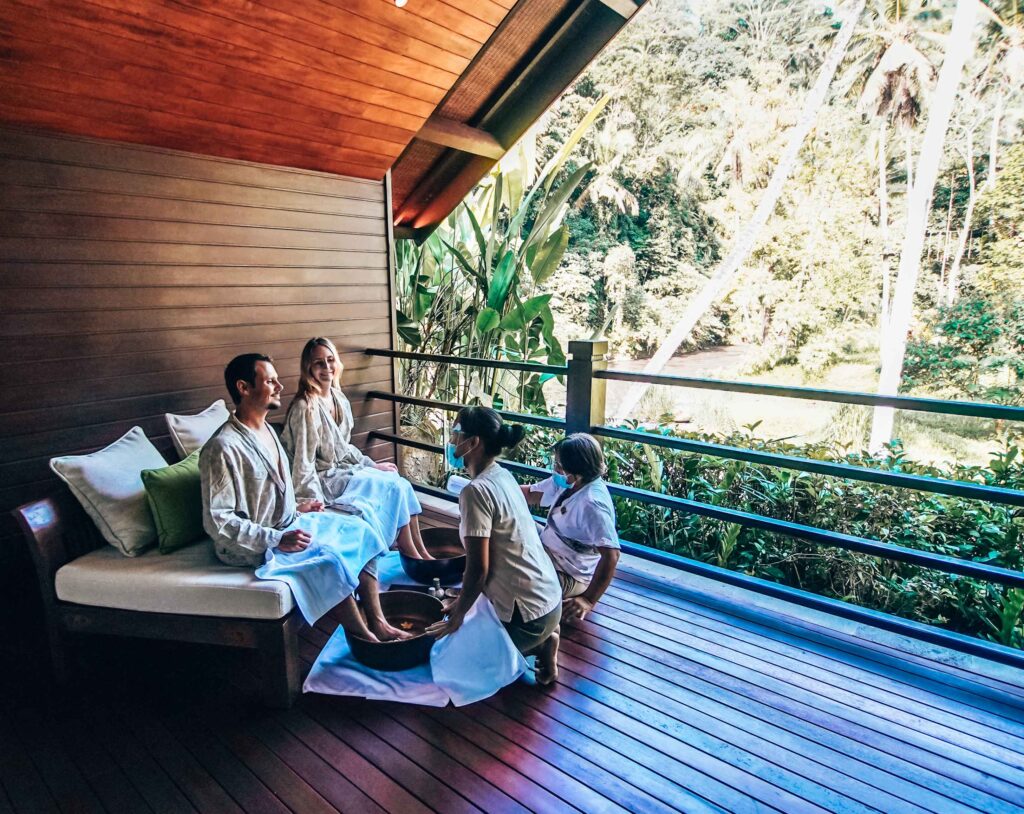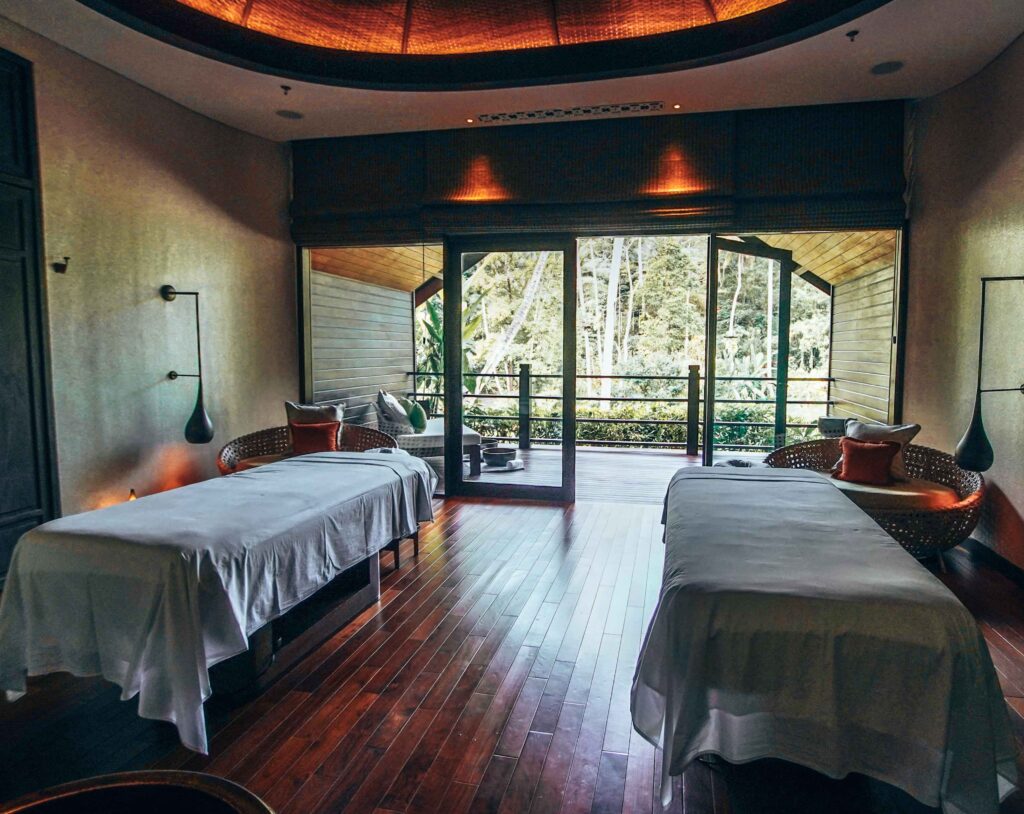 After our massage we were served a ginger tea with some delicious cookies in the stunning relaxation room that opens directly on to the Ayung River.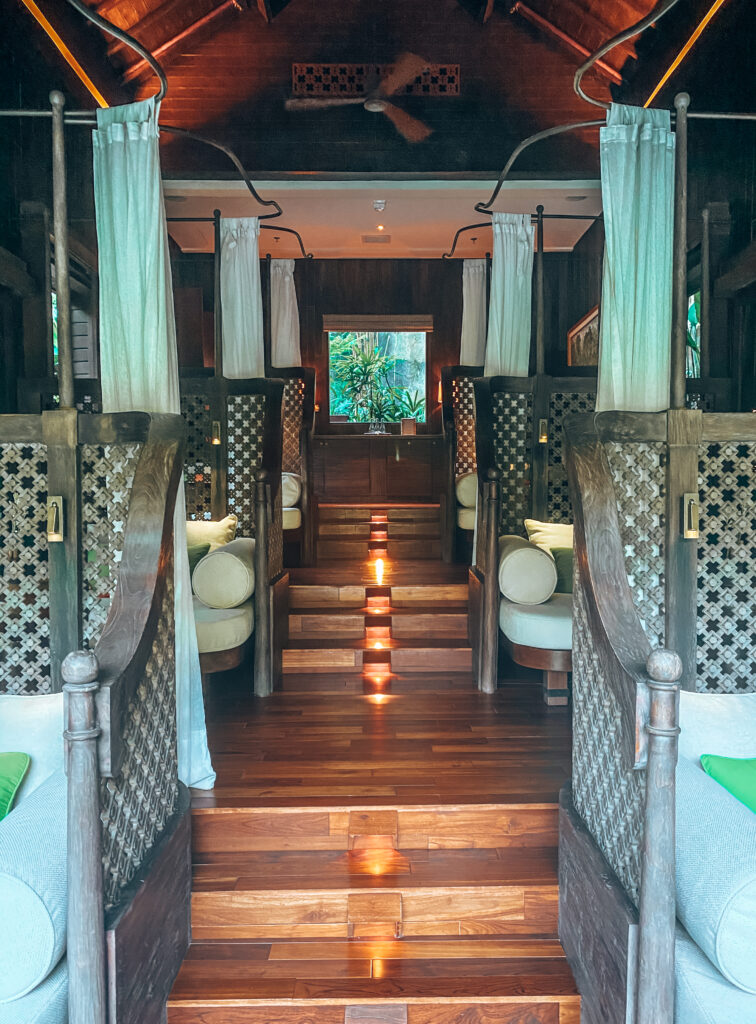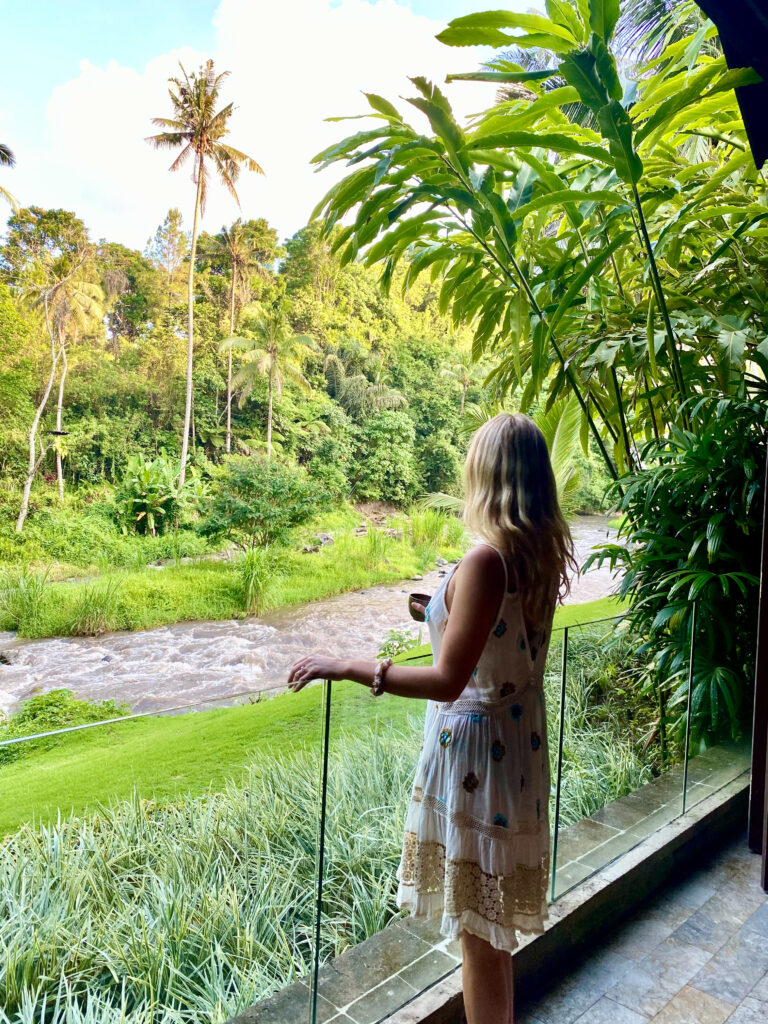 Evening cocktails at Ambar
Perched at the highest point of the resort, we had some evening cocktails and exotic handcrafted small bites at Ambar. Ambar means sky in Sanskrit, and this elegant bar offers exceptional views of the valley. It is the perfect place to enjoy some pre-dinner drinks in a peaceful and elegant atmosphere.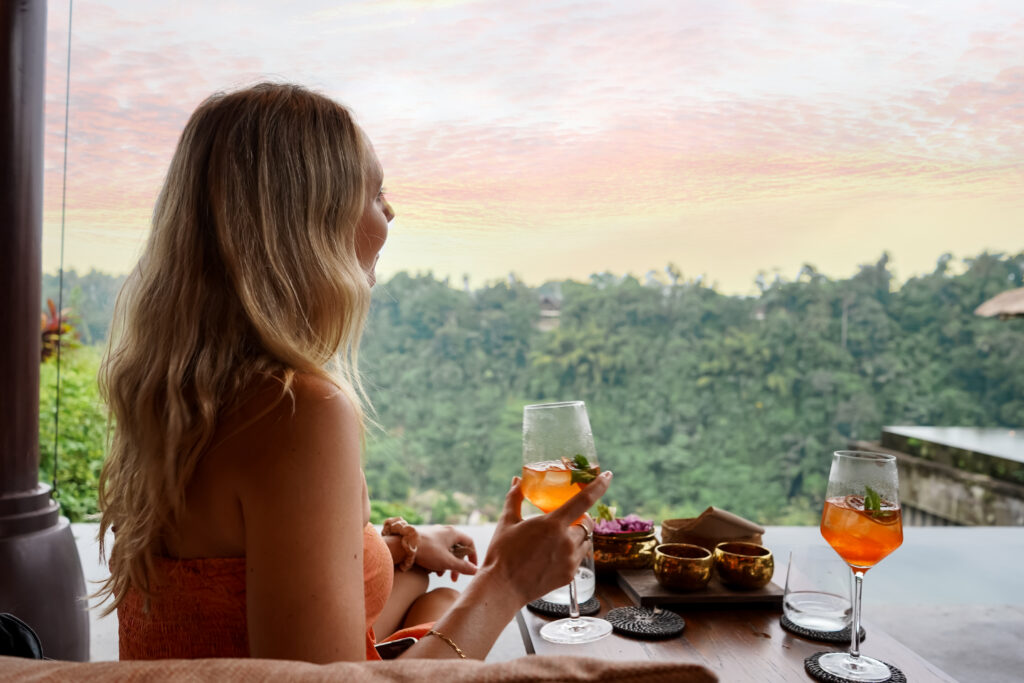 Our thoughts on Mandapa, A Ritz Carlton-Reserve
Mandapa, A Ritz-Carlton Reserve, had been on our list for a very long time and we weren't disappointed. Everything was beyond our expectations, and we would definitely come back for a longer stay when we need a place to fully unwind and escape from the city.