HOTEL REVIEW : MULIA BALI
In 2012, Mulia Bali opened its door in Nusa Dua beach, one of the most exclusive of Bali's coastal areas.
Less than a year later, the resort was chosen as winner for #1 Beach Resort in The World by Condé Nast Traveler USA – Readers' Choice Awards.
Fast forward 8 years later, The Mulia, Mulia Resort & Villas continues to be recognized as an outstanding world hotel. Over the years the property has accumulated an impressive number of awards from prestigious and respected travel websites, magazines and organizations. Not long ago, it earned a new Forbes Travel Guide Five-Star hotel award and will be showcased with other properties on ForbesTravelGuide.com
We moved to Bali in the same year as the resort opening and we were one of the first customers to enjoy the famous Sunday Brunch at Soleil restaurant. We have also stayed at the property many times and our family regularly enjoy a few days when in Bali. The Mulia, Mulia Resort & Villas has always had and will continue to have a spot on our list of top favourite resorts in Bali. We figured it was time to share our experiences with you.
So, what makes The Mulia, Mulia Resort & Villas so special? How did a newly built resort in Bali became the #1 Beach Resort in The World in less than a year?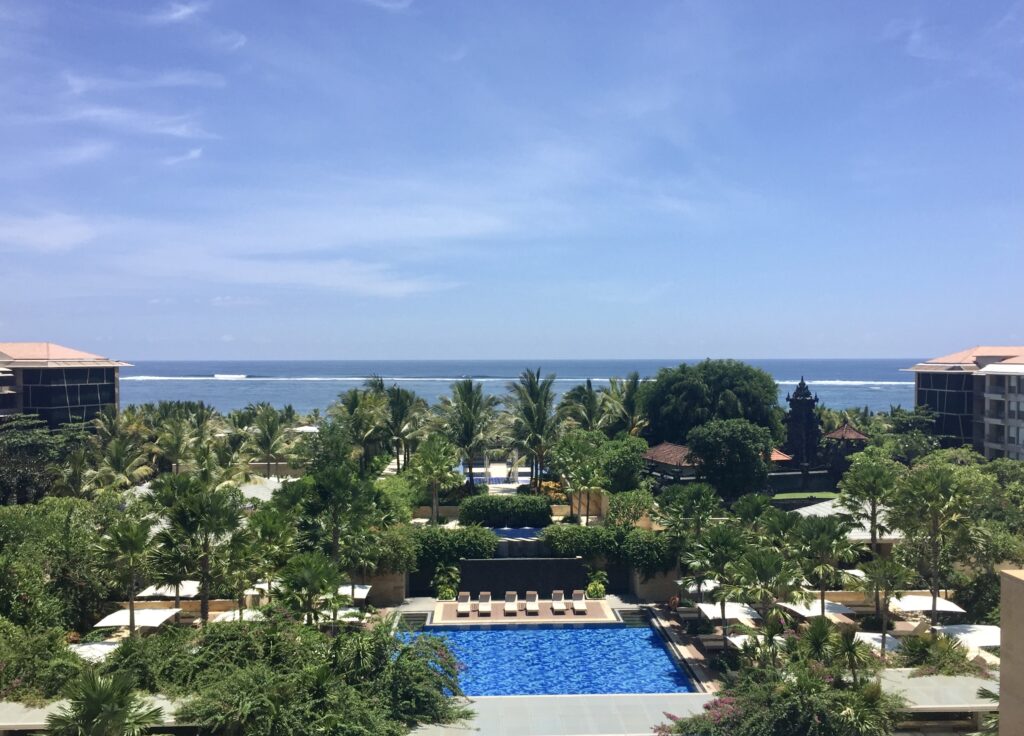 The Mulia, Mulia Resort & Villas, consist of 3 unique experiences within one same location set along 30 hectares on the coastline of Nusa Dua :
Mulia Resort features 526 comfortable luxury rooms and suites surrounded by the majority of the facilities including pools, restaurants, bars, a fitness center and wedding chapels.
The Mulia, which is an ultra-high-end all-suite accommodation, is located next door to Mulia Resort. The property offers 111 decadent decorated luxury suites with large balconies and private Jacuzzis. Guests of The Mulia can enjoy the same facilities as the Mulia Resort but with the privilege of a separate lobby, pool and restaurant (The Lounge), as well as a butler service.
Mulia Villas is an exclusive and private sanctuary comprised of sumptuous villas ranging from the blissful one-bedroom to the majestic six-bedroom mansion. Mulia Villa guests also have exclusive access to the Aqua pool and club, and a butler service ready to help you for whatever you need.
Mulia Resort Lobby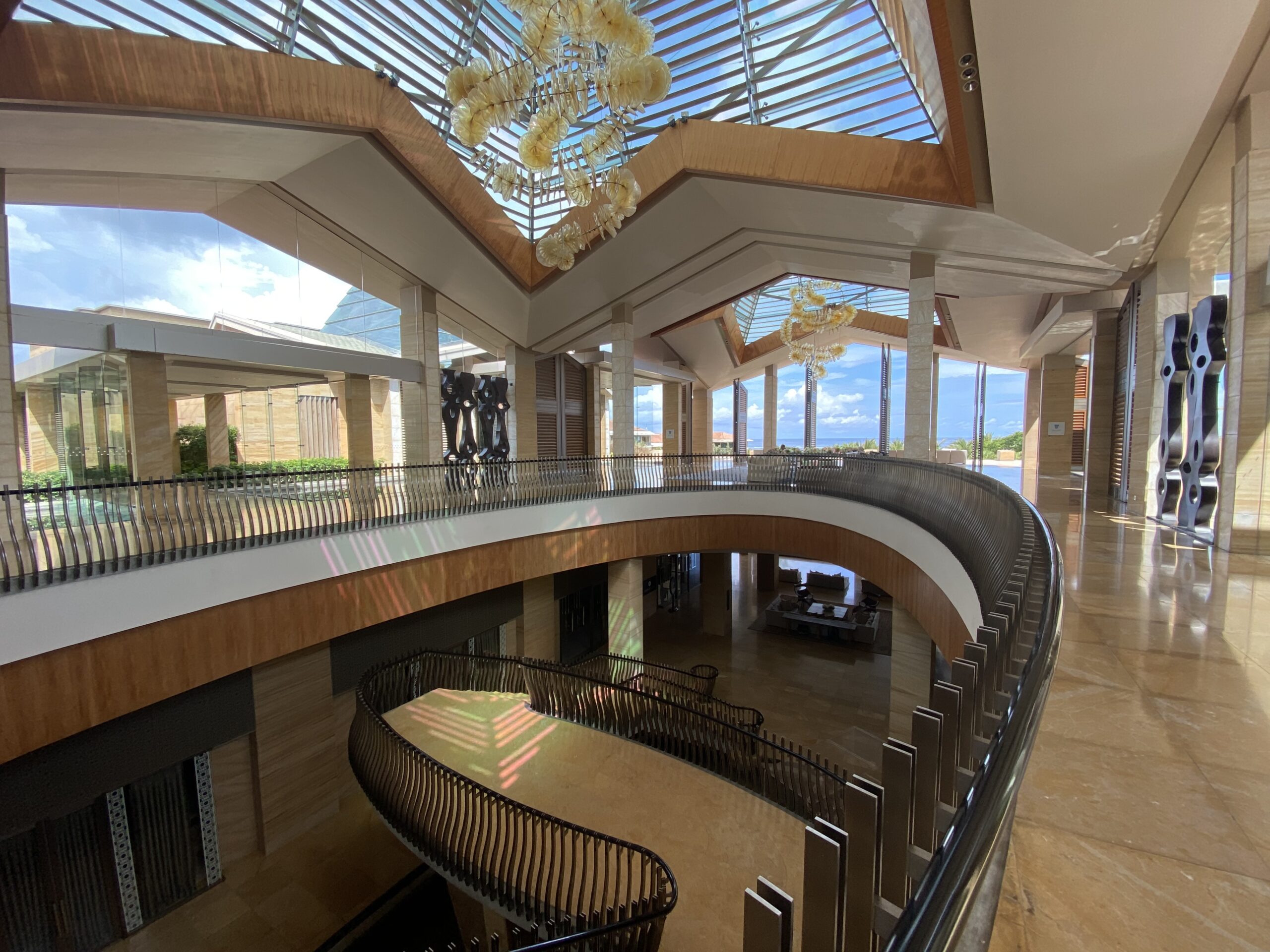 Royal Suite Ocean Court
The Royal Suite Ocean court is a spacious and luxury one-bedroom suite with a large balcony furnished with a daybed overlooking the pool and courtyard and with a partial ocean view.
The suite features a stunning marble bathroom with a huge stand-alone terrazzo bathtub, high-tech toilets (that open and flush automatically) and a walk-in closet as well as a gorgeous living space.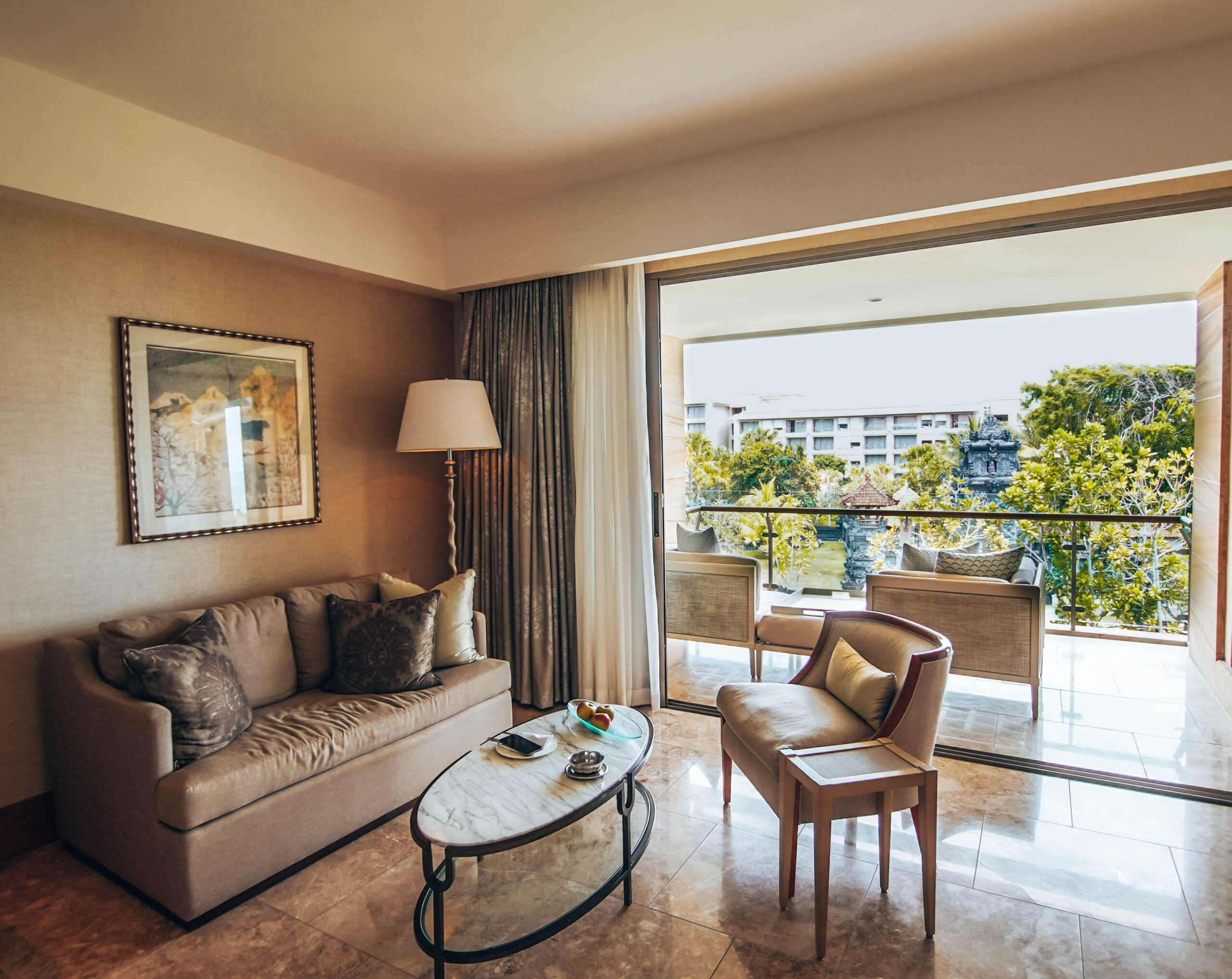 The very comfortable custom-made king size bed looks so inviting; you won't be able to resist laying down for a while as soon as you enter your suite. Overall, the atmosphere is very luxurious, with chic tones of beige and gold, giving a very grandiose and elegant feel.
We were so impressed by the welcome macaroons printed with some photos of us. Not only they were delicious but also so original. We really appreciated this kind attention from the management.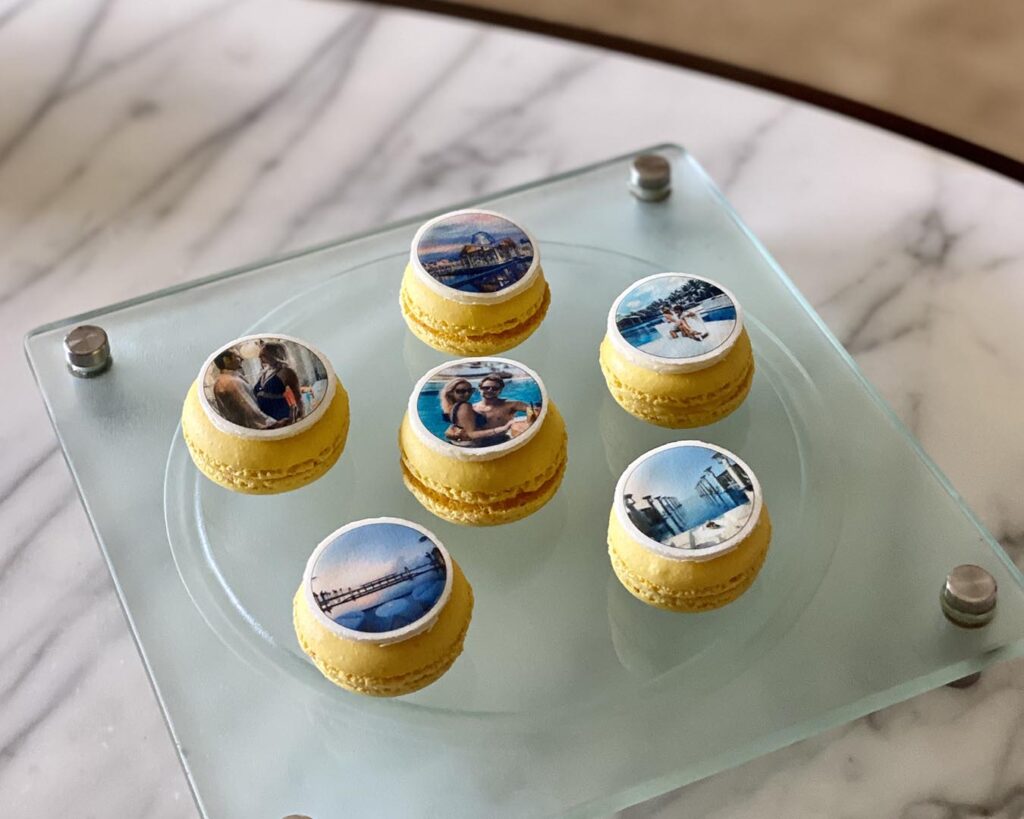 Dining at Mulia – 9 Restaurant & Bars
Dining options at Mulia Bali are numerous and while it is not always the case in big resorts, all the restaurants are fabulous there.
You can choose from 4 different type of cuisine:
Table 8: Chinese cuisine
Edodgin: Japanese cuisine
The Café: International cuisine
Soleil: Mediterranean & Pan-Asian cuisine
You can also enjoy high tea at the Cascade Lounge, shop for some French pastries at Mulia Deli and enjoy delicious cocktails and drinks at The Bar, Sky Bar and ZJ's Bar.
At the time we were staying at Mulia Resort, because of the Covid-19 situation, dinner was only possible at The Café. But worry not! They have combined menus from the Edodgin, Table 8 and The Café restaurant to offer an 'All you can eat' experience with a full range of tasteful cuisines, and a room, especially for desserts.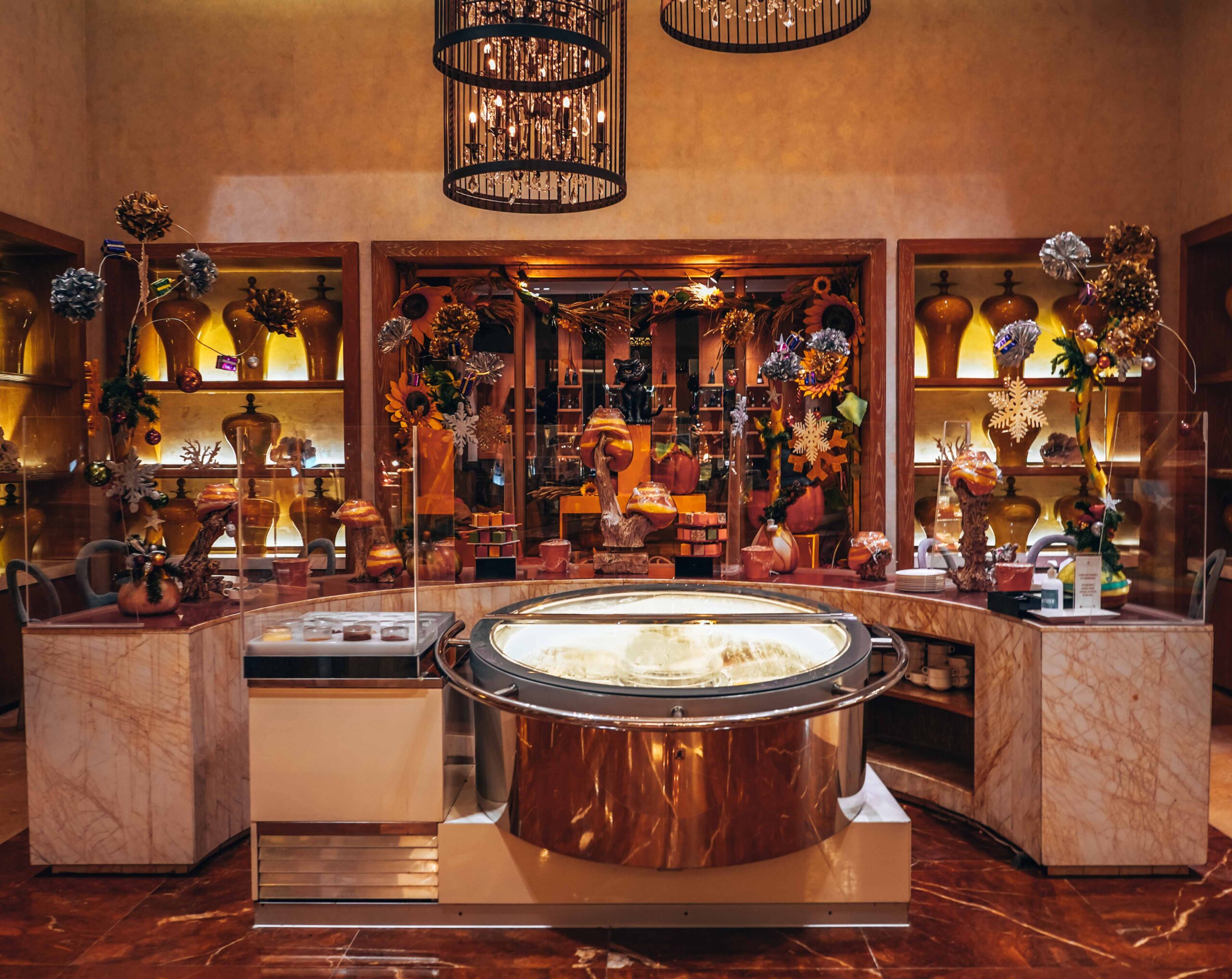 As we said previously, outside of this 'special covid-19 period' we have already stayed at Mulia Resort many times and we've tried all their restaurants. They all provide amazing and sophisticated food with superb décor and ambiance. It is totally possible to eat at the Mulia Resort every day without having to go out of the resort, and most importantly, without getting bored.
Afternoon tea at the Soleil Restaurant
We tried both the Classic Afternoon Tea and the Asian Afternoon Tea and we simply loved them. We were glad we had skipped lunch that day because the assortment was pretty complete. The presentation was amazing and so original.
We actually really like Afternoon Tea as it is a great way to get to try some specialities and delicious sweet and savory treats.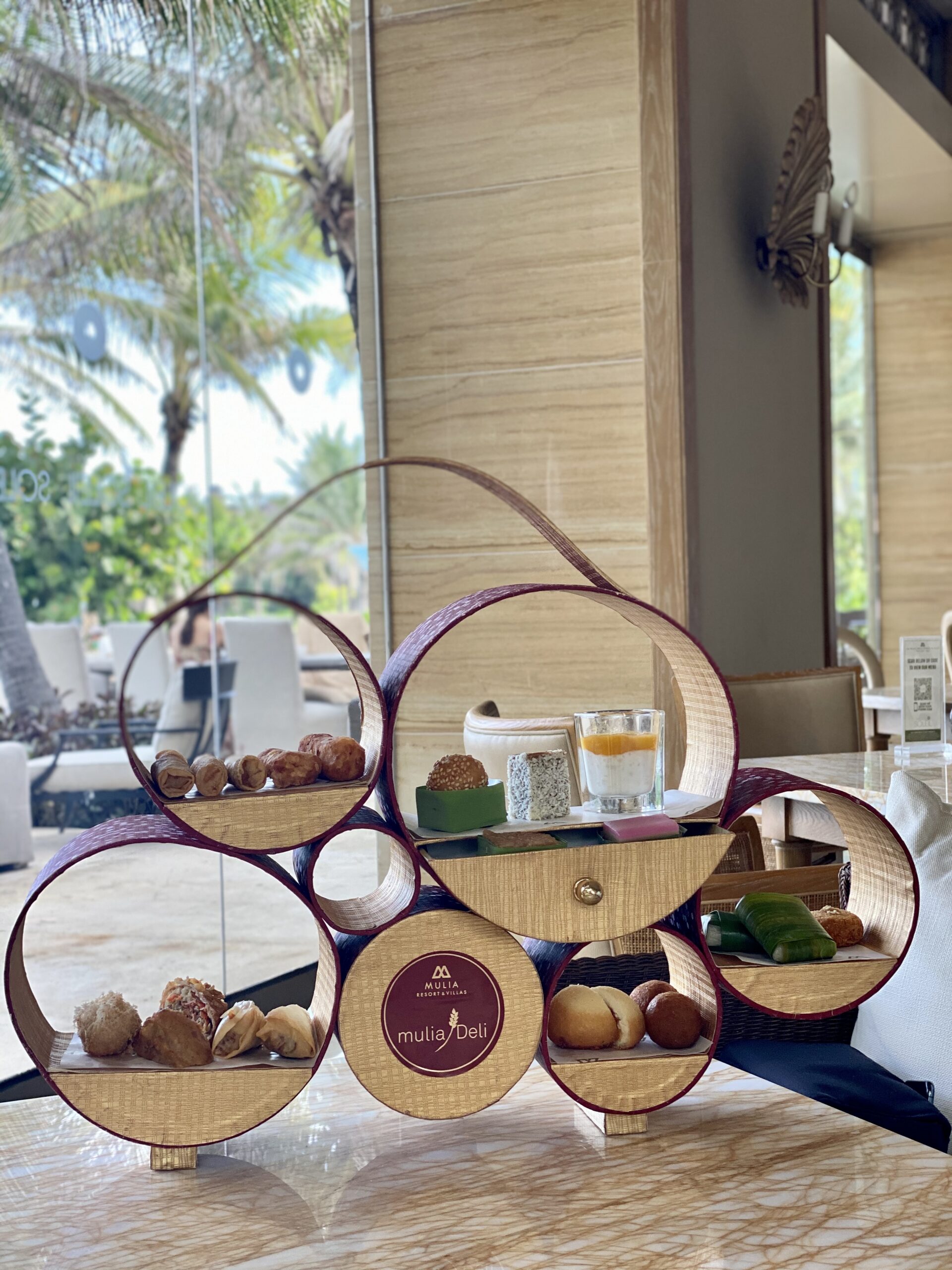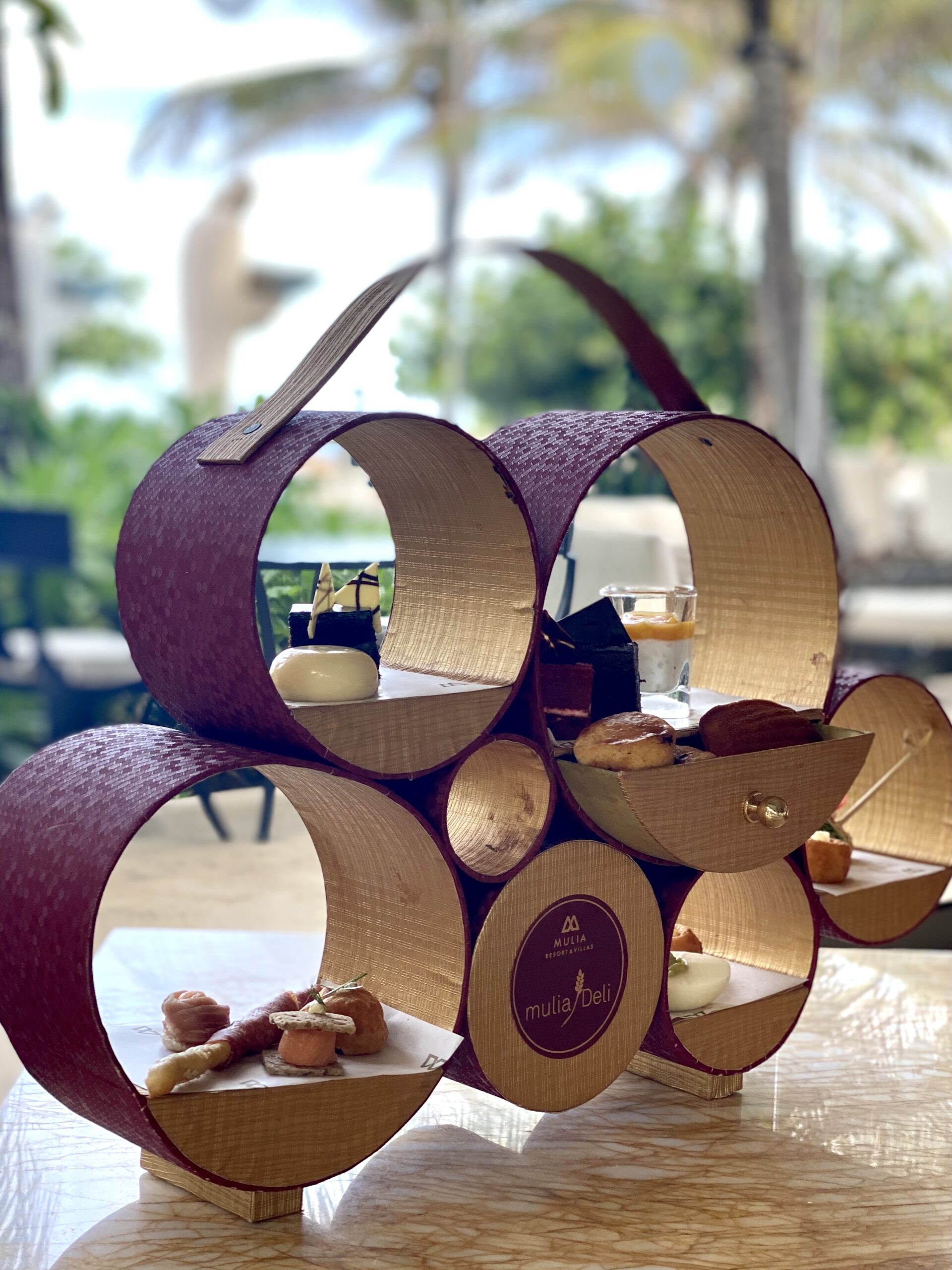 Breakfast at The Café
If you are breakfast lovers like us, then you must be a fan of luxury resort breakfasts. Honestly, we haven't experienced a buffet breakfast as good as the one we had at Mulia Resort. God knows that we aren't easily impressed but you can believe us when we say that this breakfast is really something!
It actually looks more like a brunch than just a simple breakfast, with a mind-boggling array of choices ranging from Asian to Western food available through various live cooking stations, delicious cooked à la minute dishes, as well as an extensive buffet.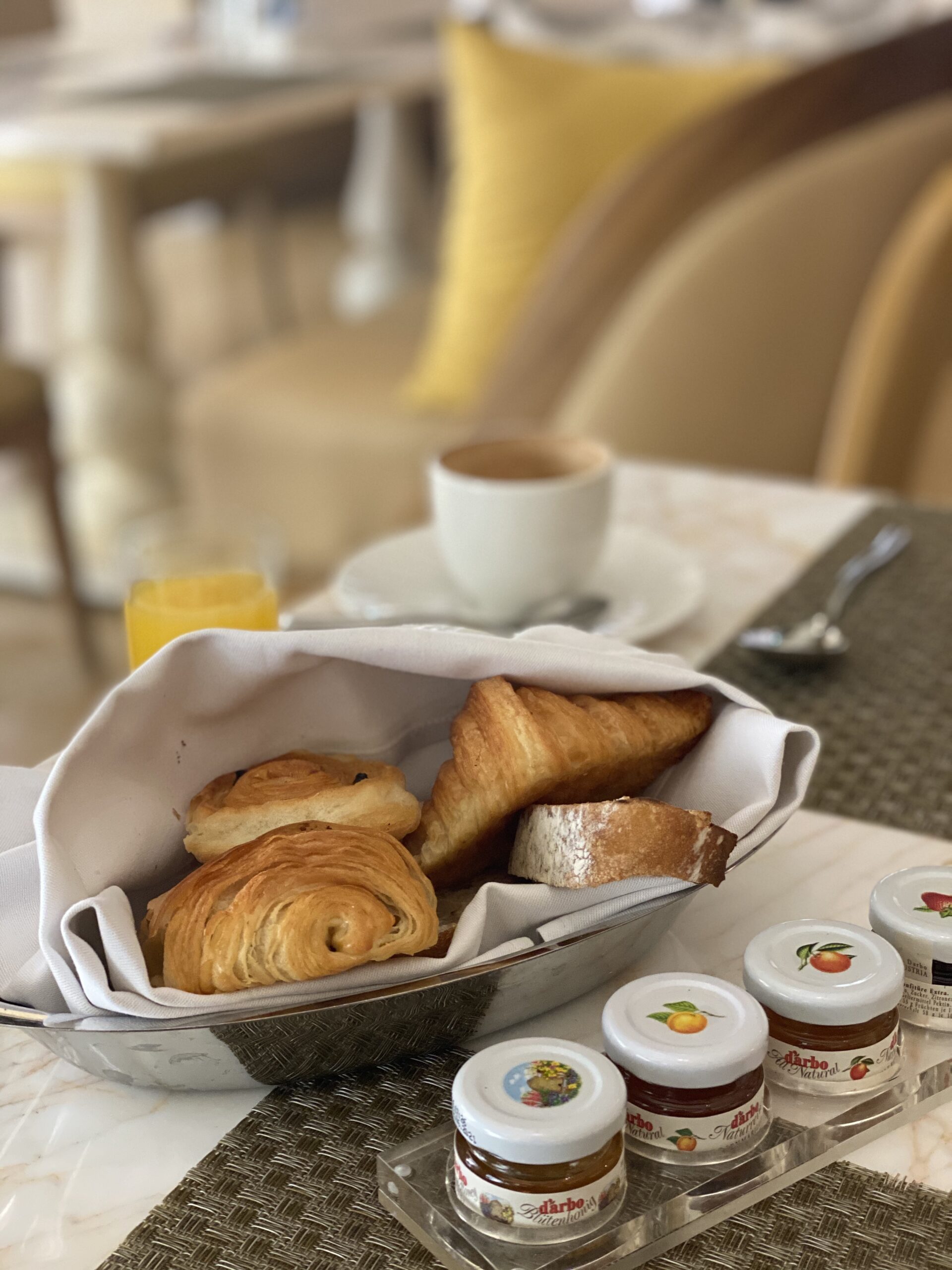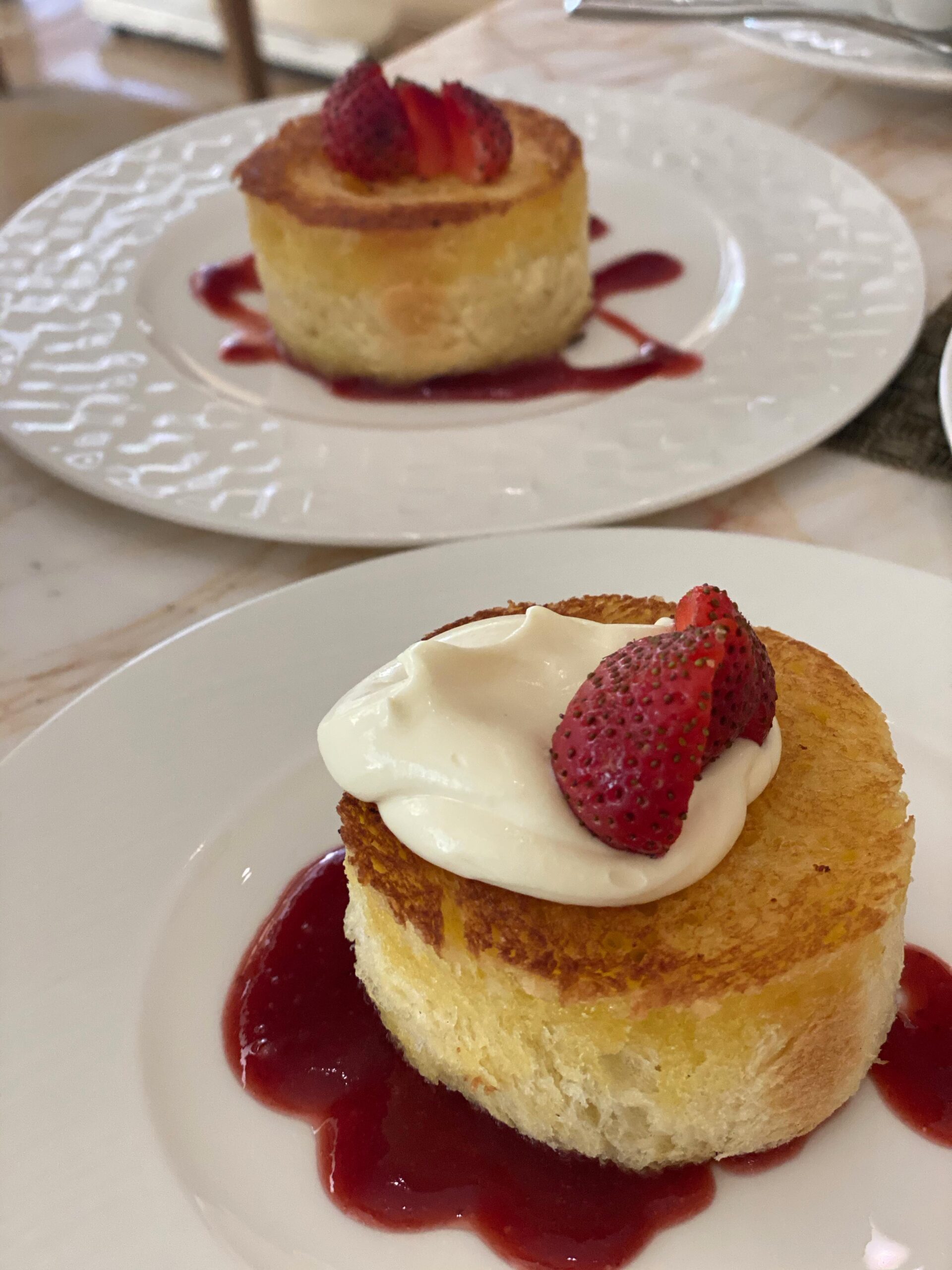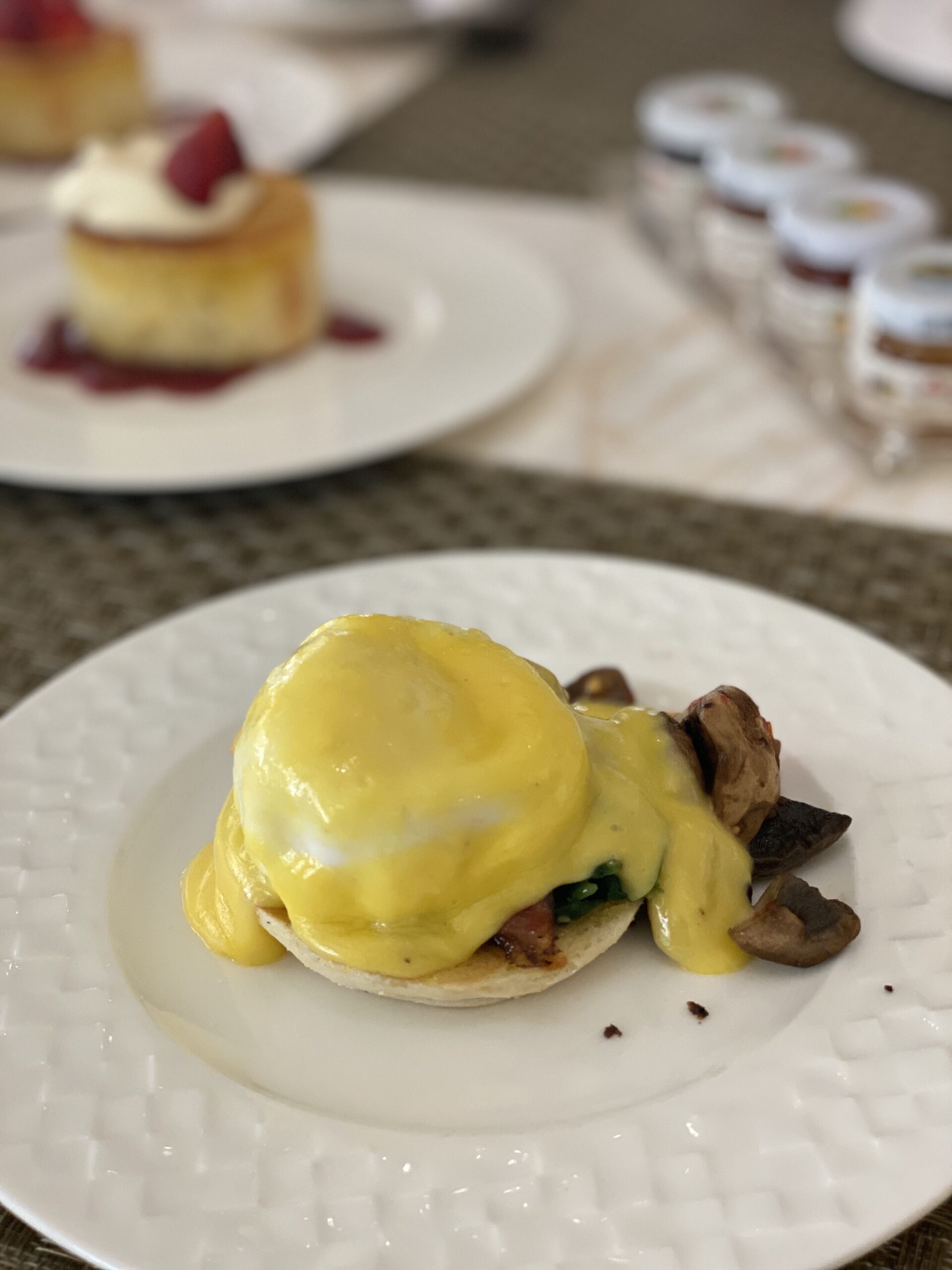 The pools at Mulia Resort
Mulia Bali is home to the world's most luxurious pools with a characteristic style designed to impress and give an imperial feel.
With four outstanding pools and one exclusive pool at each of The Mulia and Mulia Villas the options are manifold.
Massive statues inspired by Balinese women holding offering baskets can be found at the corner of almost each pool and give an incredible ambiance.
OCEAN POOL
Mulia Resort ocean pool is Bali's longest infinity pool by the beach and features plenty of sun loungers as well as a very cool swim up bar that serves fresh coconut and delectable cocktail.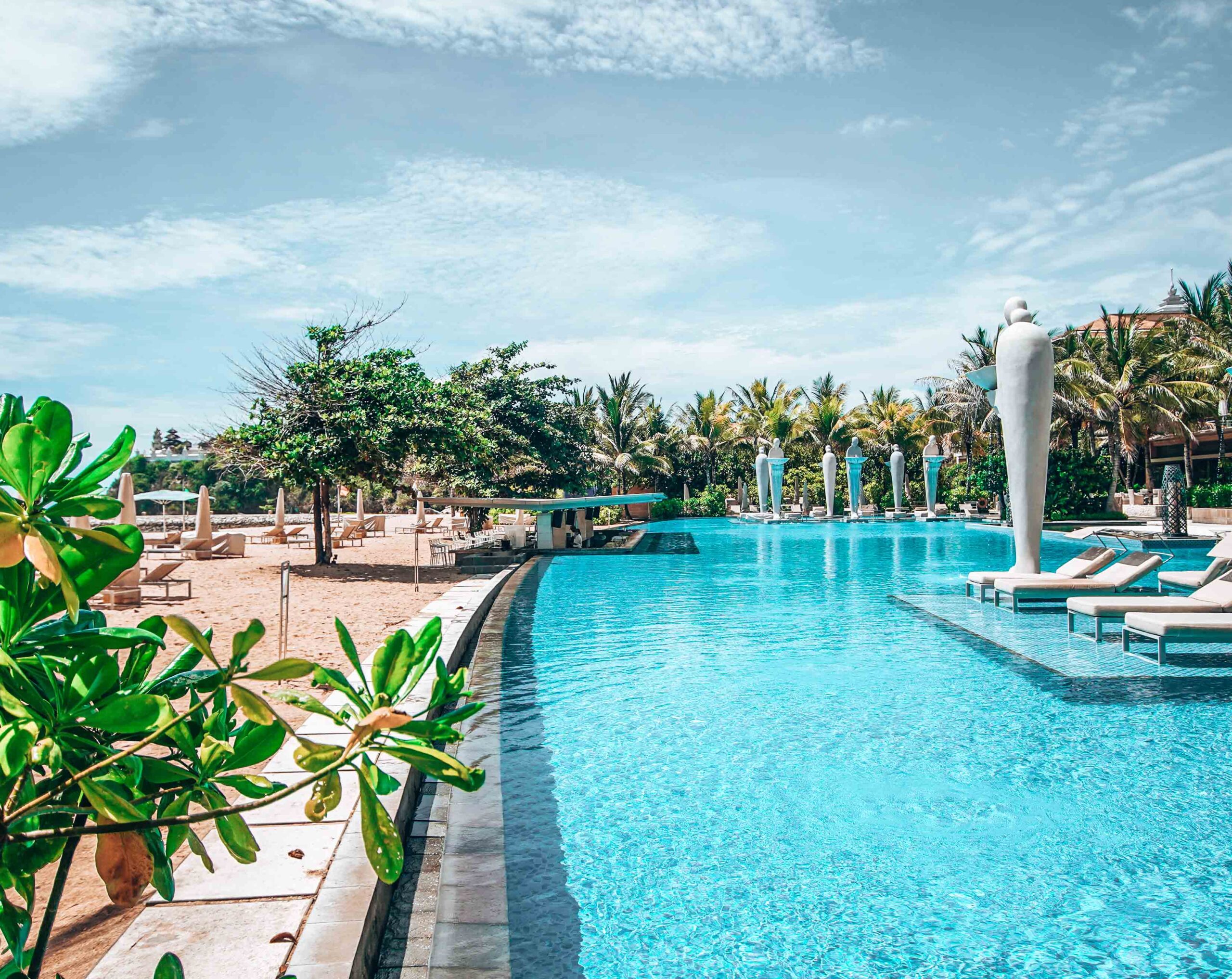 Some extra size ultra-plush day beds are also available on the resort's private white sand beach that offers calm turquoise water.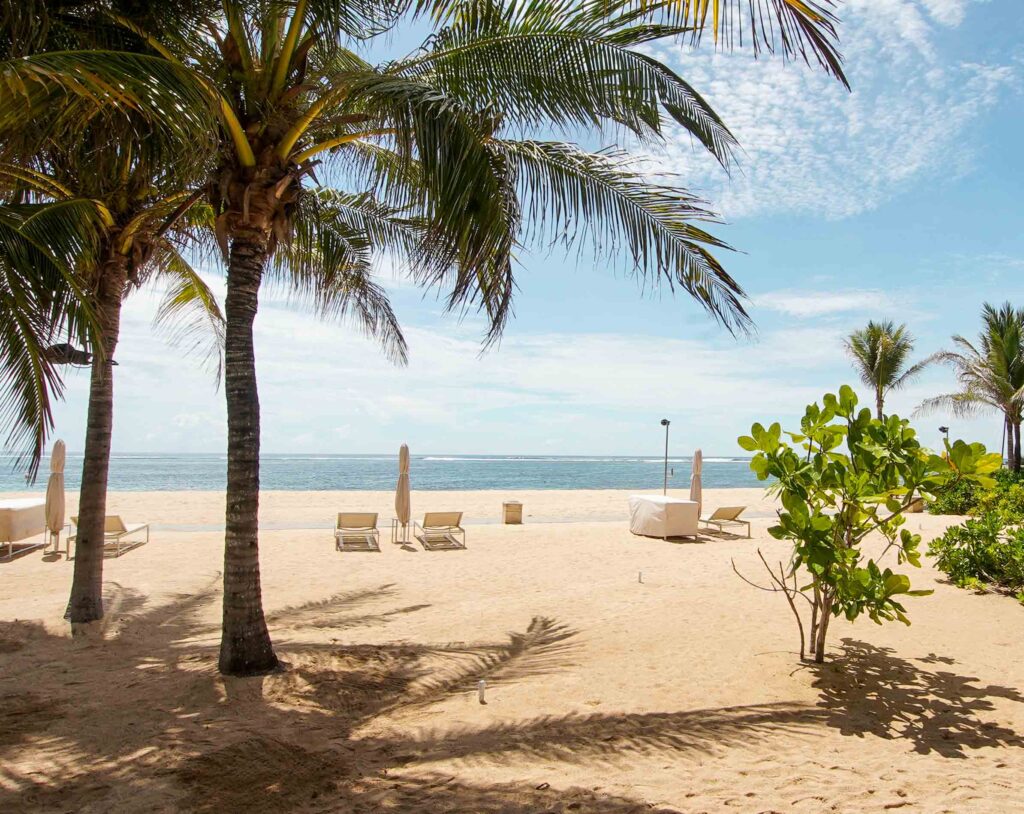 LADIES COURTYARD POOL
This pool is located in the heart of Mulia Resort with a lounging area surrounded by lush tropical gardens and a swim up pool bar. The Balinese lady statues represent the daily prayer and rituals of Bali.
SPLASH POOL
The splash pool is an area dedicated to little ones between the ages of 3 to 12 years old with water fountains, toboggans and plenty of space to play.
COURTYARD POOL
This pool is an extension of the Ladies Courtyard Pool, positioned in the middle of the resort and surrounded by palm trees and tropical vegetation with a plethora of sun beds.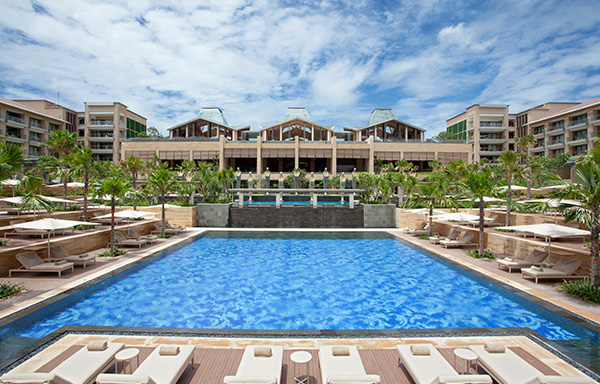 POOLSIDE CABANAS
Some elegant poolside Cabanas are available at the Mulia Resort and The Mulia for an exclusive and private moment enjoying snacks and drinks.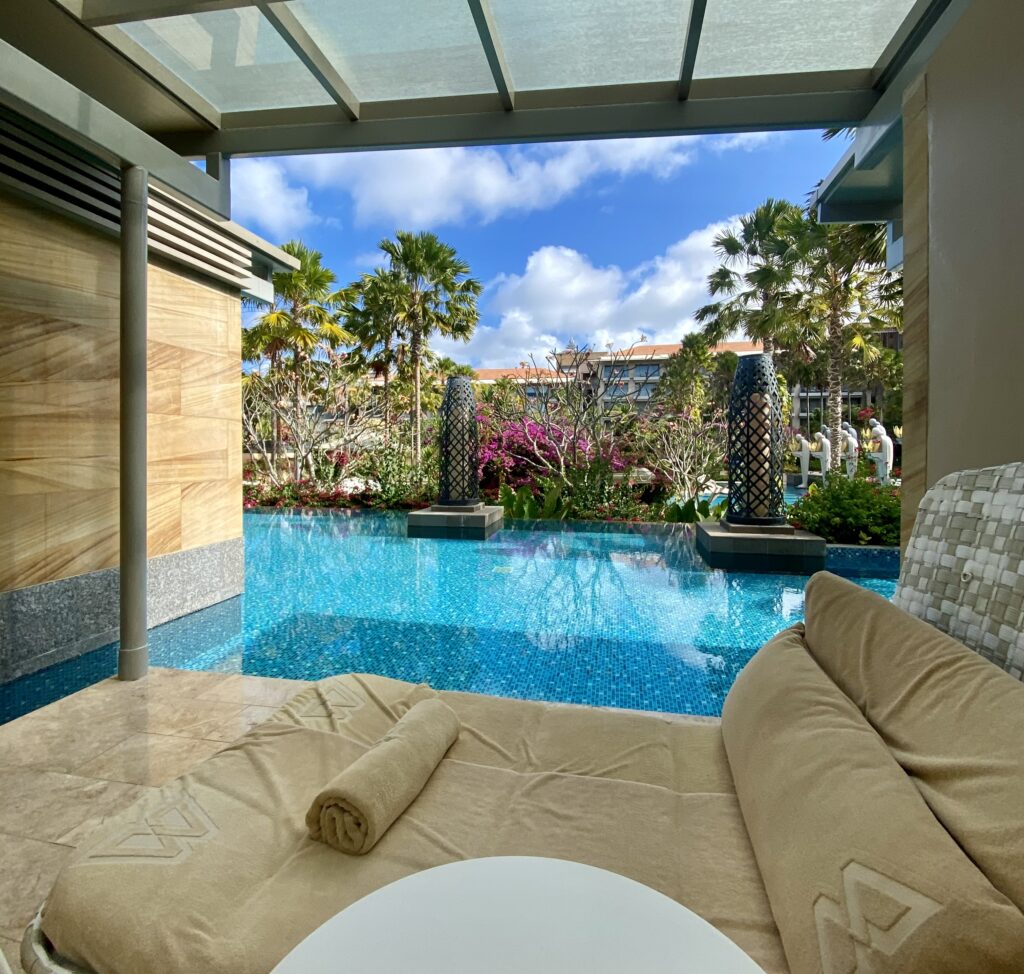 We've tested and approved all the pools and we also love to spend quality time at the Cabanas. One really good thing about Mulia Bali is that the resort is so large you will never feel like it's crowded even when it is running at a high occupancy. Also there is something for anyone.
SPA at The Mulia
A holiday in Bali isn't complete without a proper visit to a SPA. Mulia Spa is a blissful sanctuary that looks like a palace with towering ceilings and elegant marble floors dedicated to pure wellness and relaxation.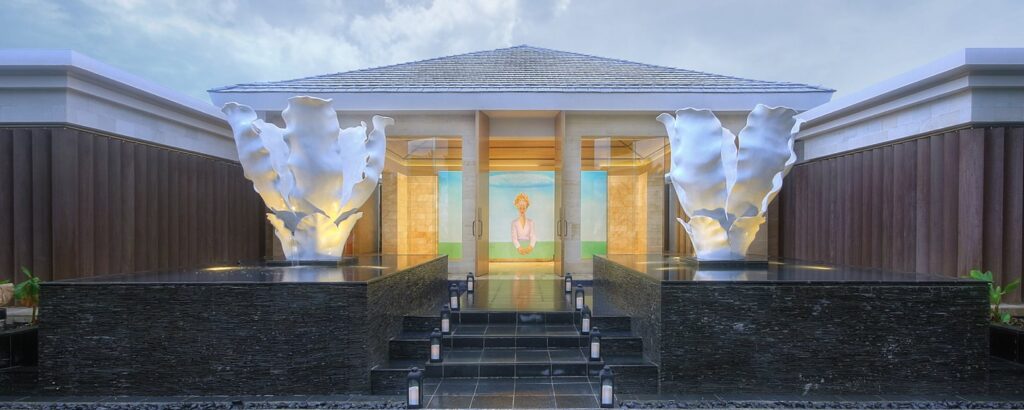 The Mulia Spa features 20 treatment rooms as well as some exceptional facilities like: the Finnish Sauna, the Meditative Steam Room, the Ice Room, hot and cold Hydrotherapy pools and Asian Hammam tables. The highlight is the -1 degrees Celsius ice room which is the first of its kind in Asia Pacific. The ice room consists of an Icefall Fountain that delivers some crystals that you can rub on your skin to boost your circulation, heal injuries and which offer many other benefits. This is definitely something really special to try once in a lifetime. As well as that, the Mulia spa delivers an array of incredible treatments that will satisfy all needs.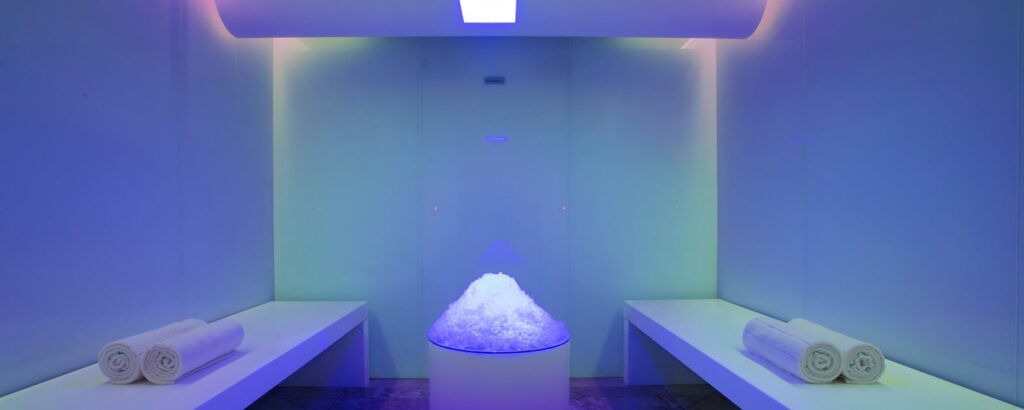 Pool at The Mulia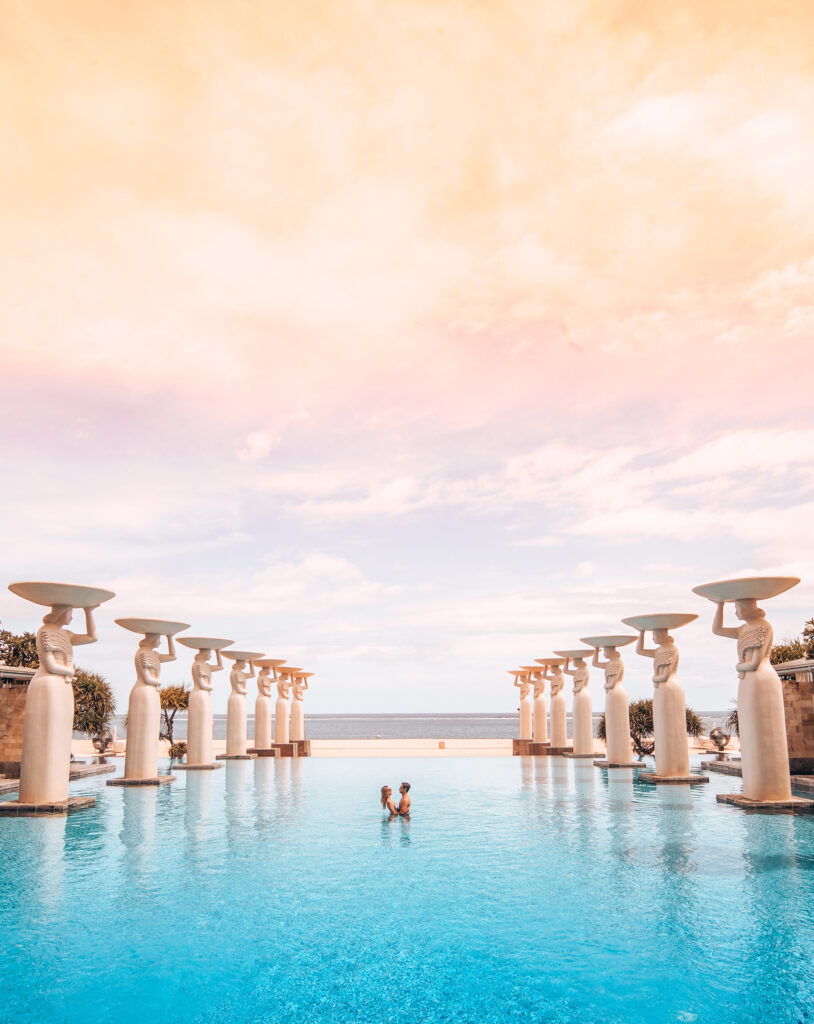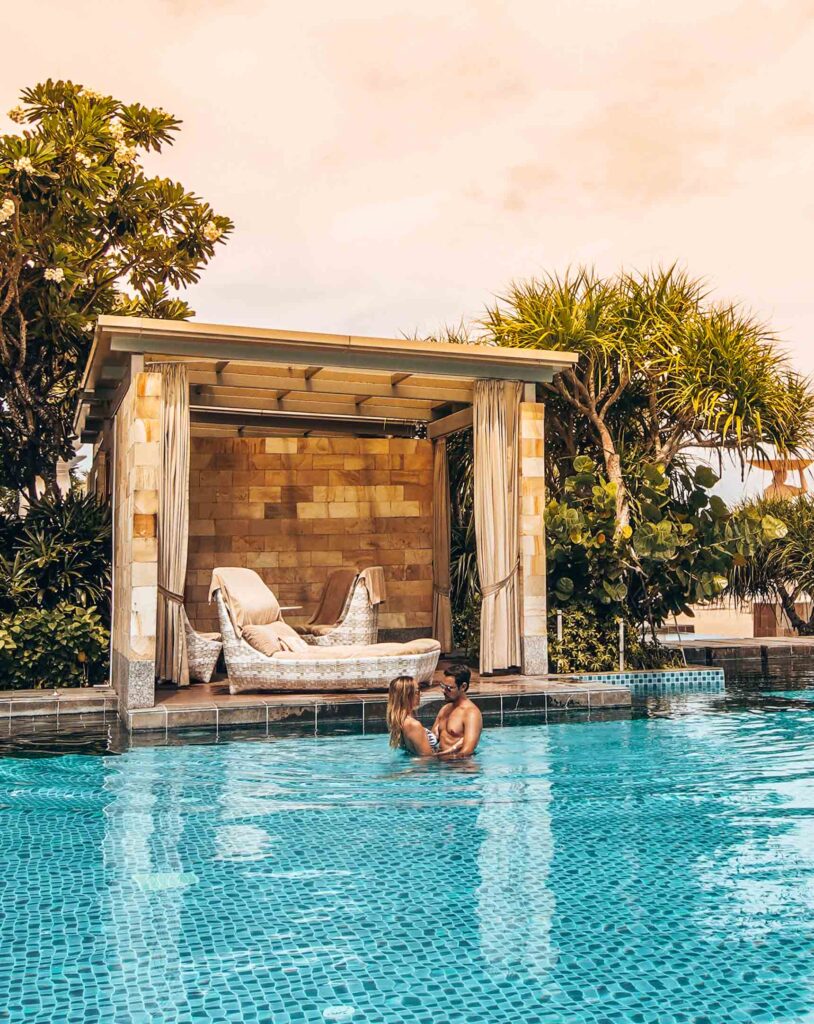 Our thoughts on Mulia Bali
Mulia Bali is a stunning resort located in an exclusive area with a strong focus on service, outstanding facilities and some of the finest dining experiences in Bali. Staying at this award-winning property is a truly remarkable and unforgettable experience that we highly recommend to anyone looking for a holiday like no other in a mind-blowing environment. Everything there shines and sparkles to create a palatial beachfront paradise where all you need to do is to relax and live your best life on the Island of the Gods.