The choice of the vehicle: 4WD or RV (Motorhome)?
Our complete itinerary
Q&A review
Our advice
Links to our campsites day by day
First things first, after choosing Western Australia as the destination of our road-trip, we needed to find the vehicle we were going to rent.
THE CHOICE OF VEHICLE: 4WD or RV (Motorhome) ?
The negotiation had been difficult because Steve had been dreaming of a stylish fully equipped 4wd while I wanted something more comfortable and even more equipped… After a long time researching and reflecting, I was sure of one thing: I wanted us to have as much freedom as possible and that we did not need to use the toilets and shared showers of a campsite. I also wanted it not to be necessary to undo and redo our bed every day (the bed in the basic models of motorhome are located where the dining table and bench are, which requires moving everything each time you want to sleep or have a meal). After a ton of research on various sites, I discovered the Cascade model from MAUI which is a brand of THL tourism company. The Cascade model has an electric bed that goes down from the ceiling to place above the dining table part, and you access it with a small metal ladder which allows you to keep the dining space as it is, or to accommodate a second bed for 2 people. This motorhome, therefore, has capacity for 4 people.
We chose the ELITE option which guarantees that the vehicle is less than a year old. To this, we added the MAUI inclusive pack, which contains all-risk insurance and a few other little things (picnic table and chair, second driver). We also decided to rent a satellite phone… just in case (we didn't use it).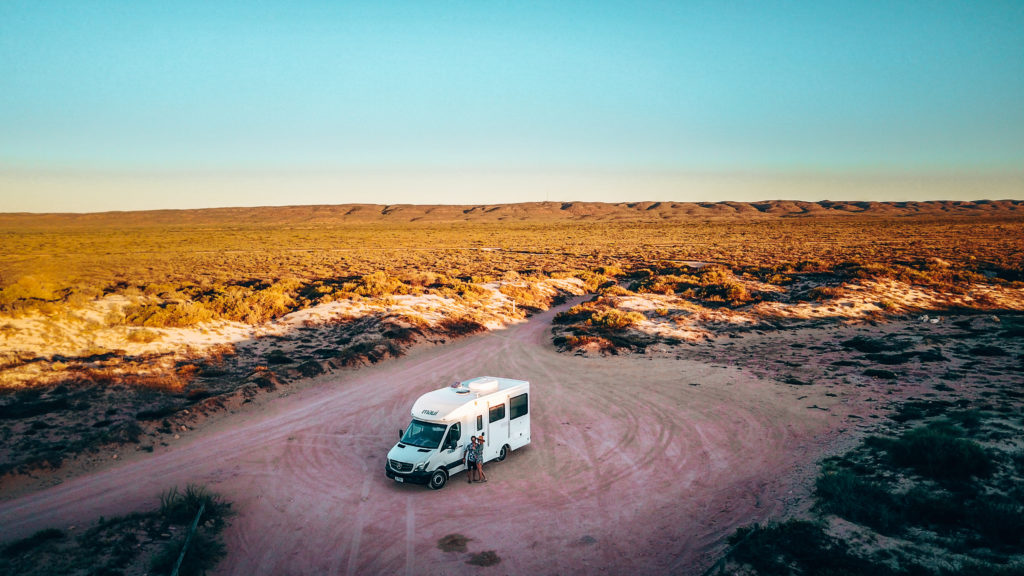 OUR COMPLETE ITINERARY
DAY 1
Belmont – Wilbinga Grove: 82km / 1 hour
After spending 2 nights in an apartment in Perth, it was time to pick up the keys of our new home for the next 14 days. The process was really quick and smooth. We signed the documents for the rental agreement and watched a video on all the important things we needed to know to be able to drive and operate the RV. After that someone from the company showed us in detail how everything works and then we were set to go!
We went grocery shopping at the nearest Coles supermarket to stock up our fridge with good food, drinks and snacks for several days. The activation of our Telstra SIM Card took ages and it was already 6 pm when we left for the first destination of our road trip in Western Australia: Lancelin. We stopped halfway at the free Wilbinga Grove area where we spent our first night.
DAY 2
1st stop : Wilbinga Grove – Lancelin : 55km / 45 minutes
We woke up to the sound of birds, set up our chairs in the sunshine and had a quick breakfast.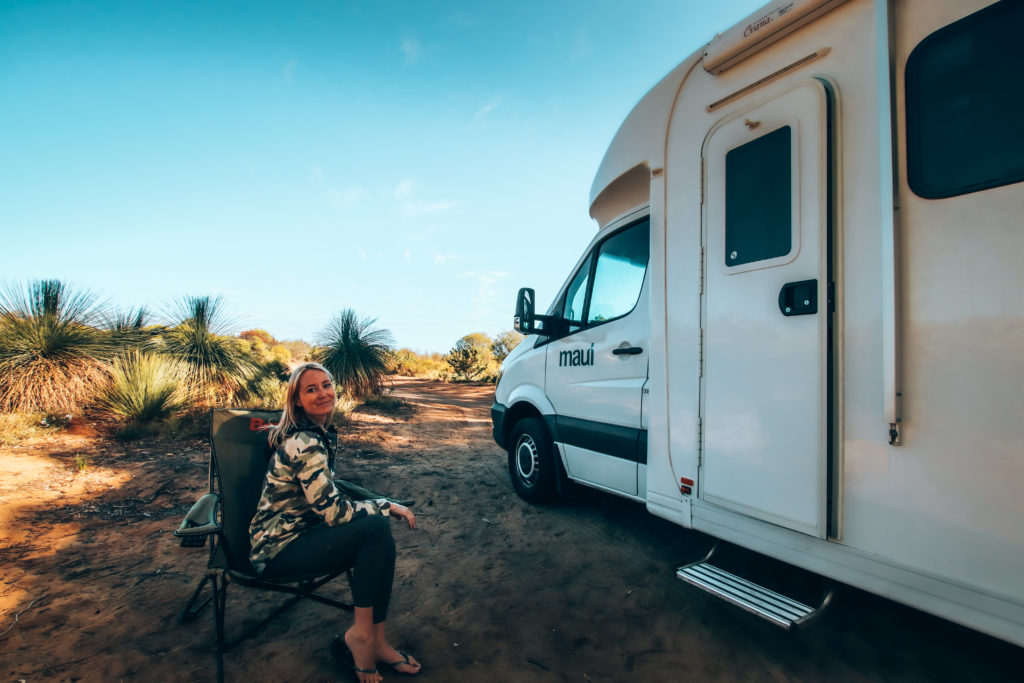 Then we traveled to Lancelin Sand Dunes, which is the perfect place to go sandboarding down massive dunes or to rent a quad. Lancelin is located an hour and half away from Perth; its white magnificent sand dunes stretch out on about 2km long and are the largest in Western Australia.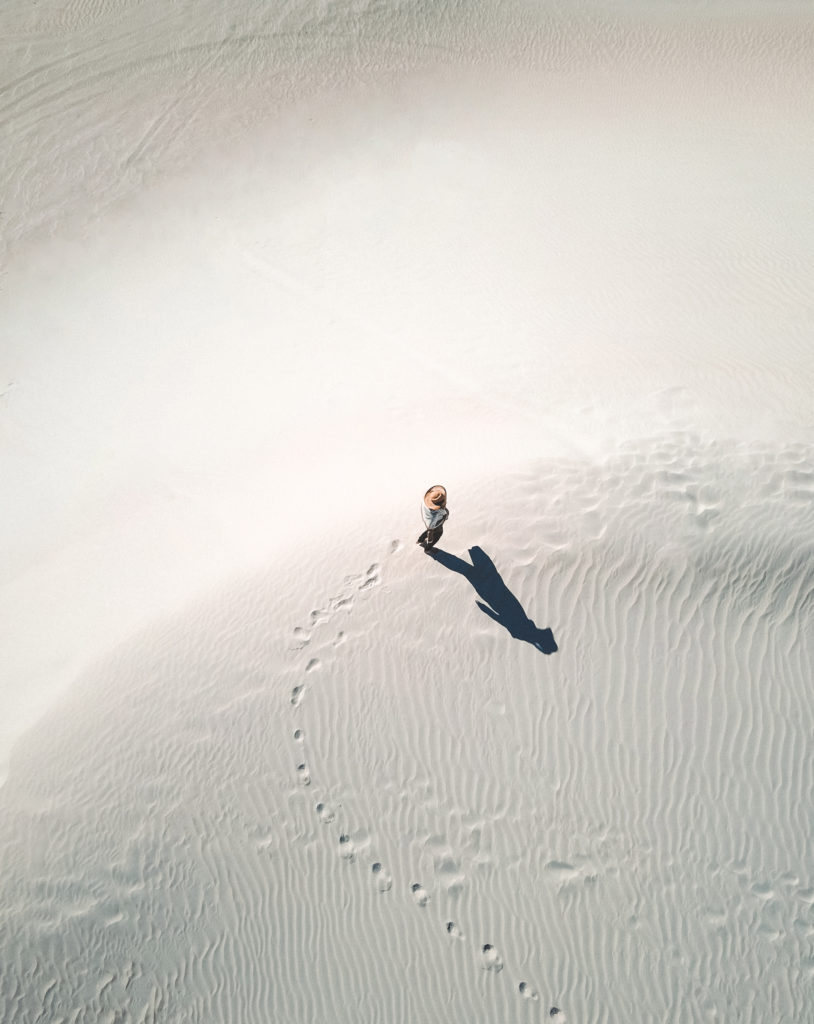 2nd stop : Lancelin – Pinnacles desert : 79km / 53 minutes
Visiting the Pinnacles of Nambung National Park is a must if you are doing a road trip in Western Australia. A quick walk led us to what we came to see. The landscape looked surreal; we were surrounded by thousands of natural limestone structures that were formed approximately 30,000 years ago and it felt like we had landed on the moon.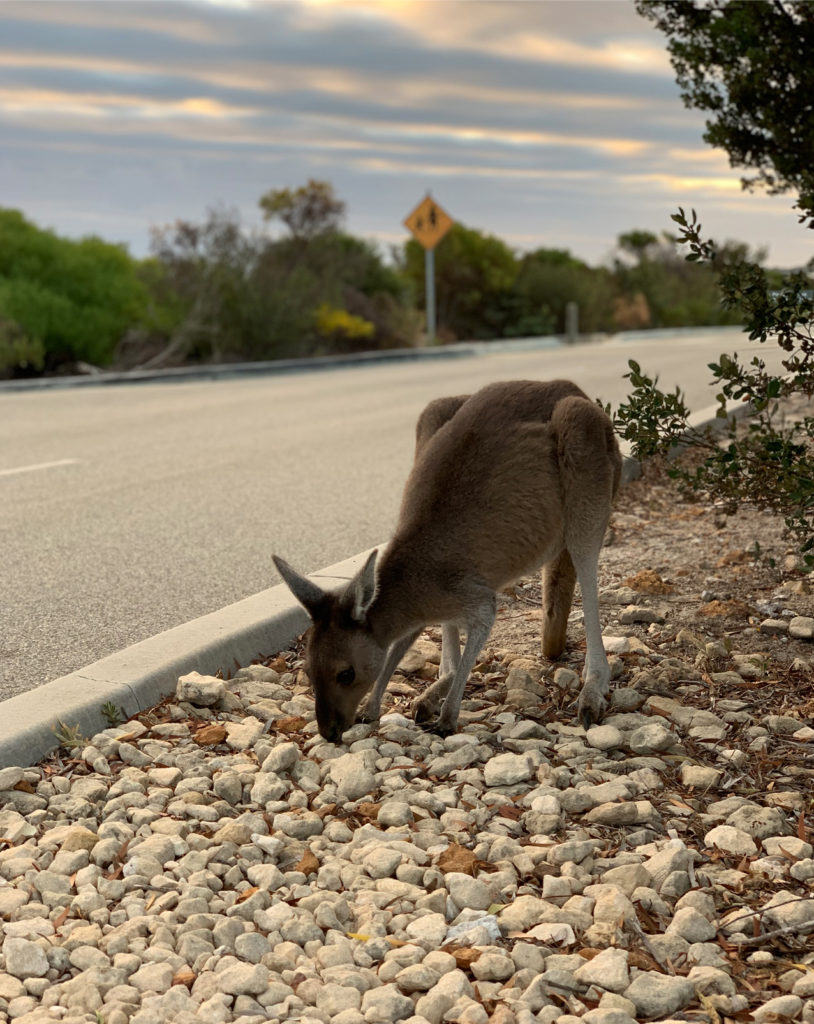 3rd stop : Pinnacles desert – Lake Indoon Campground: 110km – 1h12
DAY 3
Lake Indoon Campground – Wooramel Station Riverside Retreat: 518km / 5h20
It was an annoying long day of driving and we headed straight away to Wooramel Station Riverside Retreat. After staying for 2 nights in free campsites, we opted for a paying campsite because we needed to fill up our fresh water tank (the water that comes out of our shower and tap), and empty our grey water. During the check-in we were given a map and a choice of where we wanted to camp. We decided to settle up near the river even though there was no water in it as it is an upside-down river that only flows a few times a year.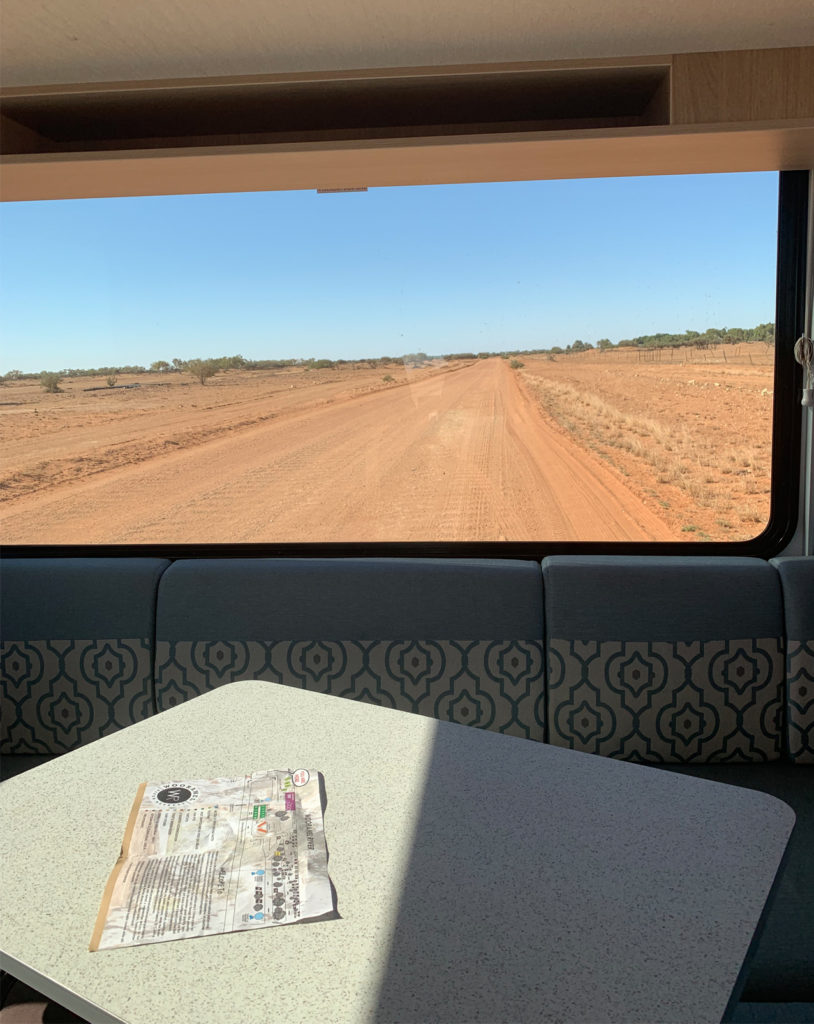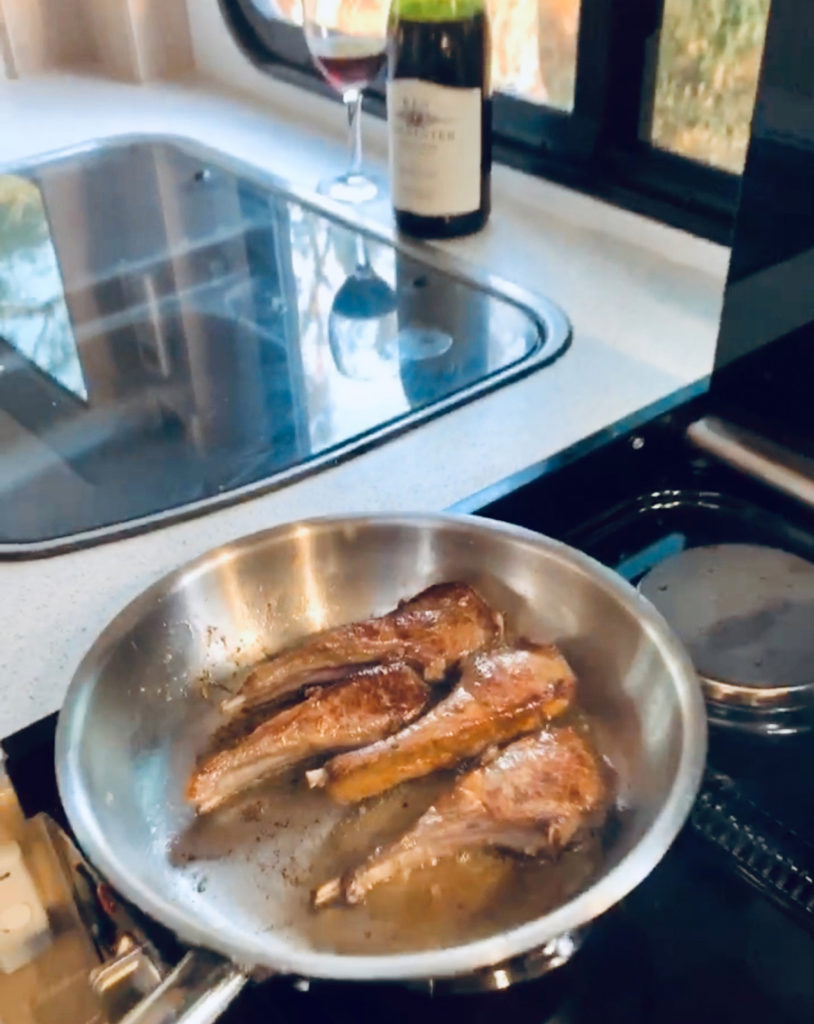 DAY 4
1st stop : Wooramel Station Riverside Retreat – Carnarvon: 123km / 1h20
We woke up a bit late and when we decided to fill up, and empty our tank, a very rude man literally yelled at us, saying that we were not allowed to use the water from the campsite (nobody informed us about that during the check-in). He added that we should have left the campsite before 10am (it was 12pm…). Finally, he explained that the same rule applies to all campsites in the area and said we should have known … Luckily the girl at the reception said it was totally fine and we could finish what we needed to do. After that we headed to Carnarvon, did some grocery shopping, had lunch and it was already dark so we couldn't make it to Chinaman's Pool Nature Reserve. However, if you are not far& from it, it can be nice so stop by. This night we stayed at Minilya River camp (free).
2nd stop : Carnarvon – Minilya River camp : 142km / 1h35
DAY 5 & 6
Minilya River camp – Coral bay : 98km / 1h
That morning, we drove to one of the destinations we were the most excited to visit, Coral Bay. Unfortunately, the more we headed North, the more flies there were, and to be honest, it started to be pretty annoying. 80% of the people outside were wearing mosquito nets on their heads but there was no stock at all the locations we checked. We had no choice but to deal with it and the spectacular landscape made us forget it for a while.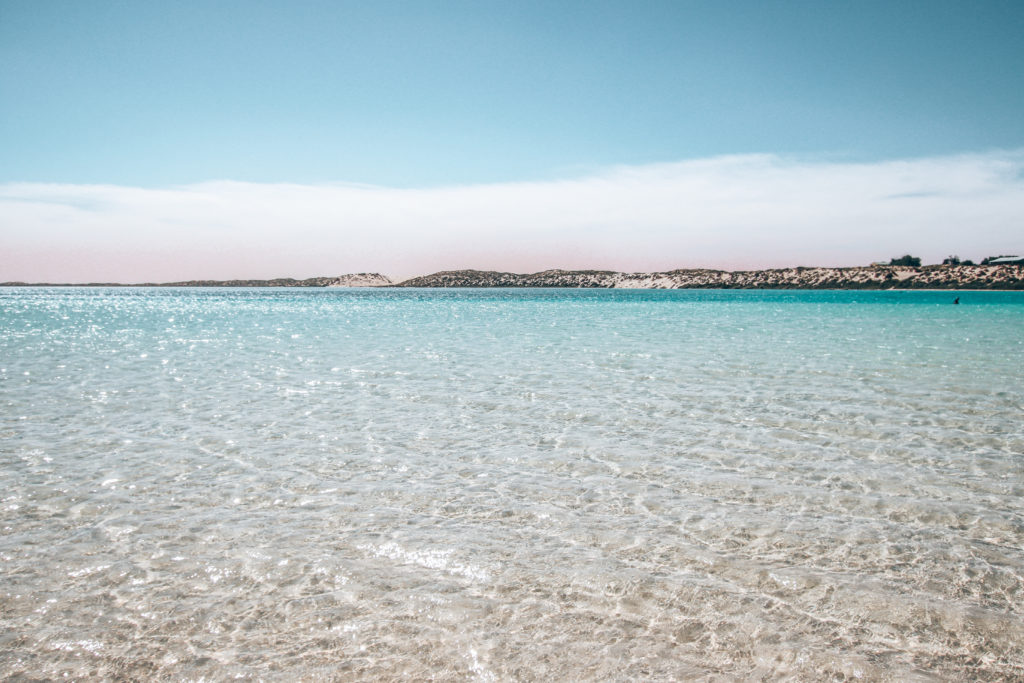 We have to say, it's hard not to fall in love with Coral Bay that was named this way because of the coral gardens that can be seen just meters away from the pristine white sandy beach.
On the first day, we chilled at Bill's Bay and the water was without a doubt the most transparent I have ever seen in my life, but it was also super cold because of the strong wind so we decided to just lay on the beach.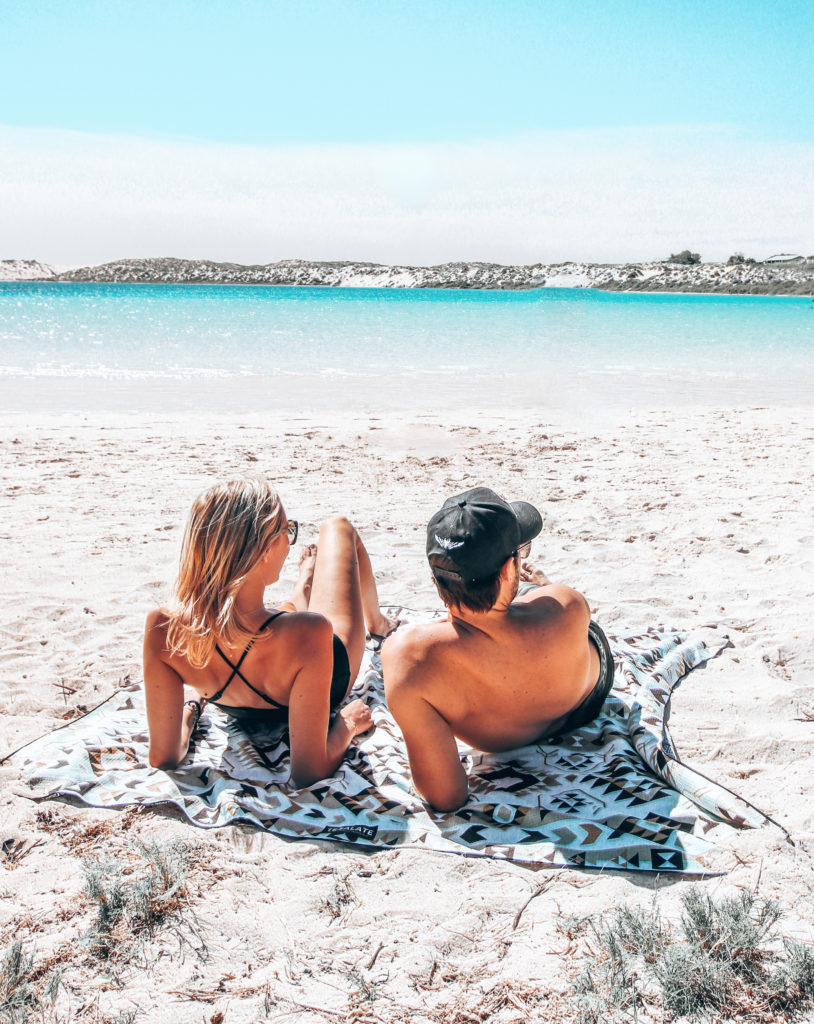 On the second day we kept being amazed by the stunning beaches that can be found around: Paradise beach, Coral Bay Walk Way, Coral Bay beach and made a stop at each of them.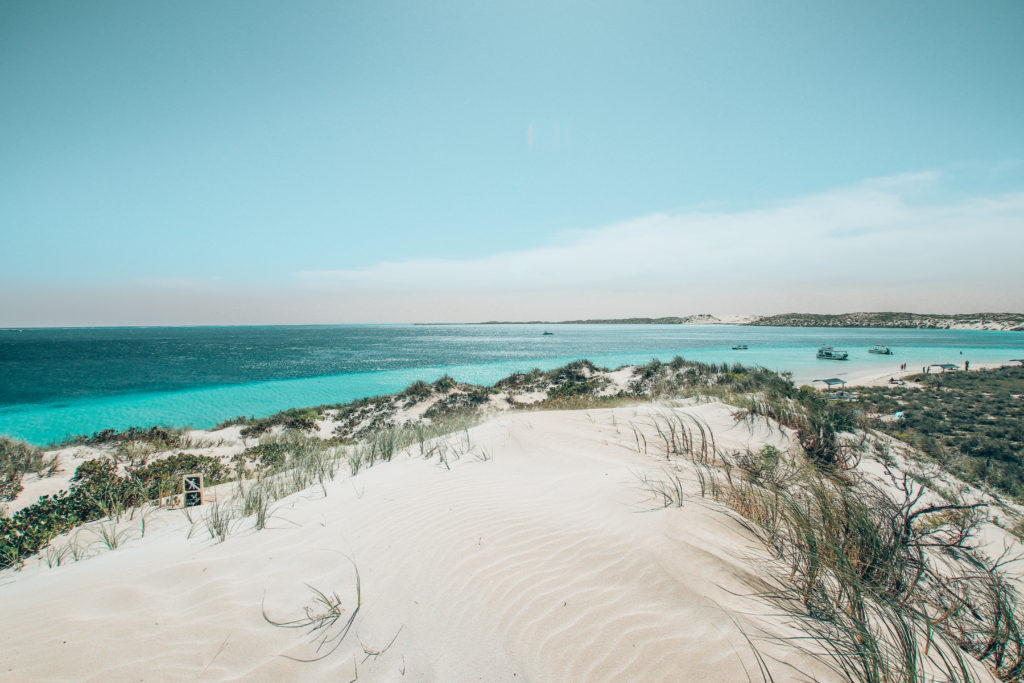 Good to know: There are no free camps within a radius of 100-200km, and there are only a few caravan parks (2 or 3) that are super crowded. If you want to get a sea view site, we advise you book weeks (even months) in advance – the earlier the better. We didn't know that and all the spots were almost full; lucky there was still space in the back. But it was clearly not idyllic. Even though we decided to stay 2 nights at Ningaloo Coral bay – Bayview (53$/night for 2 people) because the area was really worth exploring.
DAY 7
1st stop : Coral bay – Turquoise Bay: 214km / 2h20
After 2 nights in Coral Bay, we headed to Turquoise Bay, which is a spot renowned as a must-see beach and great snorkeling destination. I had seen a lot of pictures on Instagram and I was so looking forward to witnessing this picturesque place with my own eyes. Almost, before we arrived, at the end of a scenic drive, we stopped at Vlaming Head lighthouse that offers a stunning view and has the peculiarity of being one of the few locations in Australia where both the sunrise and the sunset can be observed.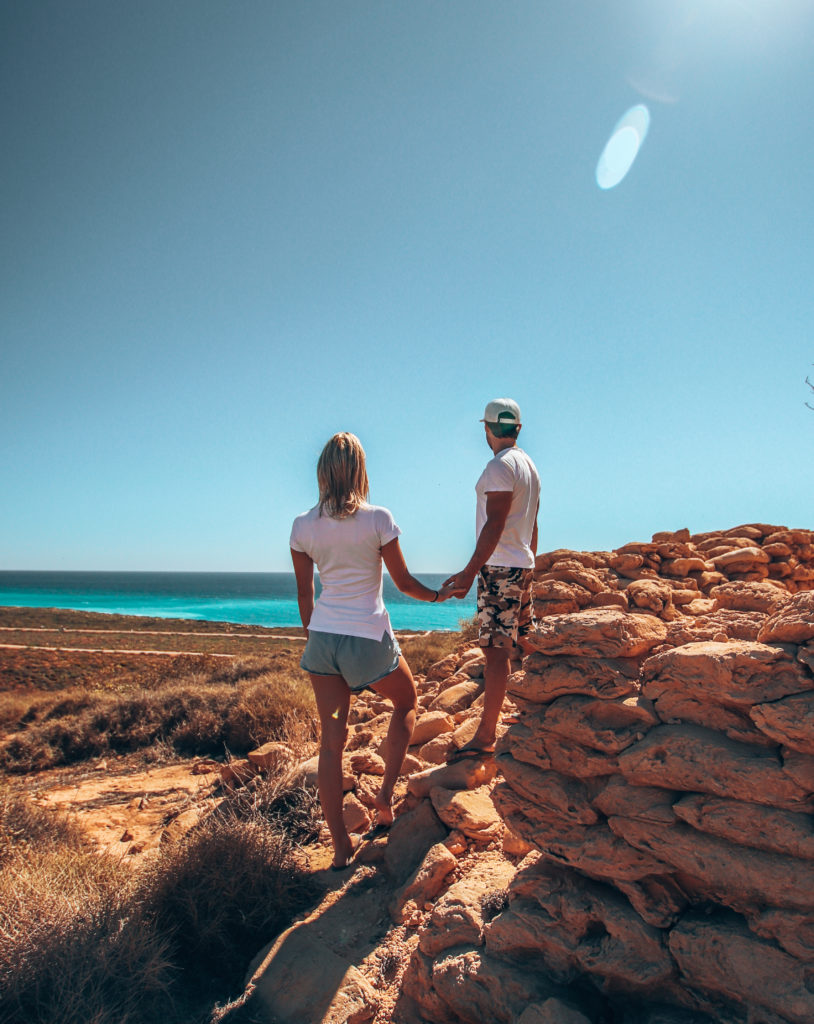 We only stayed a few minutes there and rushed to reach Turquoise beach, as we were both impatient to discover this little piece of paradise. I can tell you; this place doesn't disappoint, deserves its name perfectly, and should be added to your list if you are doing a road trip in Western Australia. We were blown away by the beauty of the landscape, the deep turquoise color of the water, and white sandy shore which make it such an idyllic place.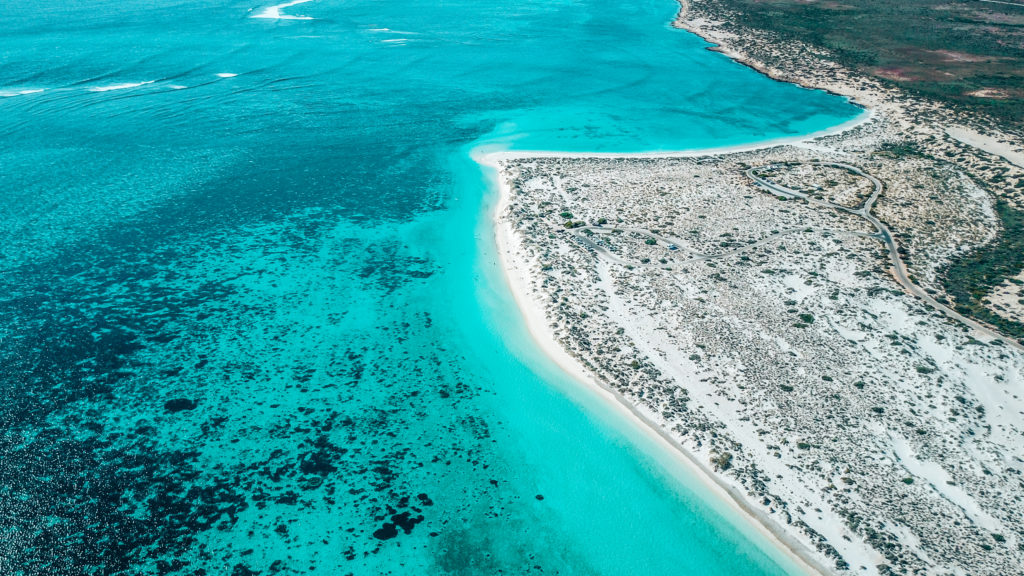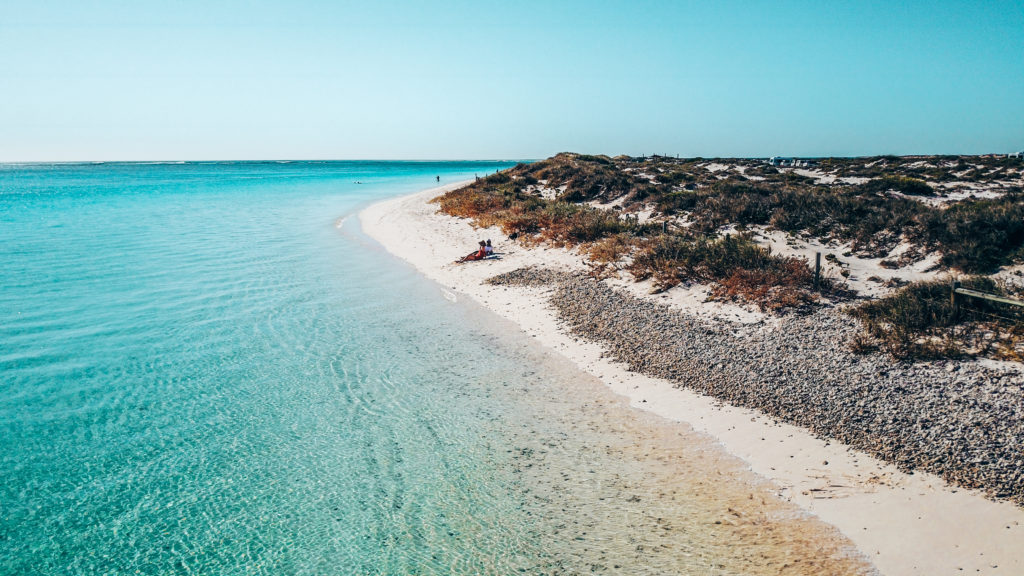 2nd stop : Turquoise Bay – Yardie Homestead: 30km / 24 minutes
On the way to our camp site for the night, we saw a lot of small paths and decided to take one of them to see where it lead to…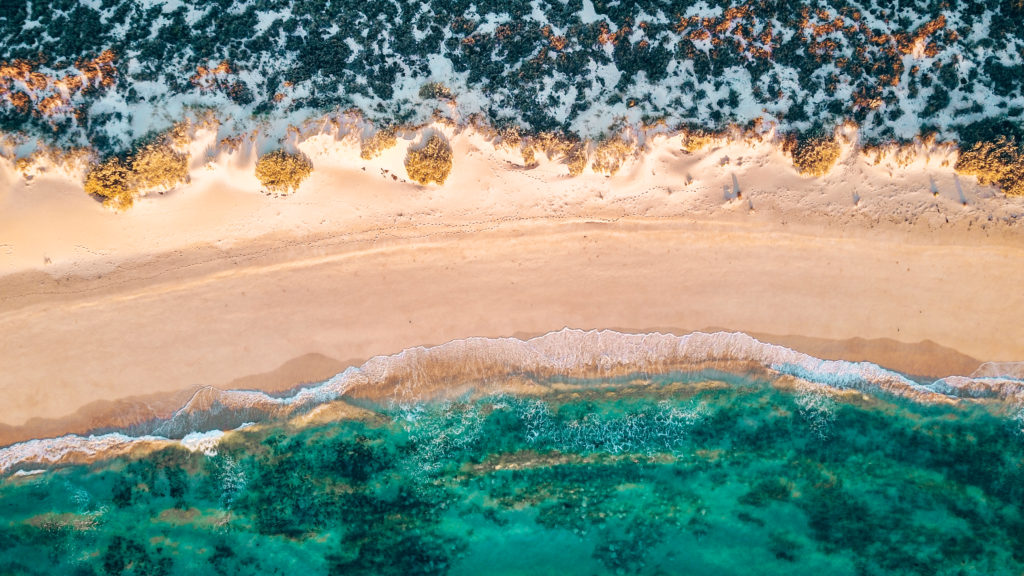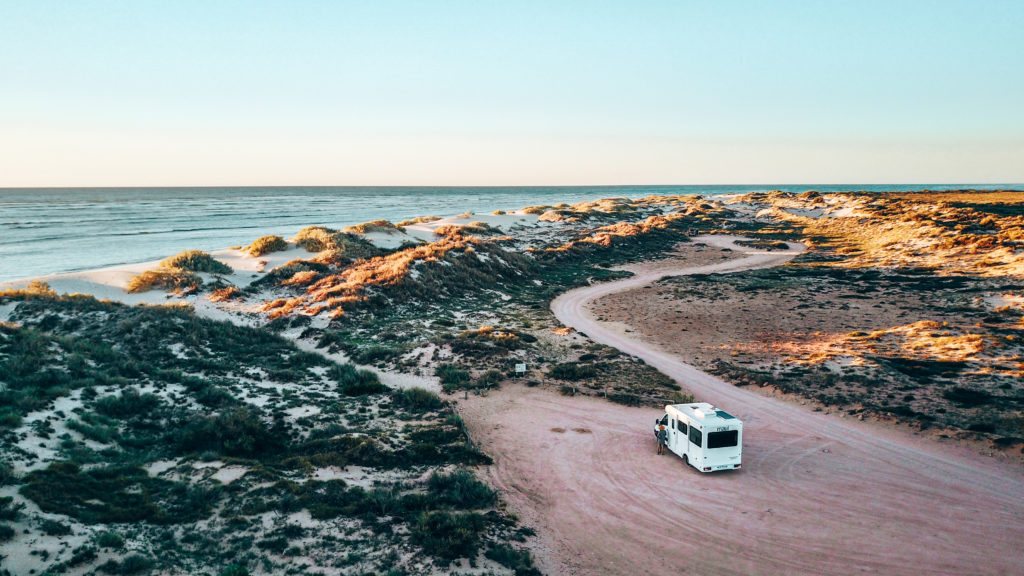 DAY 8
1st stop : Yardie Homestead – Tandabiddi boat ramp : 4.7km / 4 minutes
That day we woke up early for a really special occasion because we booked a full day tour to swim with the whale sharks. Every year, from March to August, hundreds of whale sharks are returning to the Ningaloo Reef area to feed. It is one of the best spots in the world to see them in the wild. Despite its name and size, the world's biggest fish is absolutely harmless to humans.
As we stepped on board we were welcomed by the lovely crew and tried on our snorkel equipment for the day. The boat was comfortable and well equipped. While the crew was giving us the safety instructions so we could fully enjoy this unique experience, a small plane was looking for whale sharks to indicate the direction for the boat. Once there, you have to be very quick; the 1st team (no more than 10 people at a time) to dive was already fully equipped and ready to go into the water. We stayed for about ten minutes in the water, then we went back up so that the second team could in turn swim with the whale sharks. We had the opportunity to dive 5 or 6 times in different places which allowed us to fully appreciate this experience.
After these exciting moments, we were able to enjoy a delicious buffet that had choices to suit everyone's taste.
Back on land, we got a certificate for our « Whale Shark Swim » and a souvenir (a bag and a beer holder). Two days later we received an email with all the pictures that the professional photographer had taken of us when we were in the water.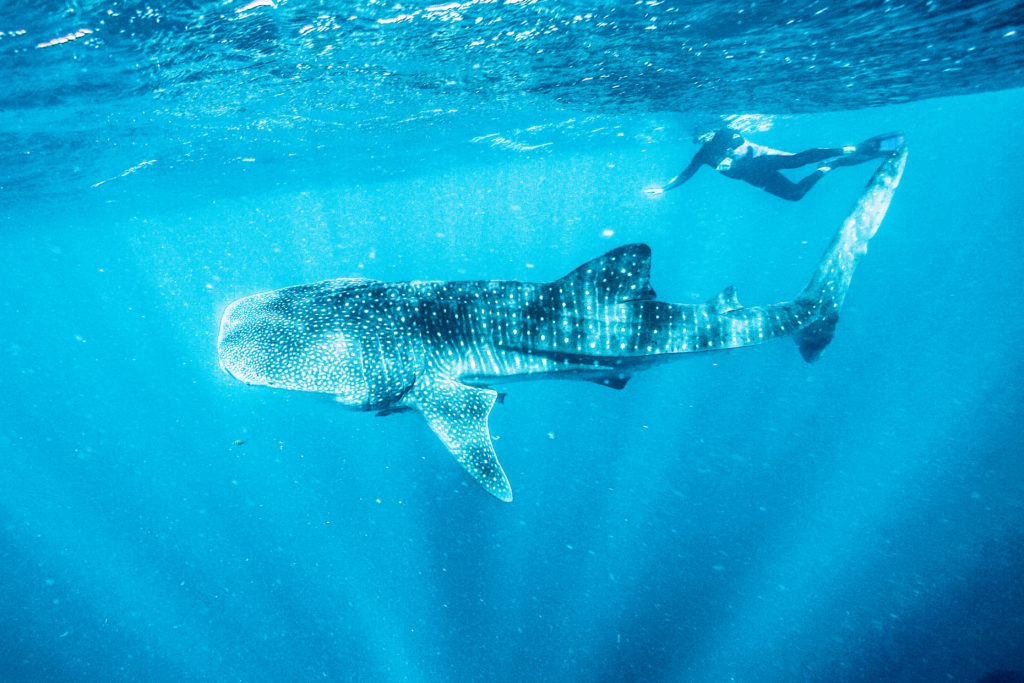 Even though the price of the tour is very high (Around 425 AUD) swimming with whale sharks while doing a road trip in Western Australia is truly an opportunity of a lifetime that we will never forget. The staff is super qualified, fun and helped us to have an amazing day.
We highly recommend you book as early as you can because it is a very popular activity.
If you want to book the same tour as us you can visit https://www.kingsningalooreeftours.com.au/
2nd stop : Tandabiddi boat ramp – Warroora station 14 Mile : 203km / 2h28
DAY 9
Warroora station 14 Mile – Gladstone camp ground: 360km / 4h
As DAY 8 was pretty busy, we decided to take it easy on DAY 9, and we just walked on the beach in front of our campsite and headed to Gladstone Camp Ground. When we arrived, we were so happy because it was actually the first time we could really enjoy being outside without too many flies around. This campsite was by far the favorite of all our road trip and we wish we could have spent more nights there. The view was super nice and we were able to find a very quiet spot facing the sea, away from the other vehicles. We stayed out late and enjoyed a spectacular sky full of stars in the dreamiest atmosphere.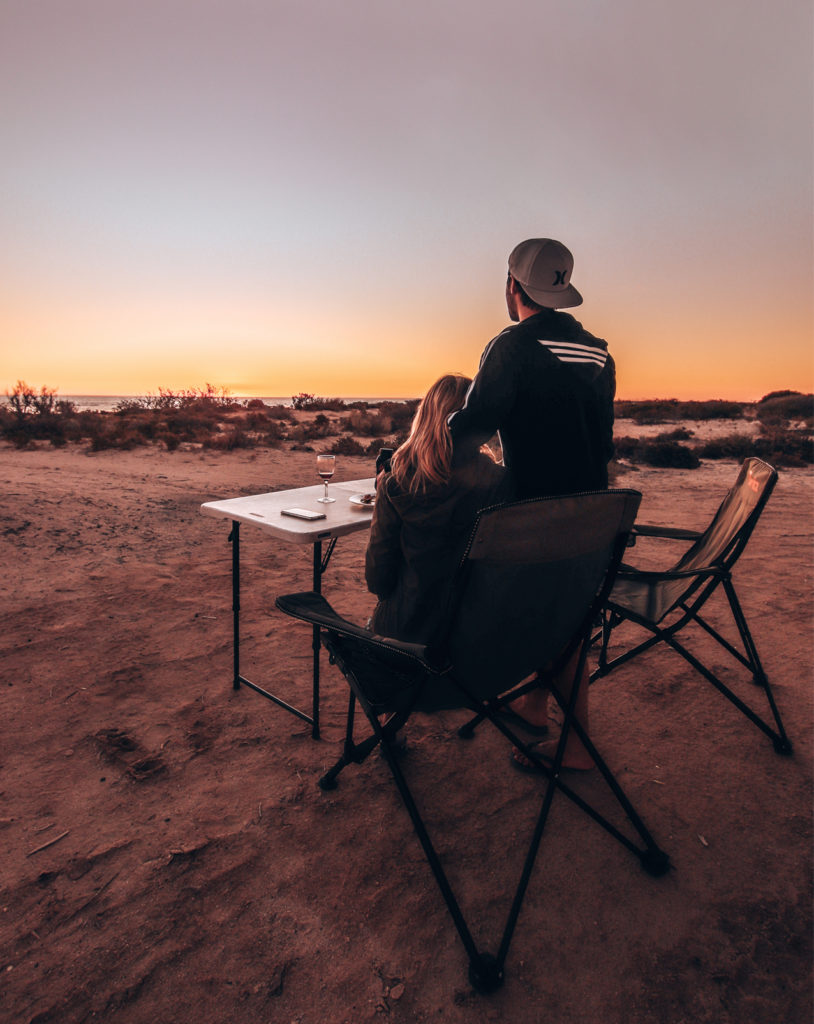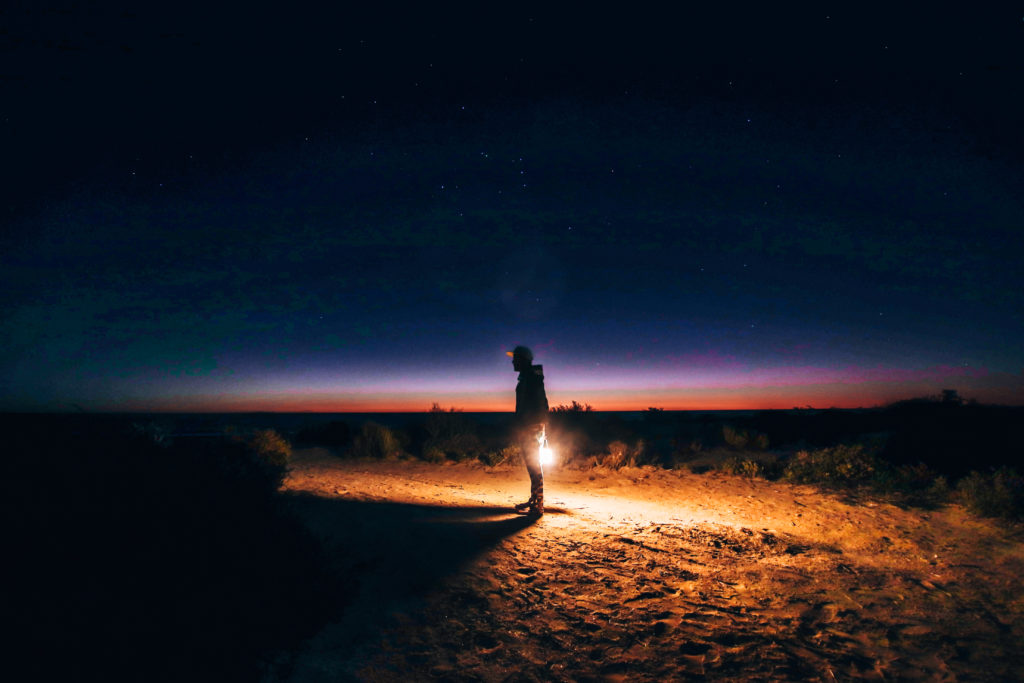 DAY 10
1st stop : Gladstone Bay camp ground – Shell beach conservation Park: 147km / 1h34
Time to visit one of only two beaches in the world made entirely from shells: Shell Beach.
The place is covered with billions of tiny shells up to 10 meters deep and stretching for over 70 kilometers. There is no sand, only shells. We couldn't resist taking a cool dip in the still turquoise water which happens to be very salty and made us float like the Dead Sea in Jordan. This beach is a really unique and gorgeous site that's well worth a visit if you are planning a road trip in Western Australia.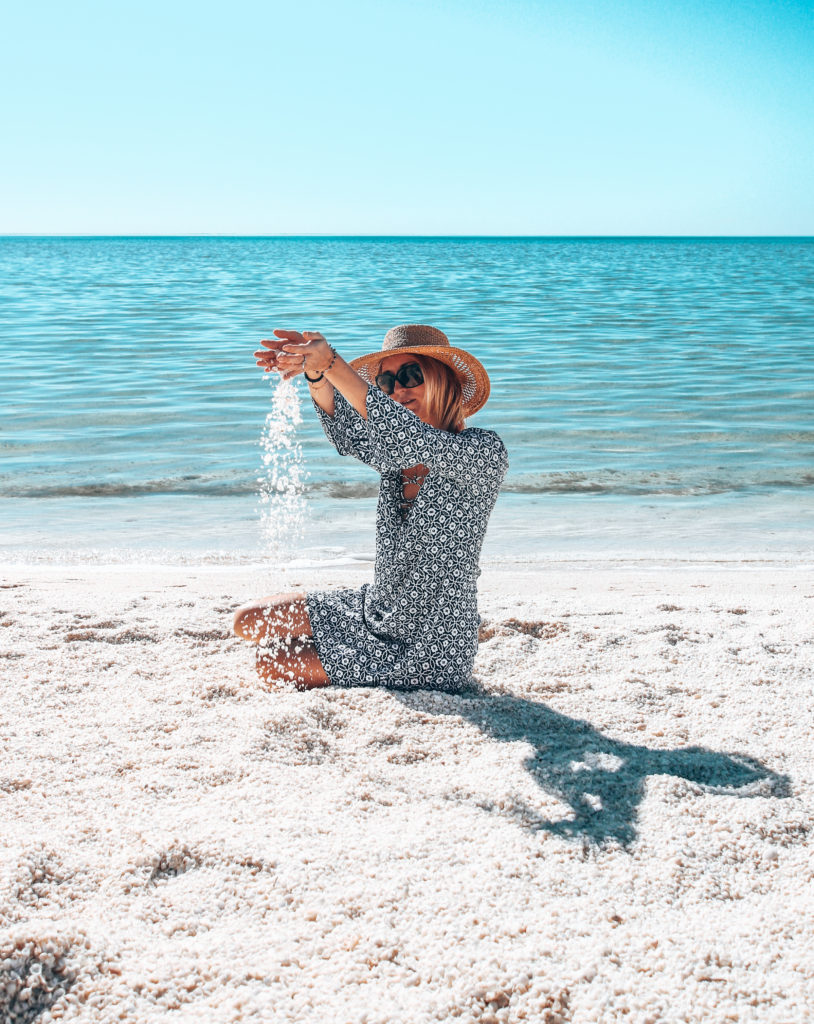 2nd stop : Shell beach – Denham (Shark bay) : 46km / 33 min
After a quick lunch, we headed up to Denham which is Shark Bay's main town, located on the western coast of the Peron Peninsula. (to the southernmost tip of Australia's mainland).
It is an old fishing village which has survived for a long time thanks to the pearls of oysters, today the city still has a bay and a pier where you can see many sailors returning from fishing late in the morning or at the end of the day. The atmosphere is very relaxing and there are several small restaurants and bars where you can enjoy some fresh seafood and nice wine.
As there are no free campsites around, we decided to book a night at Seaside Caravan park (50$ /night) and went to check out a spot we saw on trip advisor: Little Lagoon which is a natural pool of calm water ideal for swimming and fishing.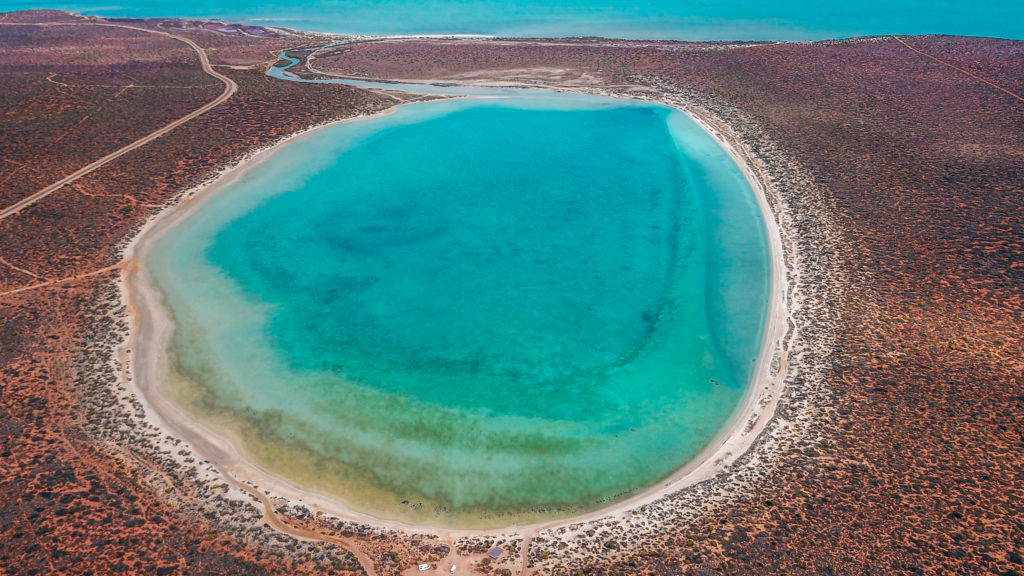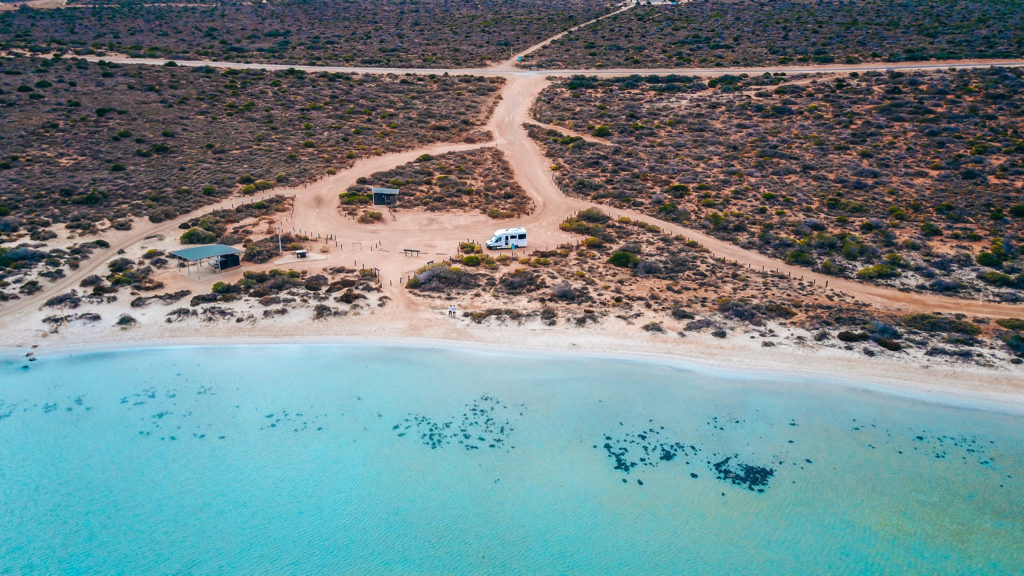 DAY 11
1st stop : Seaside Caravan park -Monkey Mia : 27km -18 min
We woke up early to attend the first dolphin feeding session which takes place at 7.45 am on Monkey Mia beach.
After paying the entrance fee we waited for the arrival of the rangers that came with buckets of fish in hand and we were asked to line up on the shore. This is when the dolphins started to approach the shore. An animator told us about the story of the site and the lifestyle of these dolphins. Then came the time when people are chosen at random from the audience to give a fish to a dolphin. Only five females are fed daily, the males are too aggressive, but this does not prevent other dolphins from being around. There is only 3 feeding sessions per day with a limited amount of food because rangers want to preserve the dolphin's instincts; it is essential that dolphins learn wild fishing from their offspring for the sustainability of the species.
We heard a lot of good things about this experience, but we were actually quite disappointed. Although we chose to attend the 1st session to avoid the crowd (as recommended on many blogs), we thought that there were way too many people…They should limit the number of people per session to keep the experience enjoyable for everyone.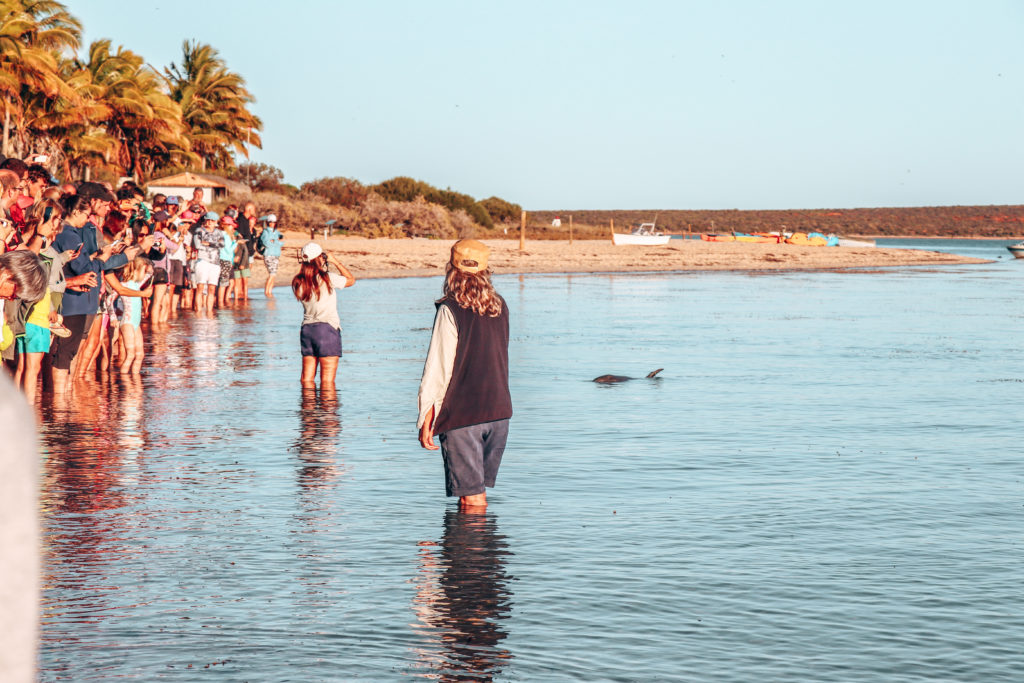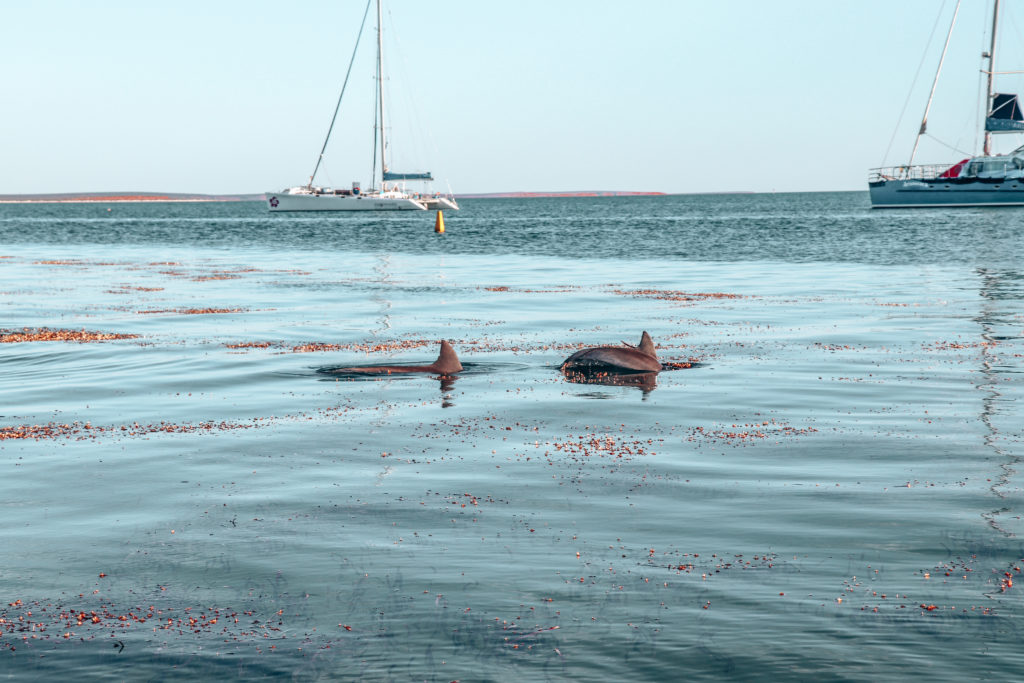 2nd stop : Monkey Mia- Hamelin pool: 153km / 1h33
Our second destination of the day was Hamelin Pool Marine Nature Reserve which is a protected marine nature reserve located in the UNESCO World-Heritage-listed Shark Bay in Western Australia. Hamelin Pool contains the most diverse and abundant range of stromatolites in the world. Also called "living fossils", stromatolites are living representatives of life over 3500 million years ago when there was no other complex life on Earth. There is a walkway to observe the stromatolites and its forbidden to walk, swim or snorkel in the water to help protect these structures.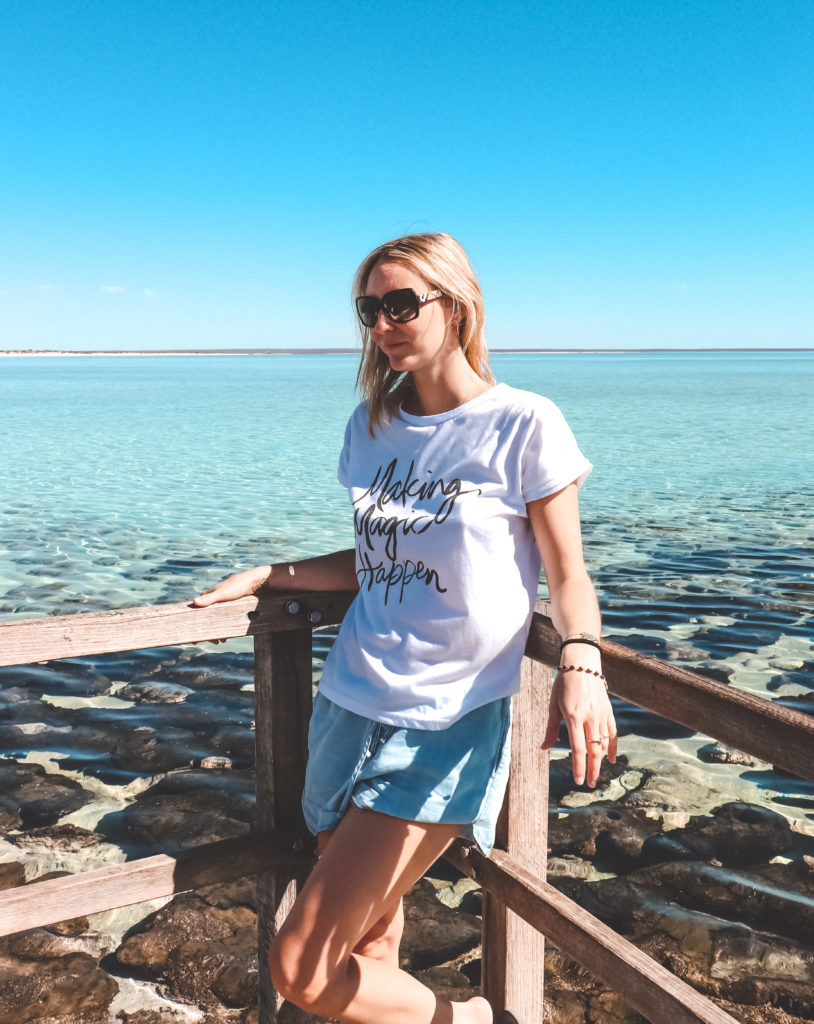 2rd stop : Hamelin pool – Lucky Bay Shacks : 283km / 3h
For our 11th night, we stayed at Lucky Bay Shacks. If you have a 4wd you can get a spot with sea view.
DAY 12
1st stop : Lucky Bay Shacks – Hutt lagoon: 18 km / 16 min
On Indian Ocean drive, there is one spot you should absolutely visit during your road trip in Western Australia: Hutt Lagoon. It is one of the dreamiest and most awe-inspiring places we've ever seen in our life. The extremely high level of salinity and the presence of the carotenoid-producing algae dunaliella salina, which is a source of beta-carotene, gives the lagoon a really unique pink color that varies with the seasons and time of day. It seemed like we were transported to another world and we were so grateful to be able to contemplate this incredible landscape.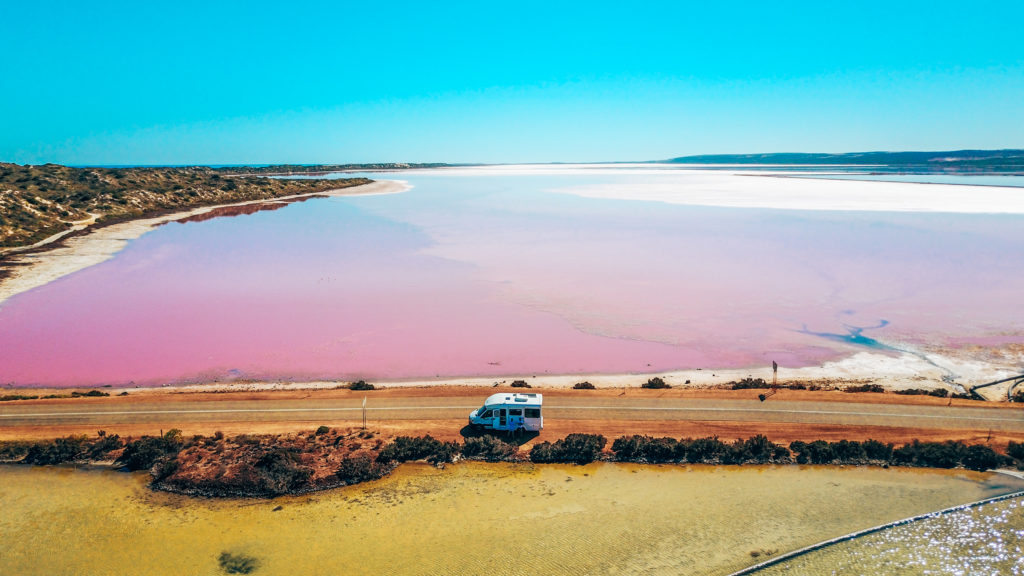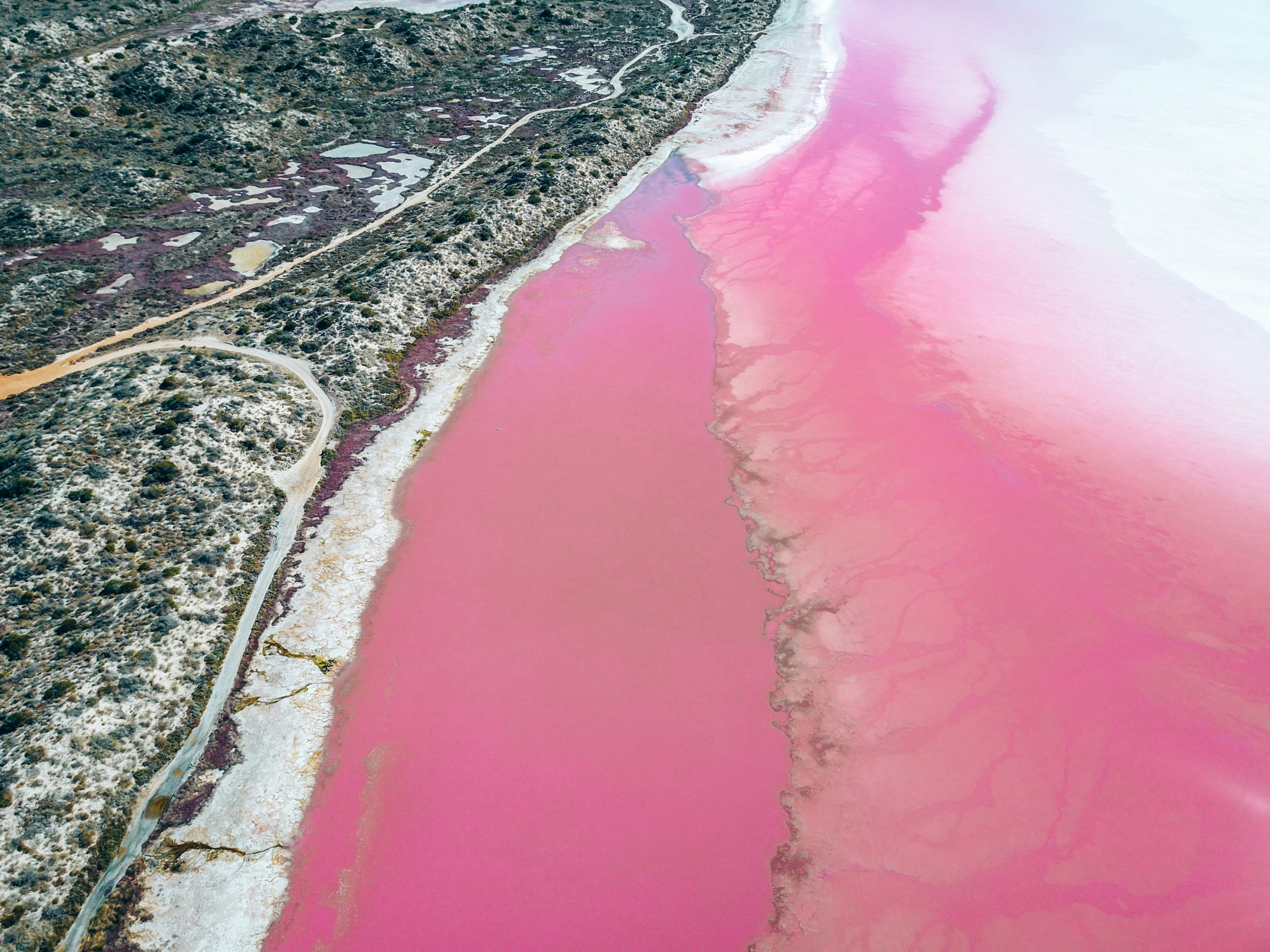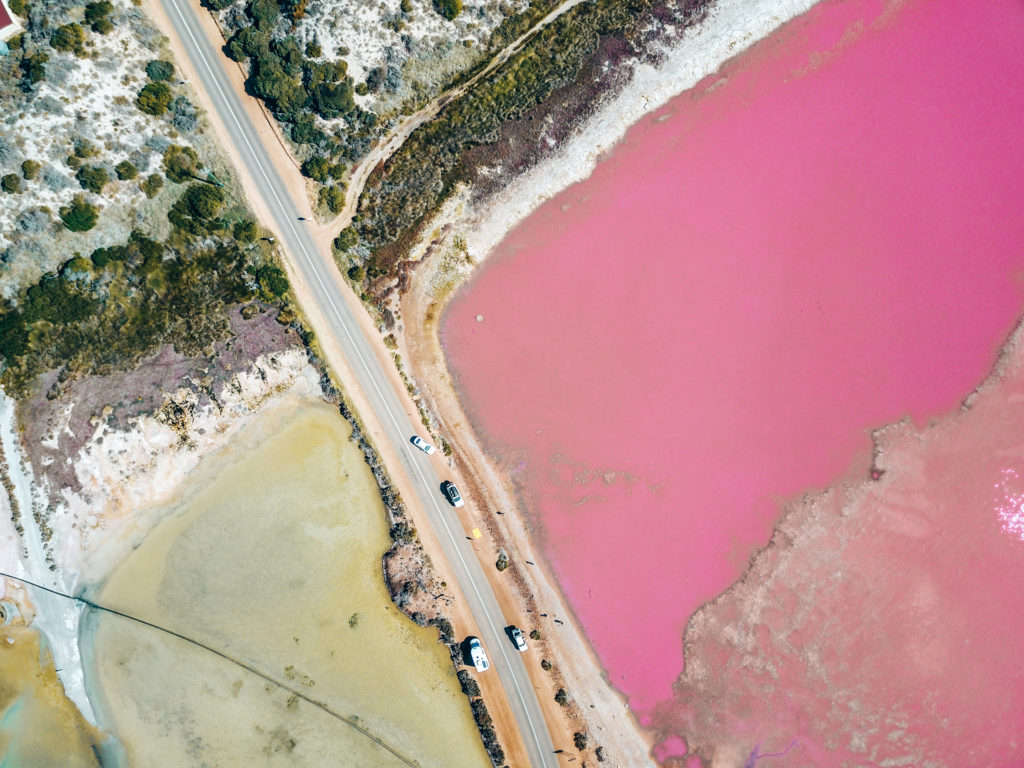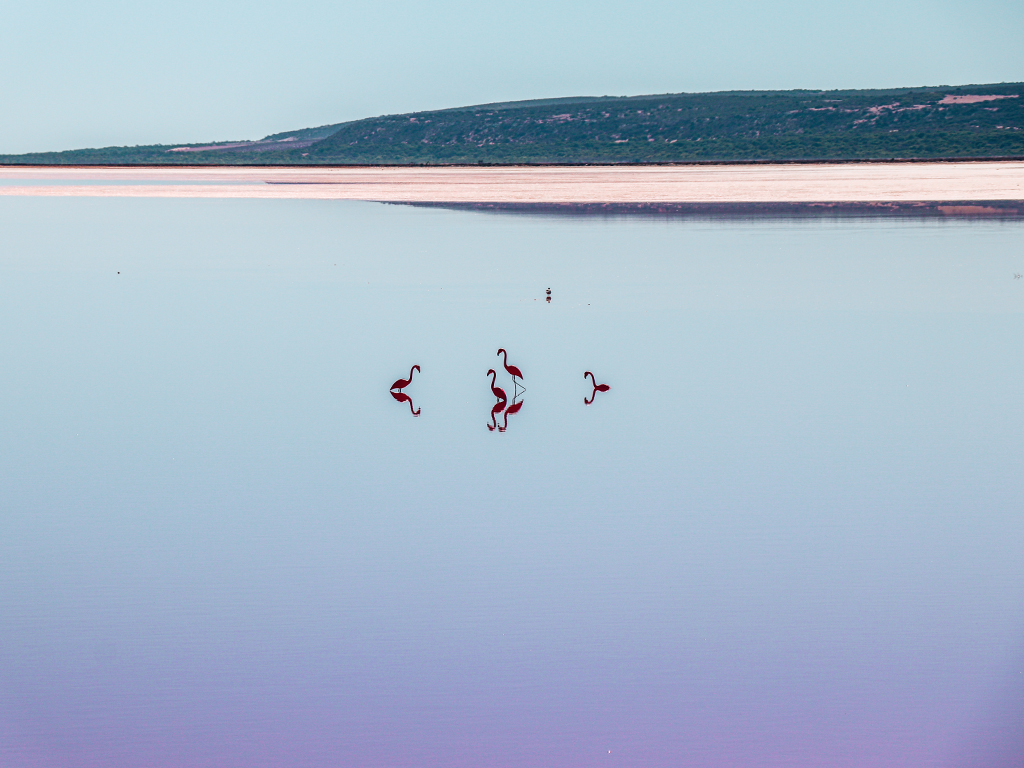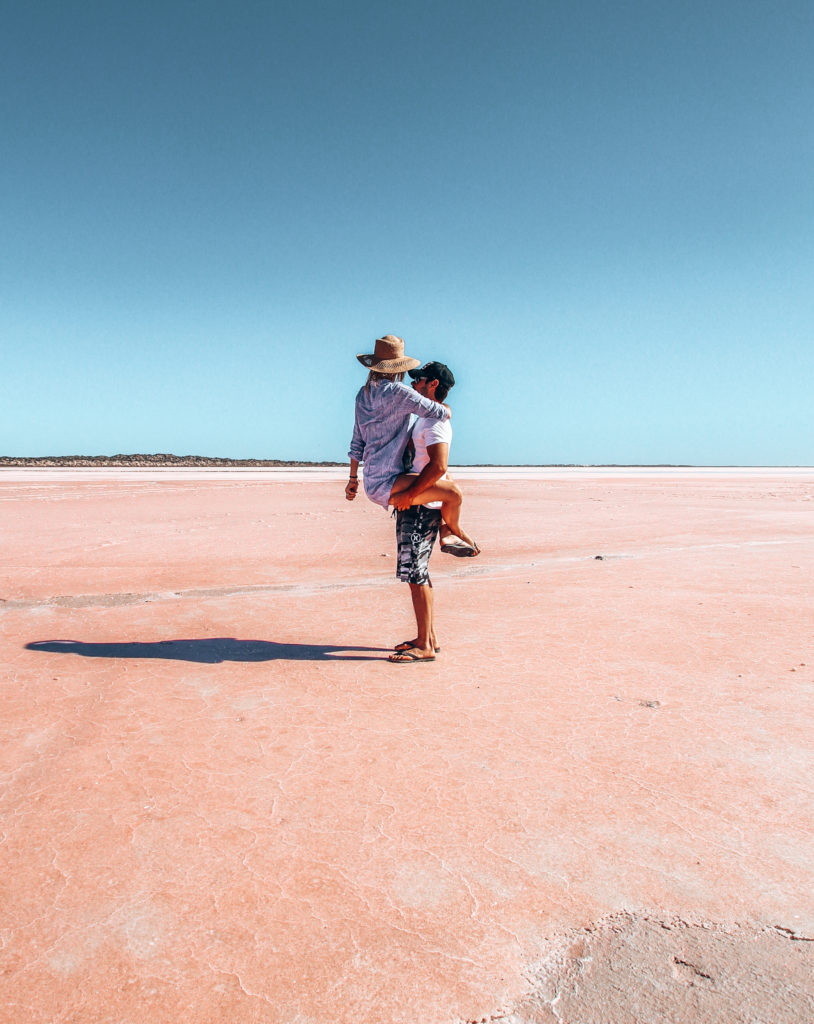 2nd stop : Hutt lagoon – Jurien bay: 297km / 3h10
With our heads full of dreamy memories from our visit to Hutt Lagoon, we drove to Jurien Bay Tourist Park where we spent the night.
DAY 13
The night before, we were contacted by Turquoise Safaris, the company with which we have booked a tour for swimming with sea lions. We were told that the weather forecast was going to be bad after 11 am so we should leave early morning to catch the good weather. We had the choice of canceling or maintaining our booking but we decided to go. We made a good decision because when we went on board, there was only us and another couple so we had an almost private tour. The sky was cloudy but we had the best time snorkeling with the sea lions, also named "puppies of the sea". These creatures are super playful and know how to entertain their visitors for hours. We were really happy we hadn't canceled our tour and had a lot of fun.
Jurien Bay – Lancelin Holiday park : 119km / 1h18
We spent our last night at Experience Lancelin Holiday park (40$)
DAY 14

That day we woke up rather nostalgic because this road trip in Western Australia was coming to an end… We had to return the RV at 2 p.m. We spent a good part of the morning packing our things and cleaning, then we headed to Perth to return the keys.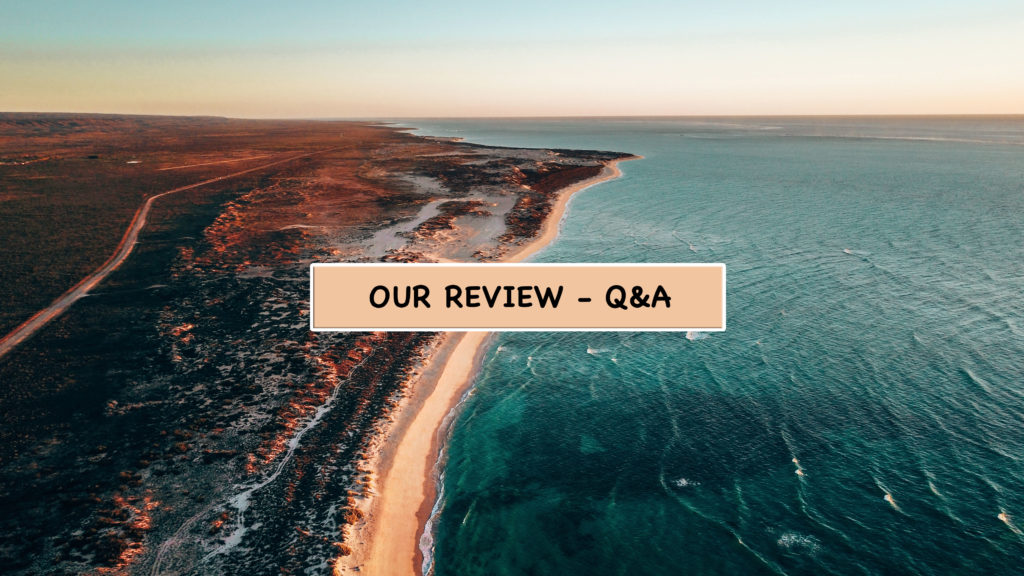 How did we like the Cascade RV from MAUI? We were super happy we chose this RV for our road trip in Western Australia. It was equipped really well with a big fridge and freezer, an integrated gas stove, an oven, a microwave, convertible AC, lots of storage space, a TV, DVD player, a retractable awning and best of all, a little bathroom with shower and toilet.
Because there were a lot of flies all the way up, we were so glad to have a nice, spacious place to cook without having to go outside. We also really appreciated the fact that our vehicle had huge windows at the back with a mosquito net so we could still enjoy the landscape and feel the fresh air while being inside. We would definitely choose a similar vehicle for our next road trip.
How was it driving such a big vehicle? At first, I was thinking I would be afraid to drive it. But as the roads are super big it was pretty easy. Steve gave me some advice on the landmarks I should take so I quickly felt confident driving the RV. Plus, it is an automatic transmission, mirrors are huge and the vehicle was equipped with a rear camera.
How to navigate? We rented a GPS from the RV company rental.
What is the best 4G provider? We used Telstra which is Australia's largest mobile network. The coverage was pretty good and we only had no signal 2 or 3 times during all our road trip in Western Australia.
How to find campsite? Most of the time we just search on google for the nearest campsite. But you can also use Find camp or Roadtrippers Plus app.
What to pack? It depends on the season. We did this road trip at the beginning of the autumn, but we knew that heading North the temperatures were going to be higher. So we packed a mix of warm and light comfortable clothes (Sweaters, vests, jeans, T-shirts, shorts, dresses, scarves, bathing suits), some good sneakers and flip flops.
How did we prepare? We booked our road trip 1 month in advance so I had plenty of time to look on the internet before we went. I did my research both on blogs and Instagram and I first made a list of all the places I really wanted to visit and discussed it with Steve. Then I tried to mix up everything to make the best of our time and avoid too many full driving days. After combining all that, we left with a planning made day by day.
Did we stick to our road trip planning? We took our time, we both agreed that this road trip shouldn't be a marathon, of course, we wanted to see the most, but we wanted also to enjoy the ride and have some relaxing holidays. So, from the original planning I made, we adjusted it on a day to day basis according to our mood and which places/experiences we really didn't want to miss.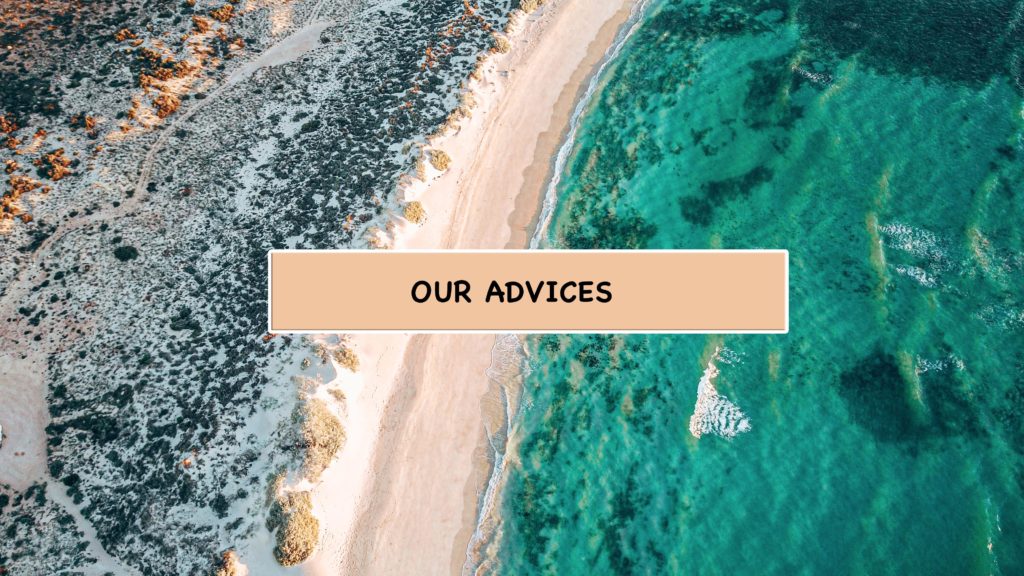 GROCERY SHOPPING: Buy most of your groceries and essential supplies on the 1st day. Keep in mind where the biggest supermarkets are located on your way in case you need to refill your fridge. Try to make a list of some dishes you could cook while on the road and shop accordingly. It will save you some time and money because you won't forget anything and won't buy useless ingredients.
FUEL: Make sure you check the fuel tank level regularly, try to avoid it going below 1/4, especially if you are in remote areas where it's hard to find fuel pumps. Find the cheapest fuel station using GasBuddy, Waze or Google maps petrol stations function.
DO NOT OVERCONSUME: Control your consummation of water, electricity and gas. The less you use, the longer you can stay at free campsites and avoid paying for a campsite just because you have run out of water and need to fill up your fresh water tank.
PACKING: Use backpacks rather than hard case luggage that take a lot of space and are hard to open inside de RV. Travel packing cubes are SUPER convenient for organizing all your clothes and keeping them tidy.
KEEP CLEAN: Make sure you always leave your campsite clean. Throw away your rubbish & dump waste tanks in authorized areas.
PLAN, but adapt your road trip according to your mood and don't hesitate to make some improvised detours…
FREE CAMPSITE: Always try to look for free campsites when possible and keep the paid campsite only for when you really need it.
BE CAREFUL, on the road during your road trip in Western Australia… especially if you're driving at night; there are A LOT of kangaroos living around and they can jump on the road from everywhere very fast.. We also saw some ostriches crossing a big highway and other wild animals. So be aware of it…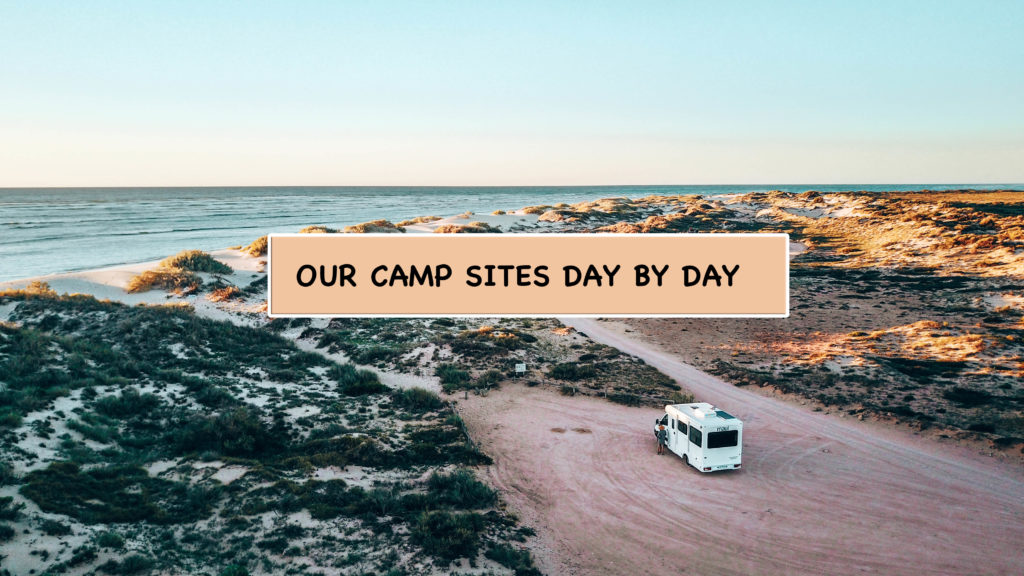 Day 1 : Wilbinga Grove http://www.findacamp.com.au/camp-site.php?camp=1624
Day 2 : Lake Indoon Campground http://www.findacamp.com.au/camp-site.php?camp=1623
Day 3 : Wooramel river retreat https://www.wooramel.com.au/
Day 4 : Minilya River https://www.fulltimecaravanning.com.au/minilya-wa/
Day 5 & 6: Ningaloo Coral Bay Camp http://www.ningaloocoralbay.com/bay-camp/
Day 7 : Yardie Homestead. http://yardie.com.au/
Day 8 : Warroora Station 14 Mile Beach https://caravanontour.com/free-campsites-and-low-cost-camping/western-australia/wa-camping-fees-apply/2806-warroora-station-14-mile-beach.html
Day 9 : Gladstone Campground https://www.exploroz.com/places/76468/wa+gladstone-campground
Day 10 : Denham Seaside Caravan park. https://sharkbay.com.au/
Day 11 : Lucky Bay Camp Ground. https://www.kalbarri.org.au/lucky-bay-camp-ground
Day 12 : Jurien Bay Tourist Park https://summerstar.com.au/caravan-parks/jurien-bay
Day 13 : Lancelin Holiday Park. https://lancelincaravanpark.com.au/