HOTEL REVIEW : Hotel Indigo Bali Seminyak
Hotel Indigo Bali Seminyak, operated by the InterContinental Hotel Group is the first Hotel Indigo in Indonesia. The beachfront resort opened its doors 4 years ago and is situated in the heart of Seminyak, 11km away from Ngurah Rai International Airport (around 20-30min by car).
Seminyak is one of Bali's fanciest and most animated districts where you can find some of the best restaurants, bars and shops of the island. The resort is vast and stretches along Seminyak beach, also called Double six beach, which is the perfect place to learn surfing.
In total, Hotel Indigo Bali is host to 289 rooms and suites including 19 pool villas. Each one's design has been inspired by the colorful local neighborhood in harmony with Hotel Indigo's signature spa-style bathroom, comfortable plush bedding and balcony or patio with daybeds.
The property was officially crowned as the winner of Luxury Lifestyle Awards in the category of TOP 25 The Best Luxury Resort in Bali, Indonesia.
We stayed there for two nights and we will tell you why we think this hotel deserves its Luxury Lifestyle Awards.
First night staying in the PATIO ROOM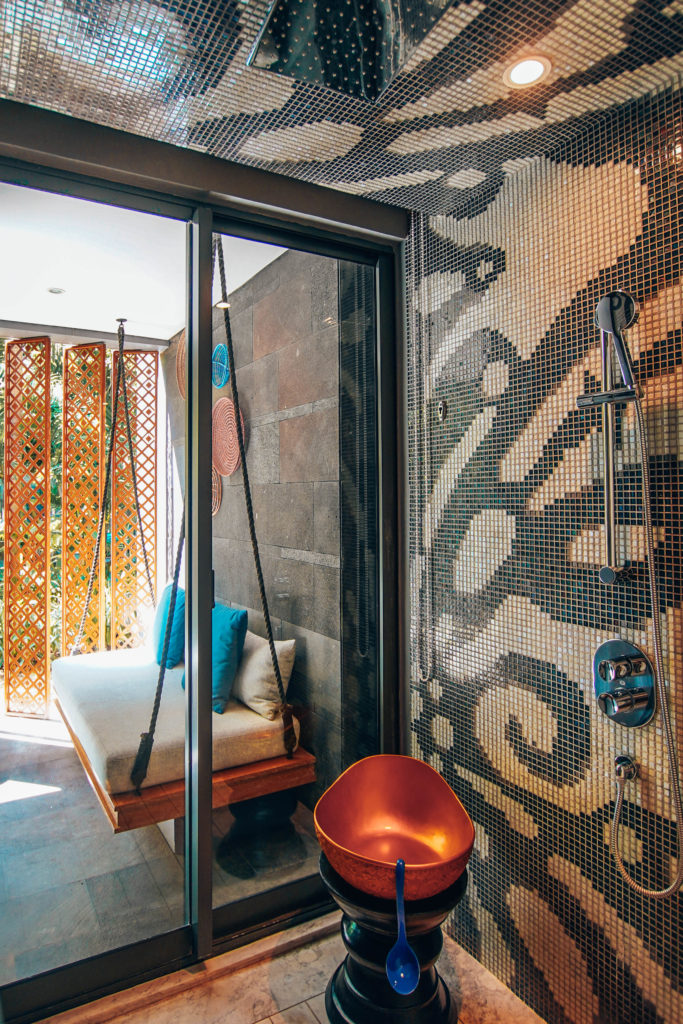 For our first night at Hotel Indigo Bali, we stayed in one of their Patio rooms which is located on the ground floor with direct access to the Secret Garden pool. The private balcony offers nice views of the lush tropical garden from the hanging sofa and is a great place to read a book at the end of the day. This room is very convenient, just steps away from the pool and other hotel facilities.
Second night staying in the TIRTA SUITE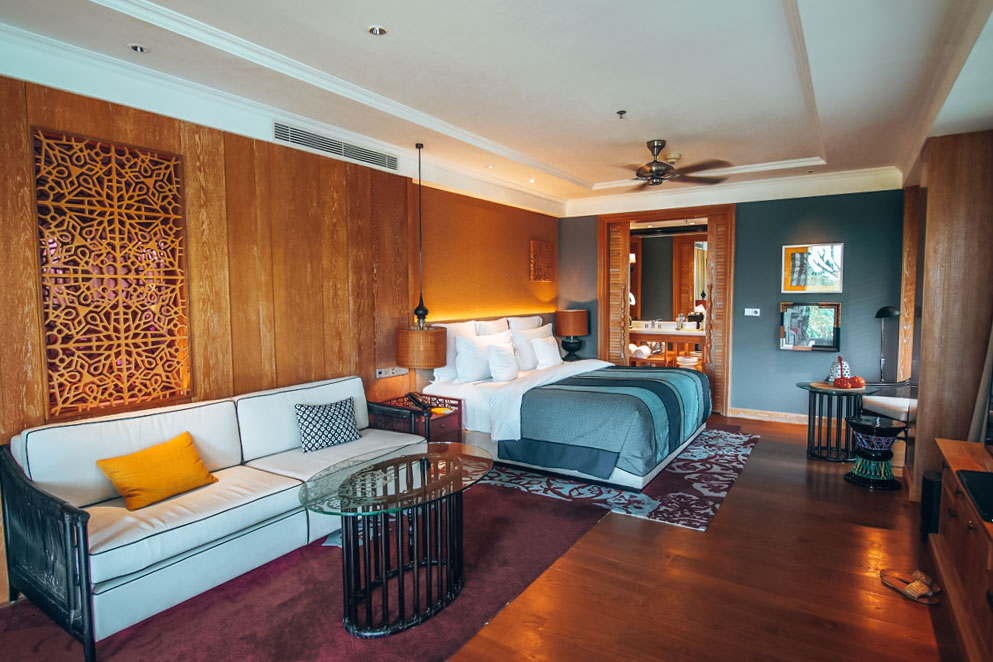 We spent our 2nd night in the Tirta Suite, which is perfect for those seeking a luxury experience.
The very spacious suite (107sqm) is thoughtfully planned with lavish and massive indoor and outdoor spaces, elegantly furnished and illuminated by ample daylight coming from the large windows all around the room. As we entered, we discovered the main area that consisted of a cozy living room and a large dining table with the unique Punch & Munch in-room bar, a Nespresso coffee machine and an electric juicer with complimentary oranges. Behind the wall of the comfortable king-size plush bed, there was a big walk-in dressing room complemented by a separate makeup and wardrobe boudoir.
The gorgeous en-suite spa-inspired bathroom had a double marble sink, as well as a double rain shower so we could take our shower together at the same time. Definitely a cool addition that we don't find very often in hotels. The amenities kit was well-stocked with premium goodies only and we also got a pool and spa kit.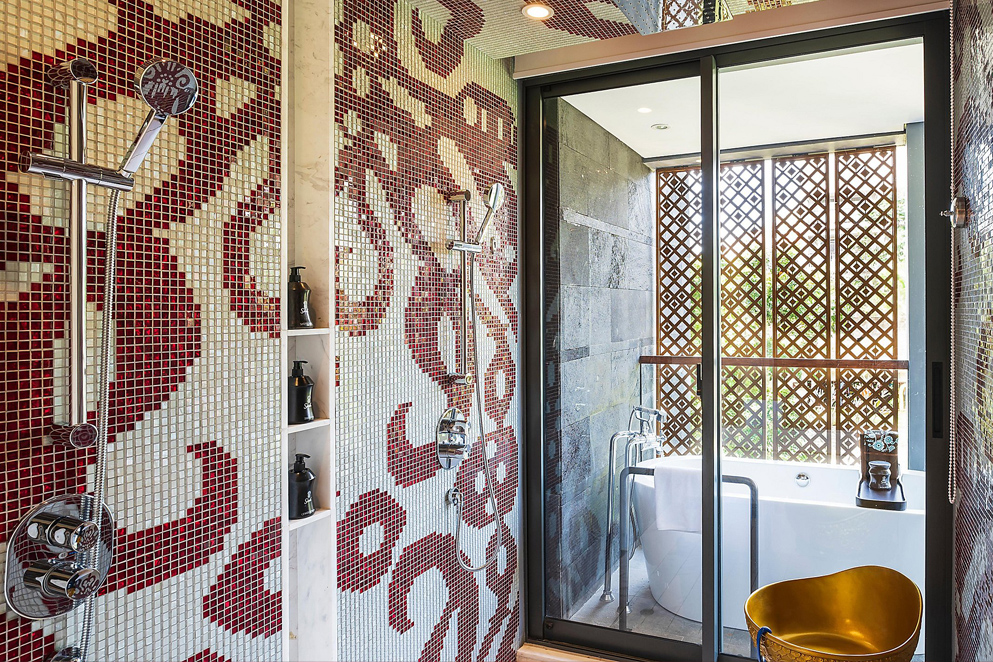 Something we also really appreciated is that there was an oversize outdoor bathtub located on the huge terrace with beautiful views of the Indian ocean. It was so relaxing to have a bath at sunset time with a glass of wine and the delicate warmth of the sun's rays on my face.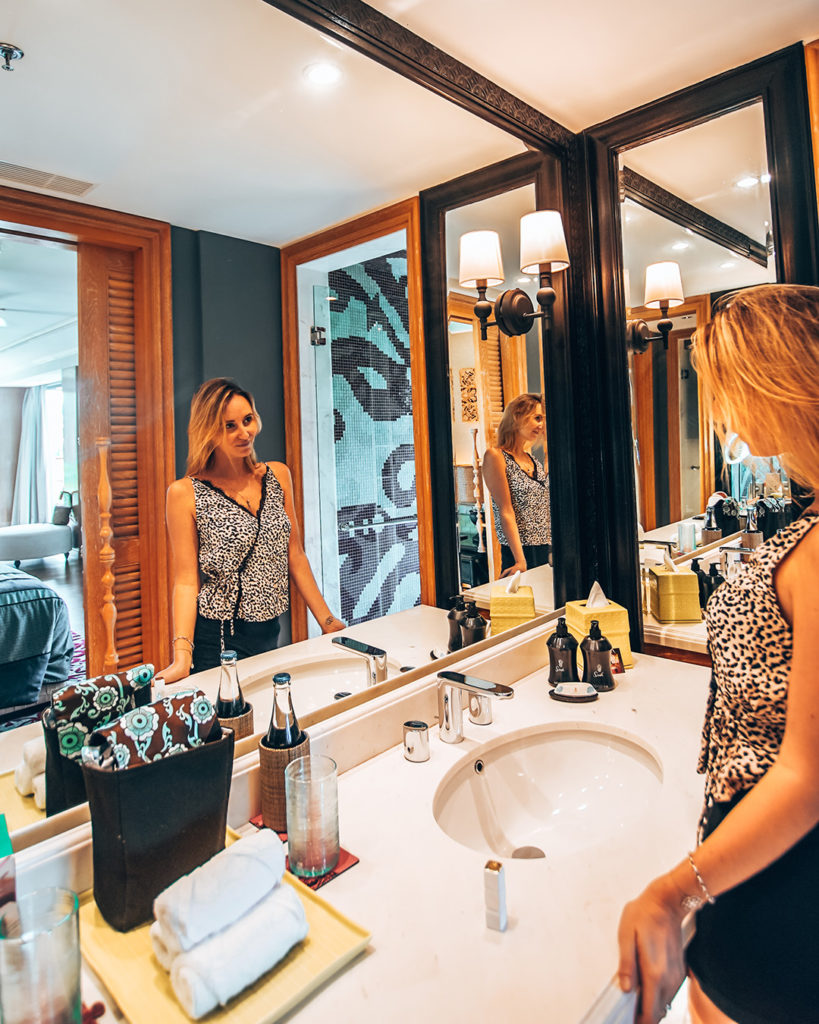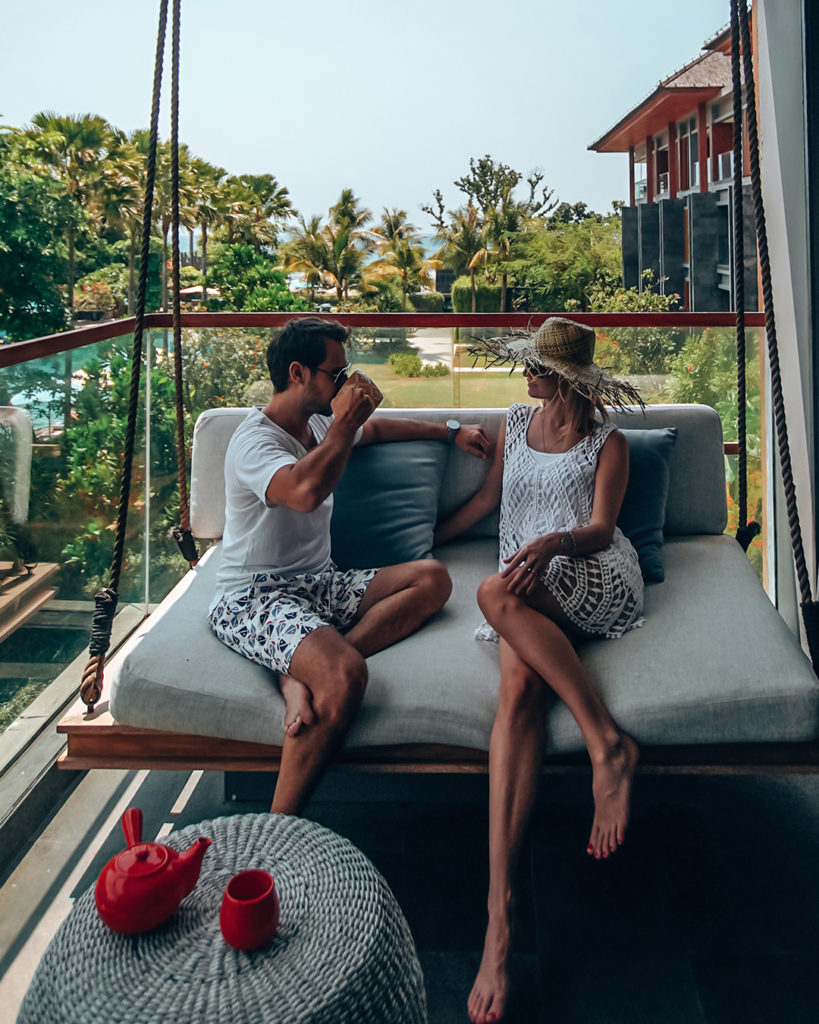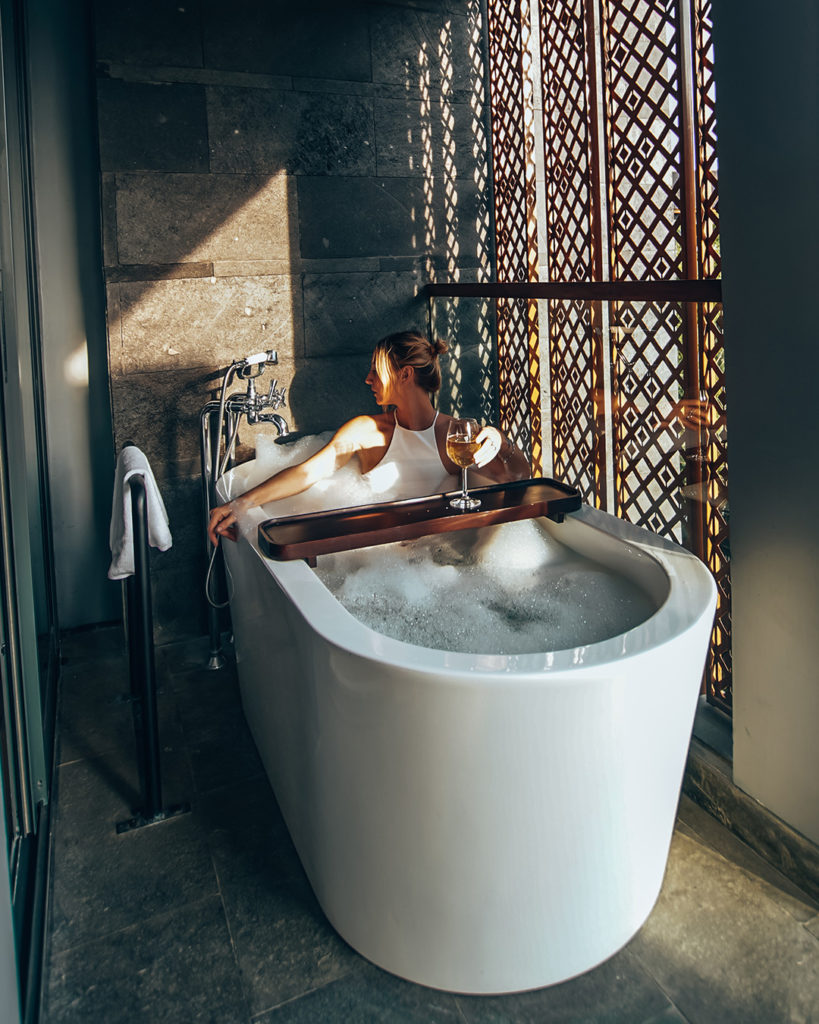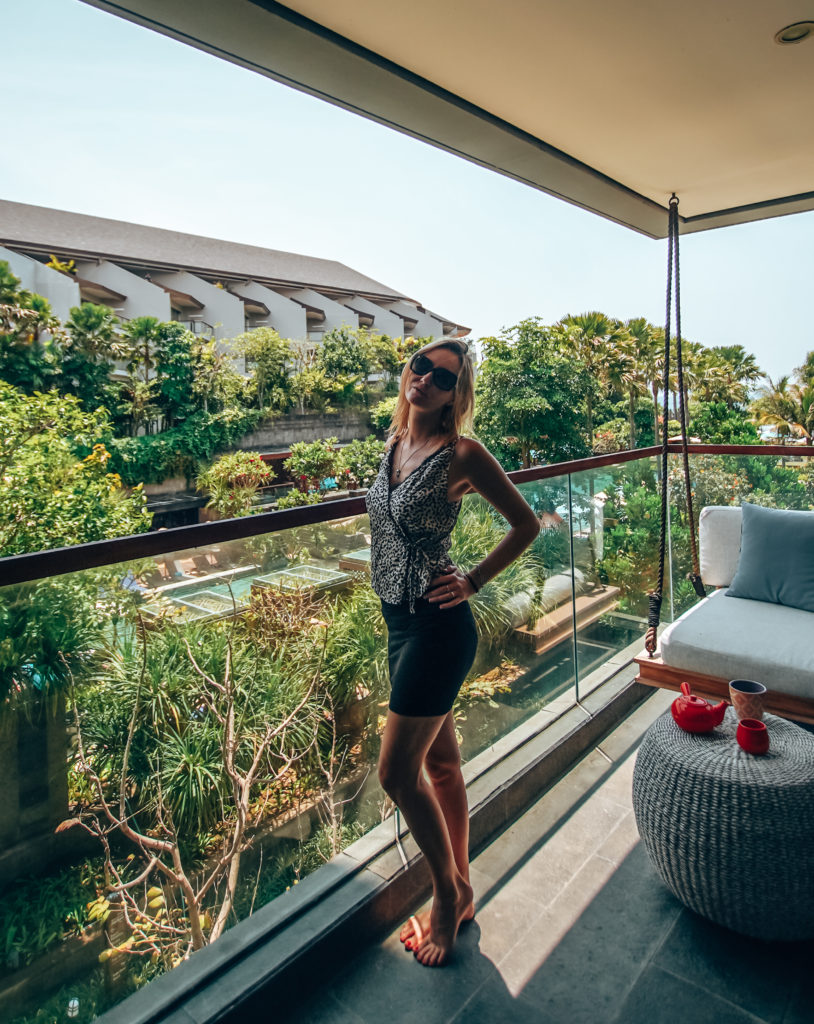 Pools at Hotel Indigo Bali
There are four outdoor swimming pools at Hotel Indigo Bali. The two main pools are located in the middle of the resort with plenty of lounge chairs and some private cabanas that offer a comfortable double day bed, perfect for couples looking for quiet time away from other guests.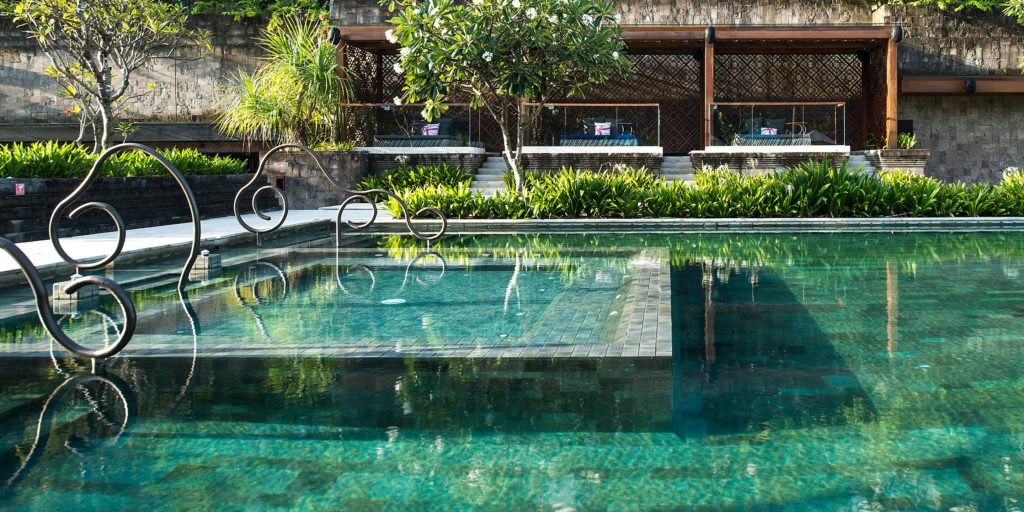 Nearby these pools, we could find the Cave pool lounge which has a nice cocktails & snacks menu with a fridge especially for coconuts to keep them cold.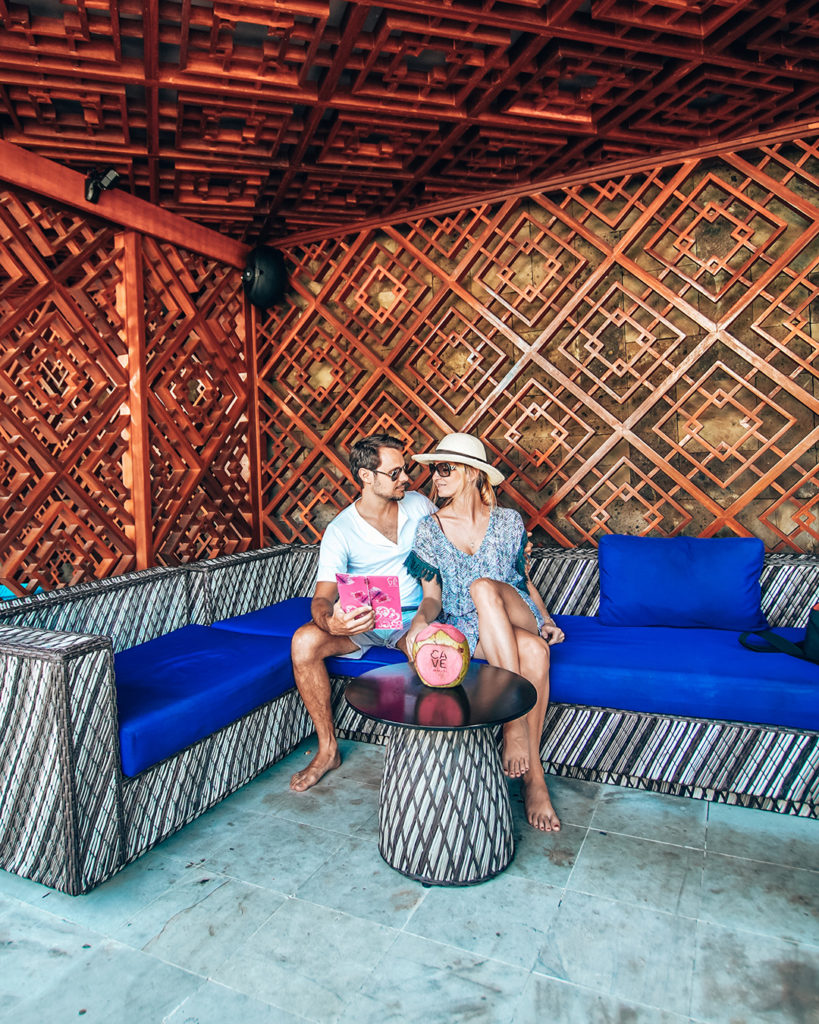 Another pool can be found at SugarSand beach lounge and bar. It is a great spot especially if you are in the mood for some cocktails and good music. It is also the best point to watch the sun setting over the Indian Ocean.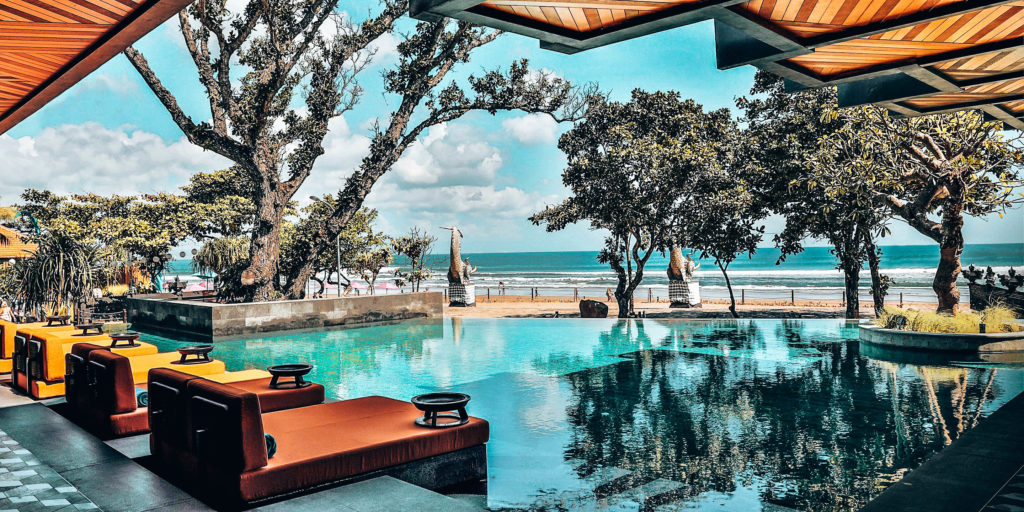 Finally, the fourth pool named the Secret Garden pool caters to adults-only. It is a very relaxing and peaceful place, surrounded by lush and tropical greens which are so refreshing. And the best of all, some hot tubs are integrated into the pool to enjoy a soothing time while soaking up in the sun.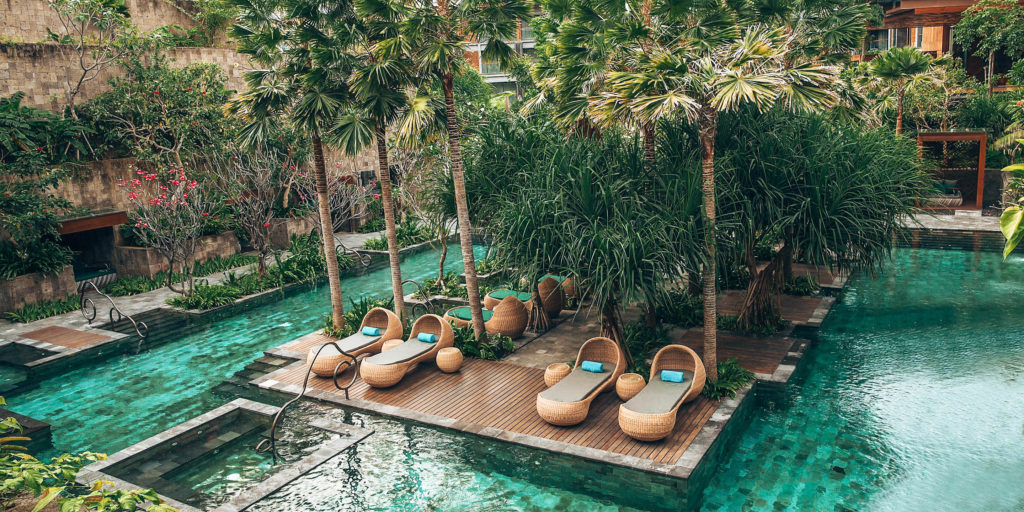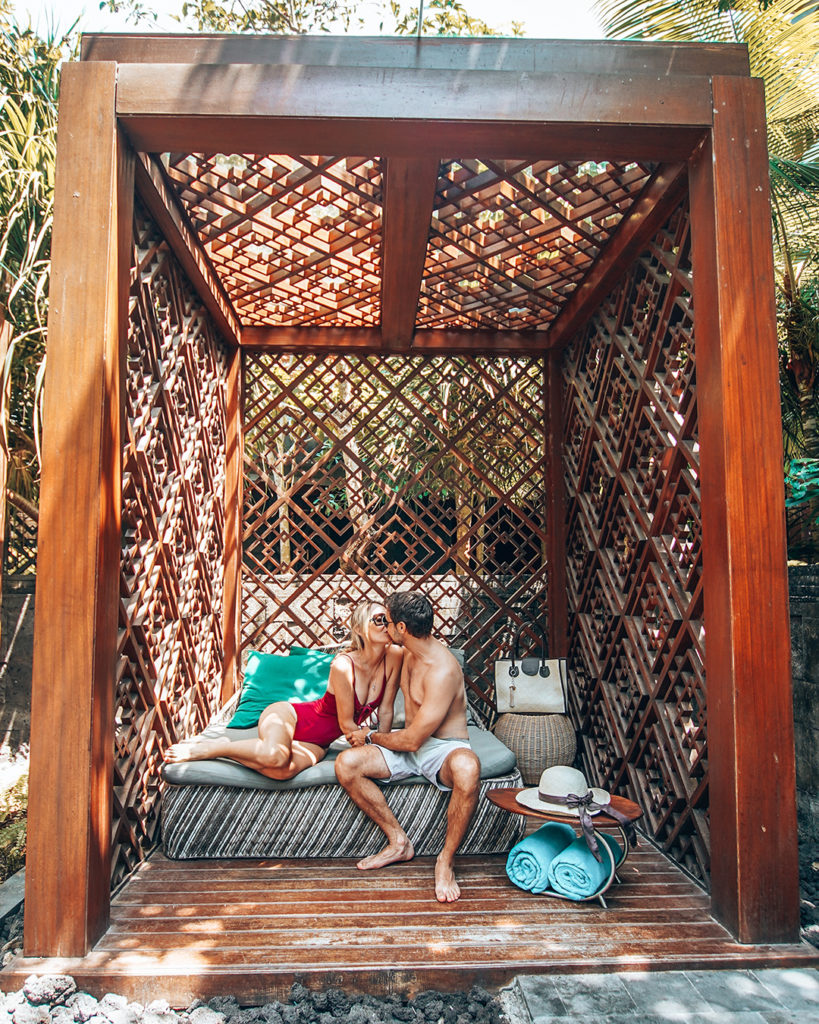 We really appreciated the fact that the 4 pools bring up totally different ambiances and styles. Moreover, although the resort was almost running at high occupancy, we had no difficulties to find a lounge chair each time we were looking for one.
Dining at Hotel Indigo Bali
Hotel Indigo Bali, offers a large choice of dining experiences with no less than six café & bar including a beach club with a pool lounge and bar, SugarSand. This is where we had our dinner for the first evening.
When day turned to night, the beach club switched to an intimate atmosphere filled with colorful lights and great tunes. Food came out beautifully plated and tasted as good as it looked. It was absolutely delightful to dine with the sea view in such a stylish and fancy place.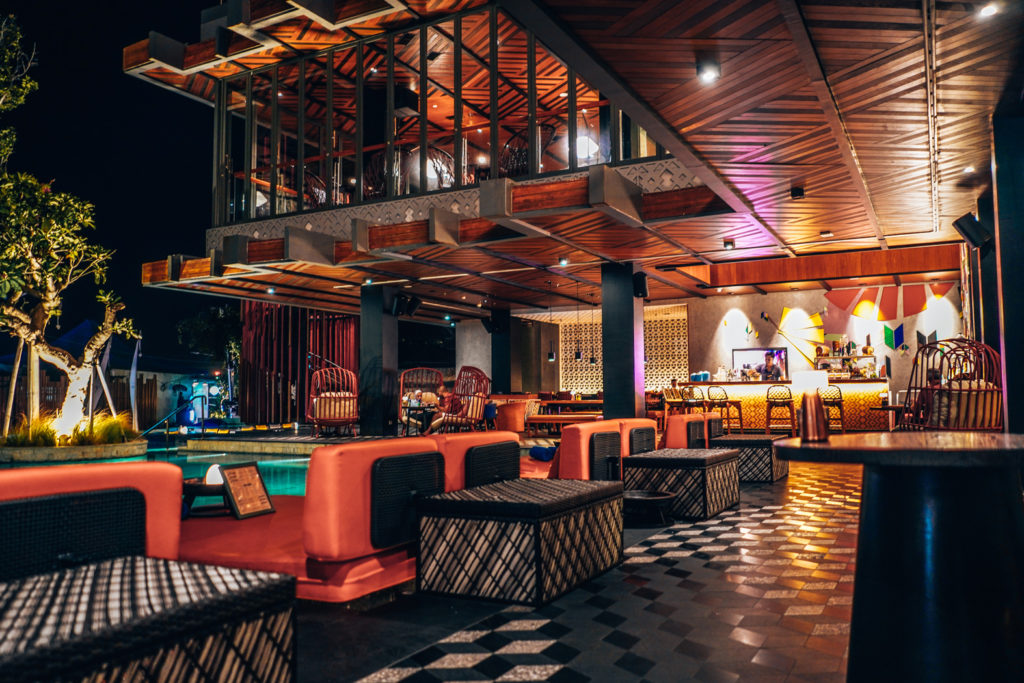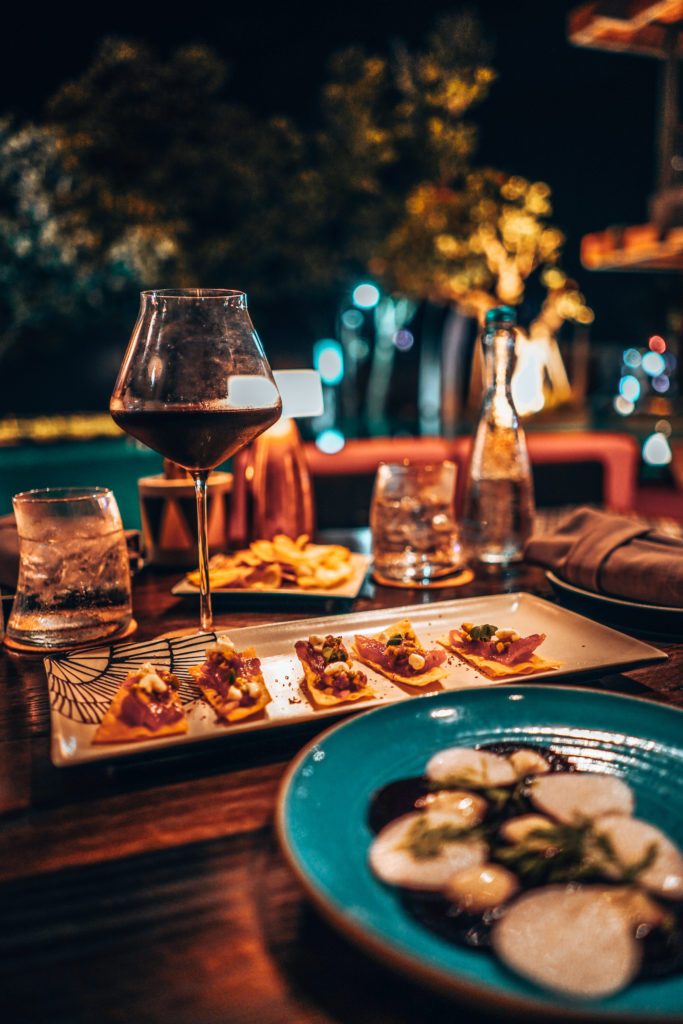 Romantic dinner at Secret Garden Pool
Our second night took a romantic turn…
We had the privilege of enjoying a private dinner set up only for us by the Secret Garden pool in a very intimate and cozy atmosphere.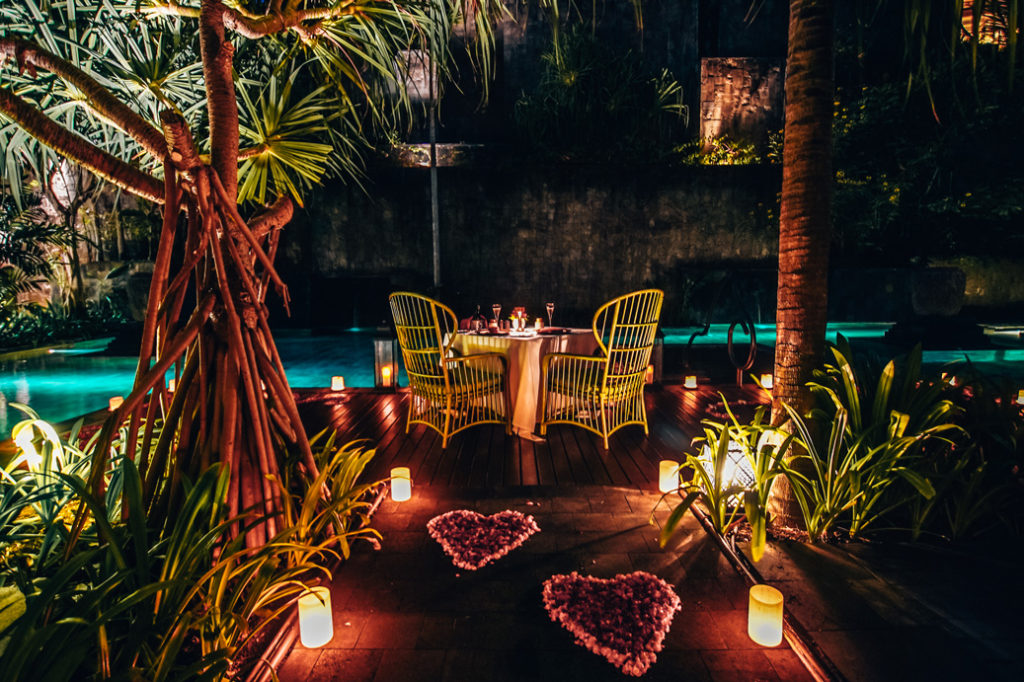 The lush and tropical vegetation gave us the impression of being in the middle of an enchanted clearing. Candles were placed everywhere, lanterns were hung in the trees, and there were on the ground, our initials and beautiful hearts drawn with rose petals. The 6-course dinner was simply divine, the dishes were sophisticated, and the service was perfect. A butler was specially dedicated to us for the whole evening and made sure to refill our glasses with champagne whenever they were empty. We had such a delicious and exclusive evening.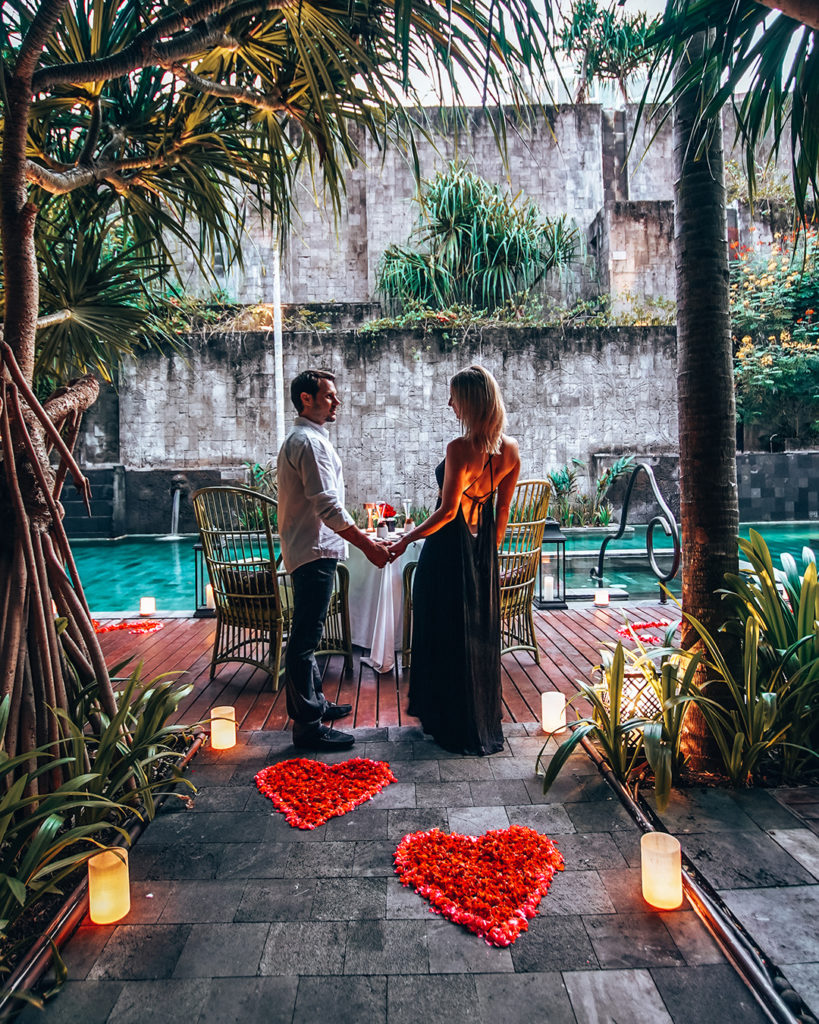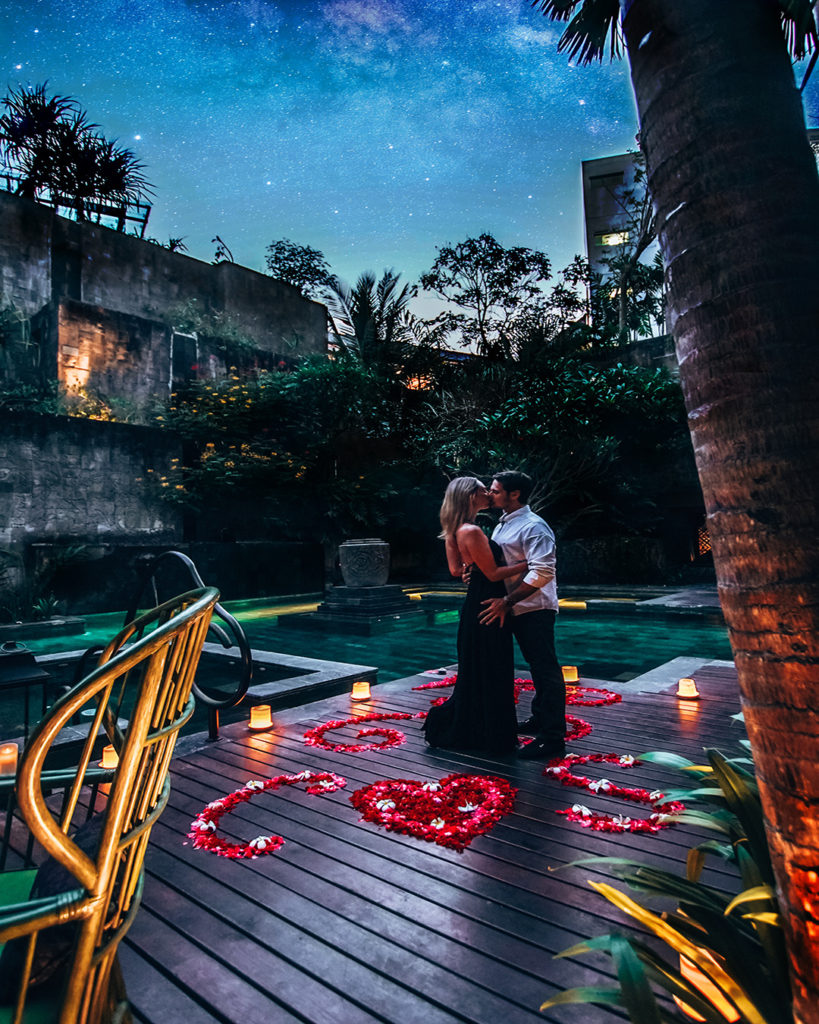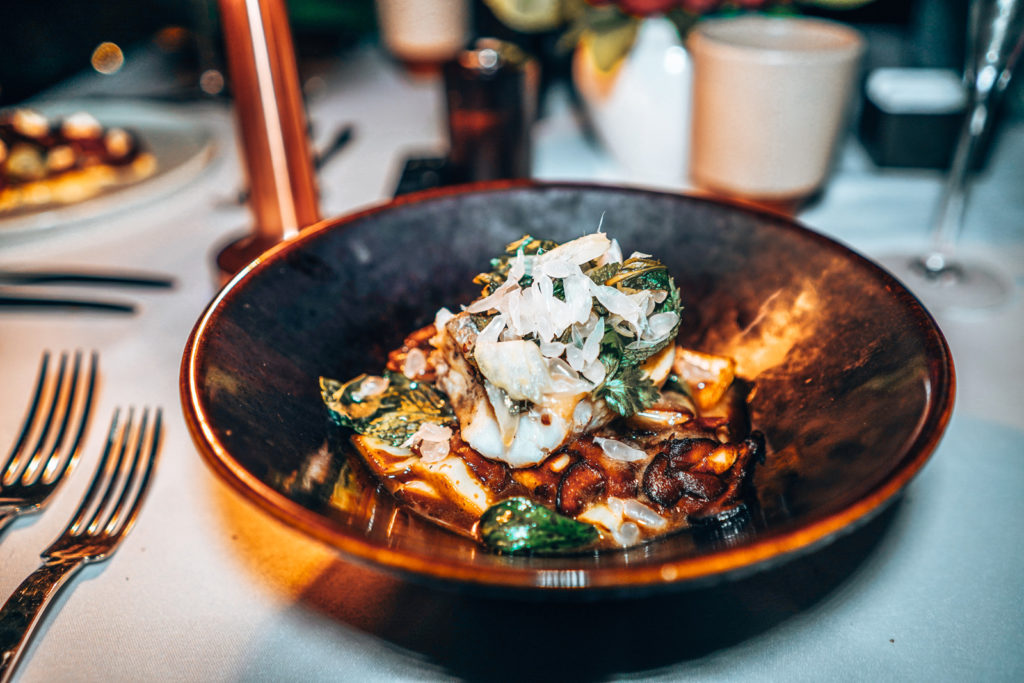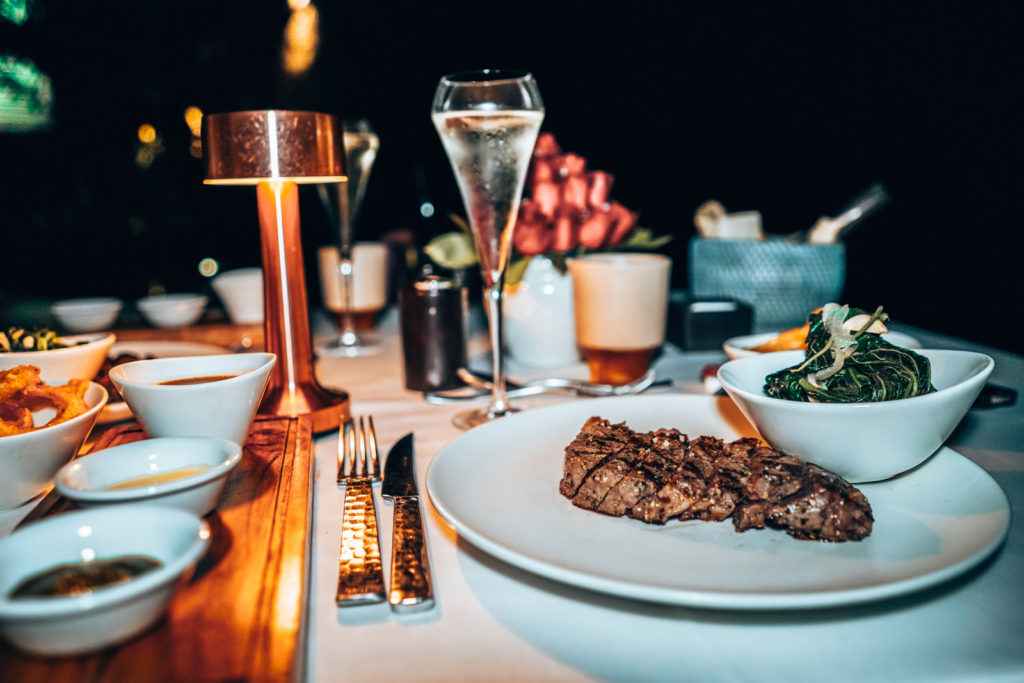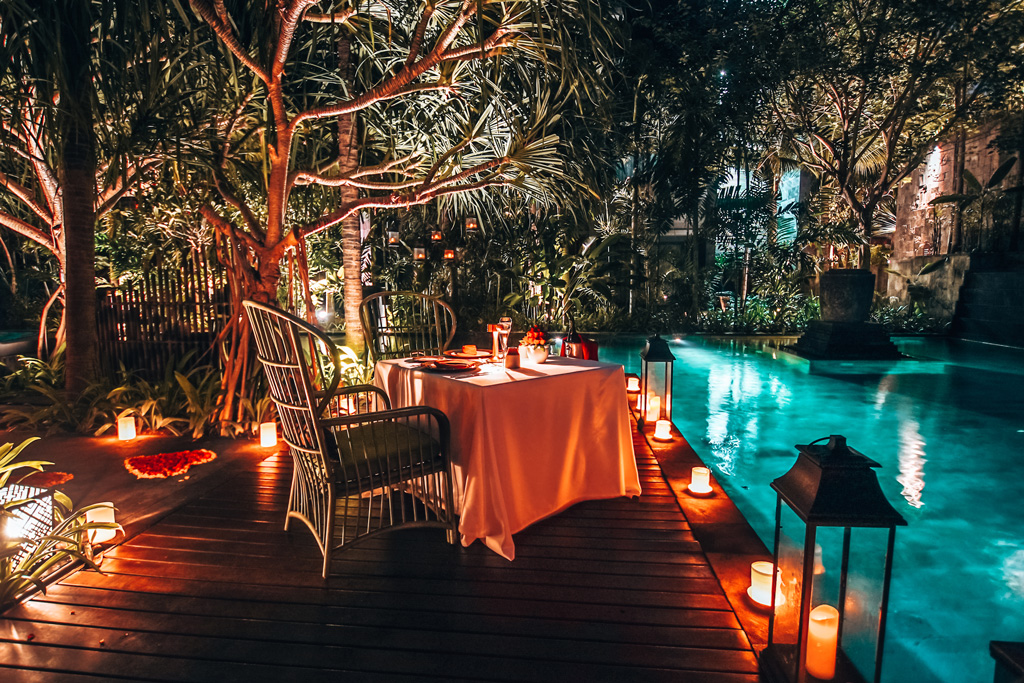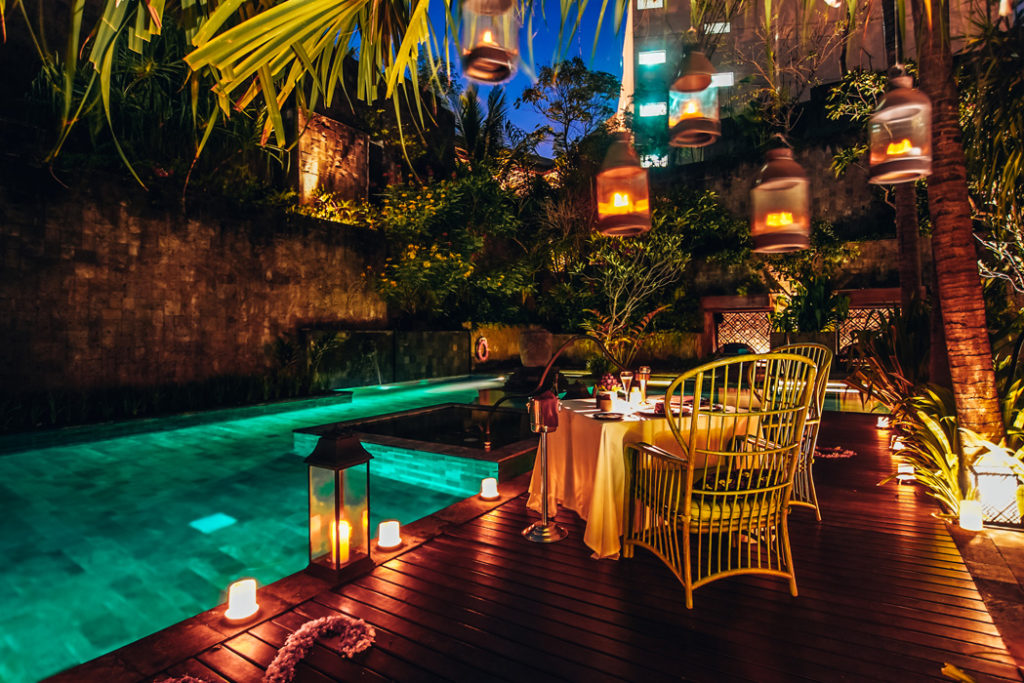 Breakfast at the Makase Restaurant
Every morning an extensive buffet breakfast is served at the Makase restaurant. There were several stations to fit everyone's taste from the classic stations offering eggs, cereal and continental dishes to the more luxurious artisanal cheeses & bread selection, fluffy pancakes, pastries and freshly pressed juices with organic fruits. There was also a choice of Indonesian and Chinese meal as well an A la carte menu included in the buffet breakfast.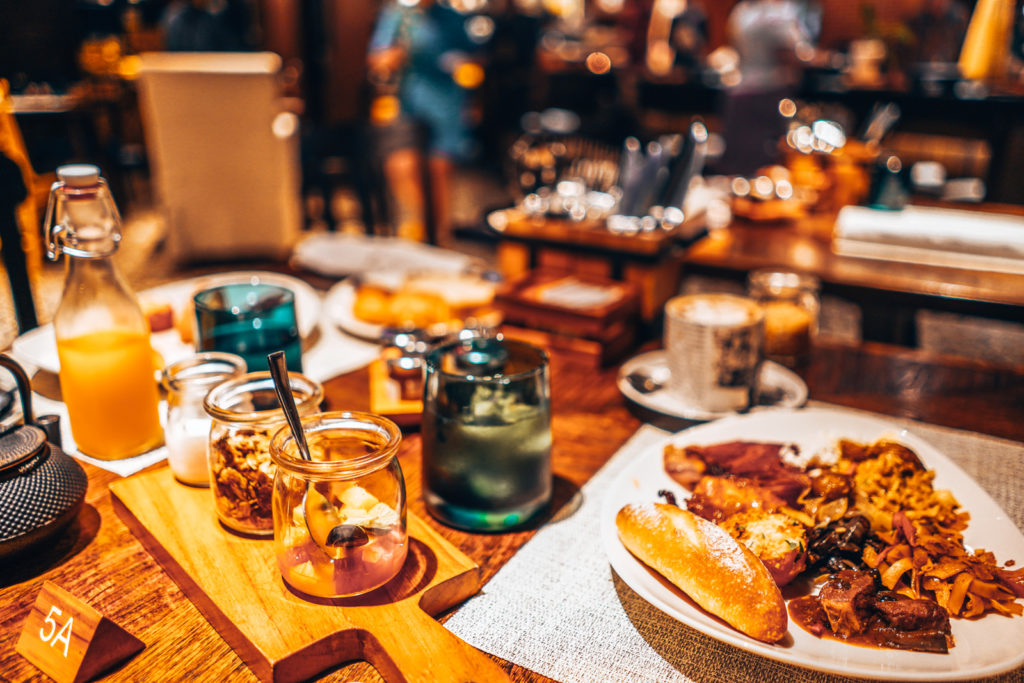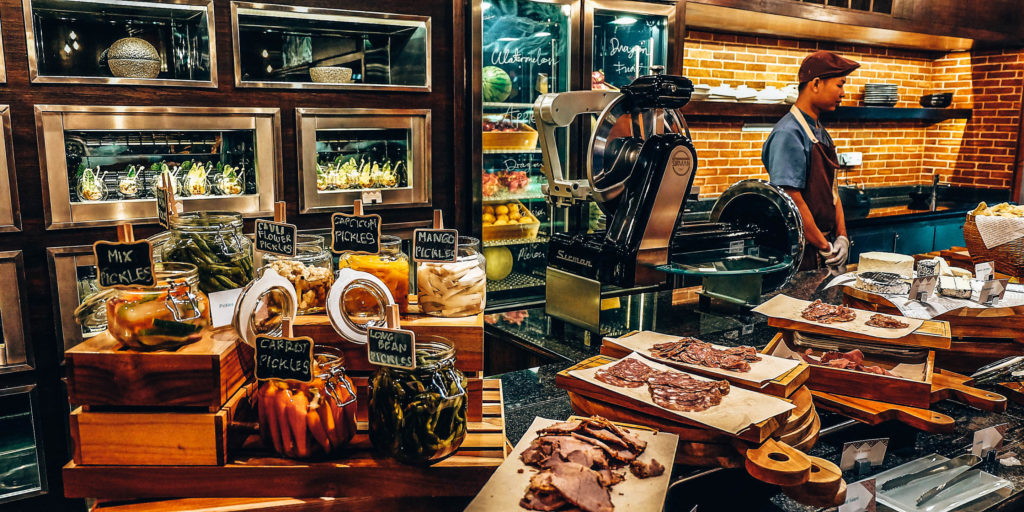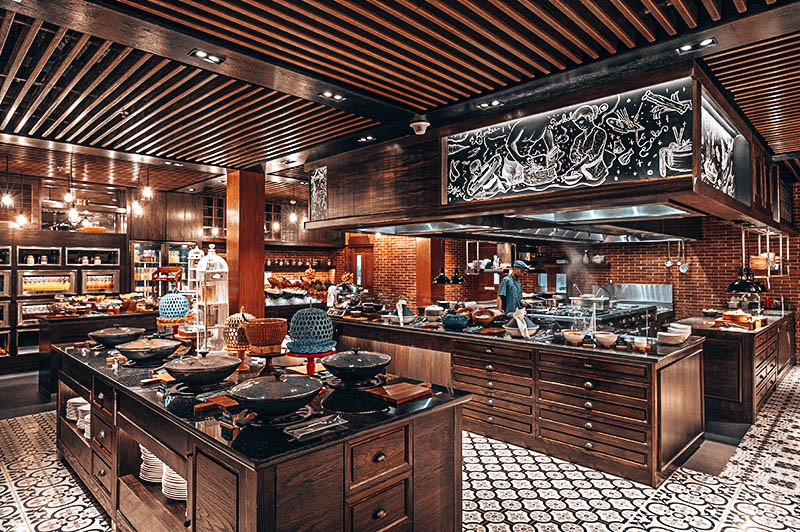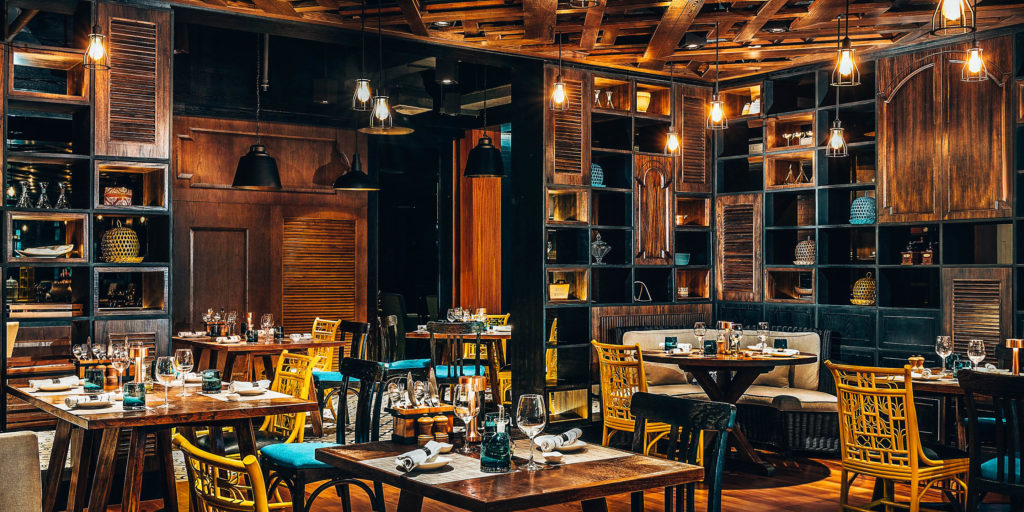 Room Service Breakfast in the Tirta Suite
We've always loved buffet breakfasts but we have to admit that, after we stay up late, it is such a treat to enjoy a complete breakfast in the comfort of our room. We ordered in bed, took our shower, and as soon as we were ready a lovely man was knocking on our door with a trolley full of perfectly arranged plates (much more beautiful than the one we do during a buffet breaky). As in most luxurious 5 star-hotels, hot dishes were kept inside a hot cabinet while the butler was delicately setting up our table. We had some delicious fresh pastries with homemade jam, some cheese, cold cuts, fresh fruit with yogurt and some eggs benedict. Everything was delicious and we truly enjoy this intimate in-room breakfast.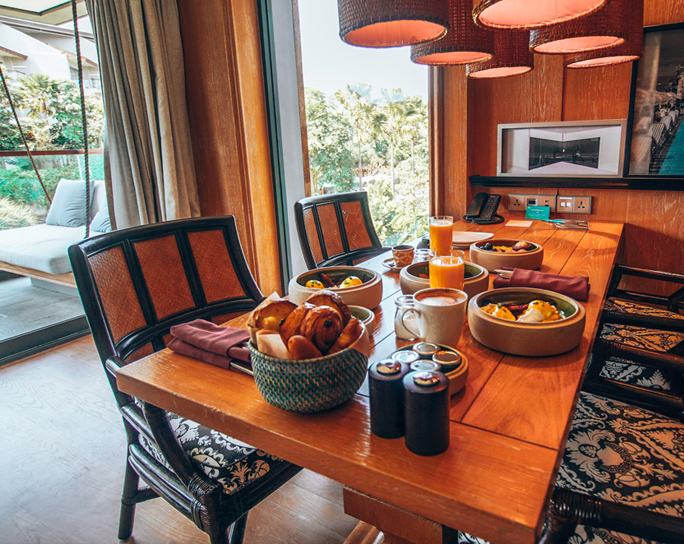 Wellness at Hotel Indigo Bali
Sava Spa was Crowned as The Best Spa in a 5-star Resort in Indonesia and offers a full menu of high-quality treatments performed with organic natural products and a holistic healing approach. Additionally, it has six couples massage rooms and 4 single rooms, Sava Spa also features a manicure and pedicure parlor as well as a dedicated reflexology room.
Unfortunately we didn't have time to fit in a treatment during our stay, but we visited the whole spa just before leaving the resort. The building that stands up in the middle of a decorative pool inspired by the Balinese age-old subak irrigation system truly left us speechless. This place is a masterpiece, a zen sanctuary, where we felt really positive and restorative vibrations just by walking around. Our only regret was we didn't book a treatment there…
In the same area as Sava Spa, the fitness center can be found, which is open 24 hours a day. The workout space offers a complete range of training equipment such as TRX suspension, free weights, space for yoga, cardio machines and a martial arts bag. A personal trainer service is available upon request.
Service at Hotel Indigo Bali
The one thing that's essential to a 5-star hotel is the impeccable service from warm and friendly staff that pay attention to every single detail. Hotel Indigo Bali takes this very seriously and even has dedicated staff ready, called Neighbourhood Hosts, ready to show you the hotel's surroundings and make sure you will see the best of the area with some local experiences and tailor-made tours.
Our thoughts on Hotel Indigo Bali
With large luxury guest rooms, opulent suites and villas, incredible service, excellent amenities, as well as a premium location, Hotel Indigo Bali Seminyak Beach checked all the boxes of a modern 5-star hotel. Now you know why this beachfront resort will fulfil all your needs providing you with an unforgettable tropical vacation.