Our favorite Sunday Brunch experiences in Bali
Brunches clearly became a trend over the years and are definitely a perfect way to spend a Sunday in Bali. Amazing fine food topped up with free-flow bubbles, wines and cocktails in the most luxurious hotels…
How does this sound?
RUMARI SUNDAY BRUNCH AT THE RAFFLES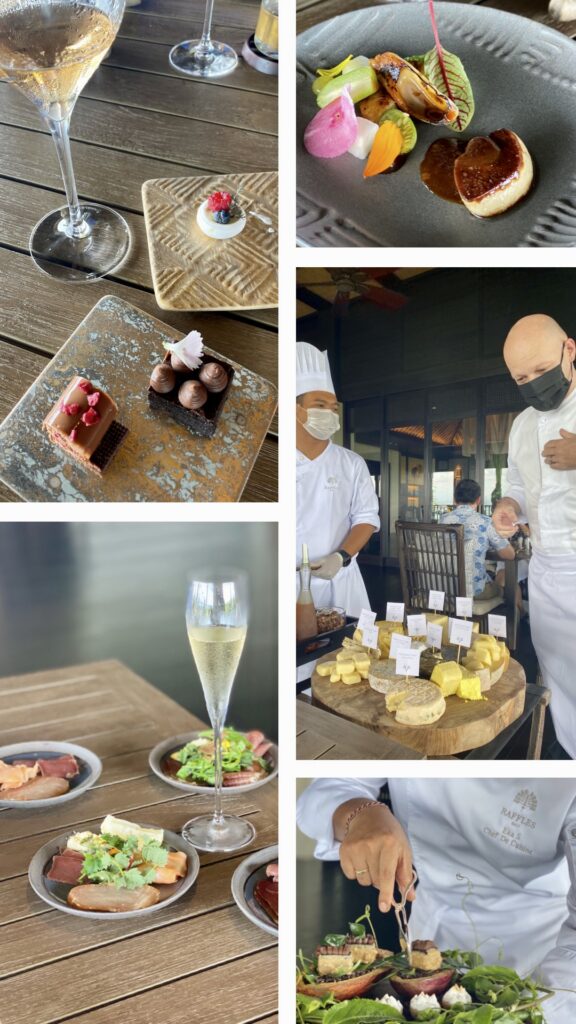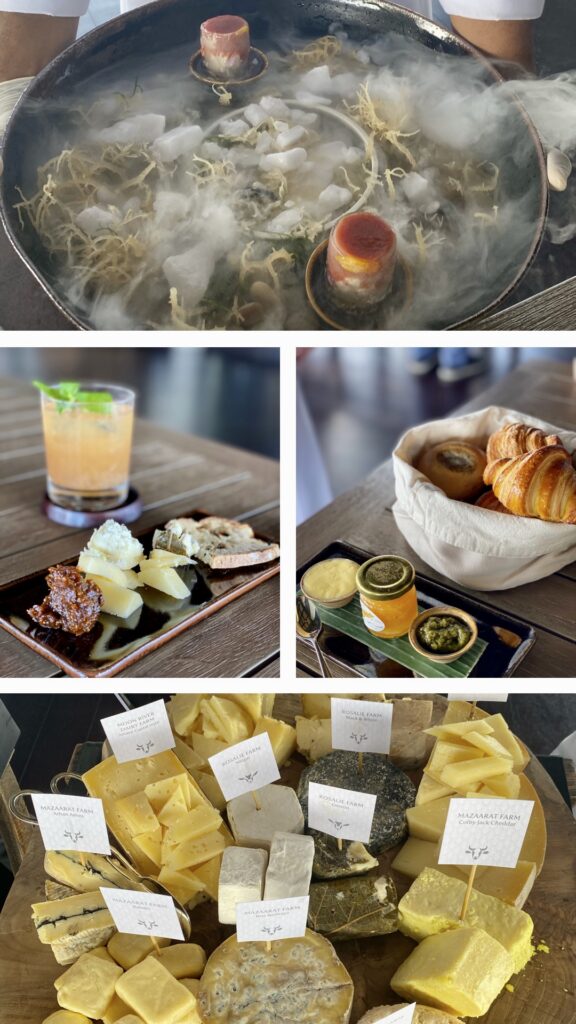 Let yourself fall for the newly launched, prestigious Rumari Sunday Brunch at Raffles Bali. Enter into a gastronomic oasis at the resort's highest point with gorgeous views of the Indian Ocean and Jimbaran Bay.
Chef Gaetan offers a lavish experience for any fine food enthusiasts seeking a chic and luxury culinary voyage in a sumptuous atmosphere.
The brunch is a perfectly paced mix between pass-around exquisite amuse-bouche, served table side delights and à la carte plated creations. There is an impressive selection of artisanal European style cheese produce in Indonesia as well as some of the best wine and champagne from France.
In addition, desserts are taken to the next level and are not to be missed as they are a sweet highlight of this brunch experience. An inviting dessert menu, as well as some ice cream and sorbets, are offered along with some pass around mini sweet creations and 'petit fours' served table side. Be prepared to stay until the end as you will never want to leave this enchanted paradise.
Good to know: each month 60% of the menu changes and this is great if you want to visit more regularly..
Must try:
-Pan seared Foie gras, exotic fruits and tamarind jus
-Artisanal cheese
-Desserts
Check out our blog post about Sunday Afternoon Jazz tea at Raffles Bali : https://thehoneydreamers.com/blog/experience-enchanting-sunday-afternoon-jazz-tea-at-newly-opened-raffles-bali/
Click here to get more information about Rumari Sunday Brunch at The Raffles Bali : https://www.raffles.com/bali/dining/rumari/
---
SEASALT SEAFOOD BRUNCH AT ALILA SEMINYAK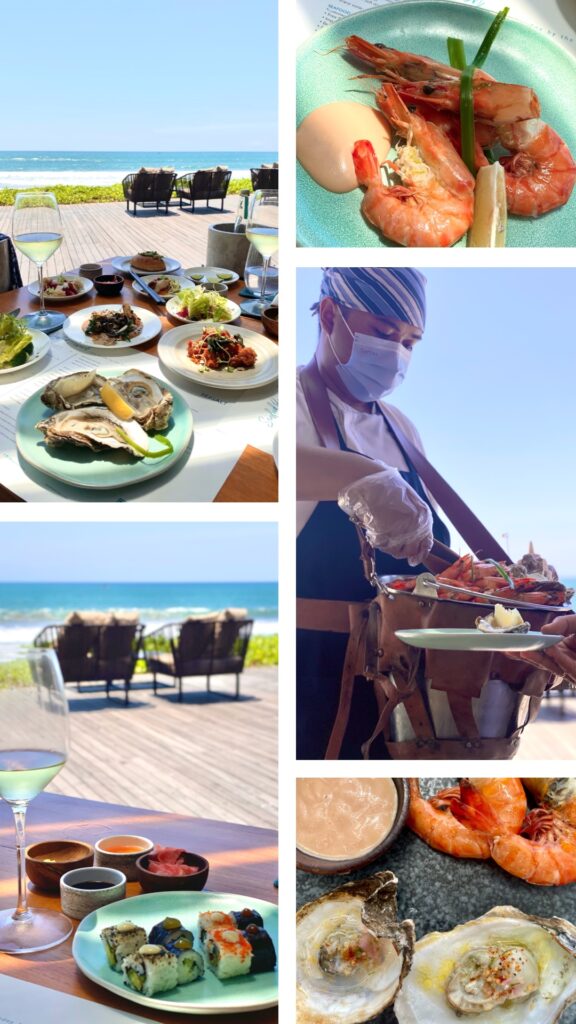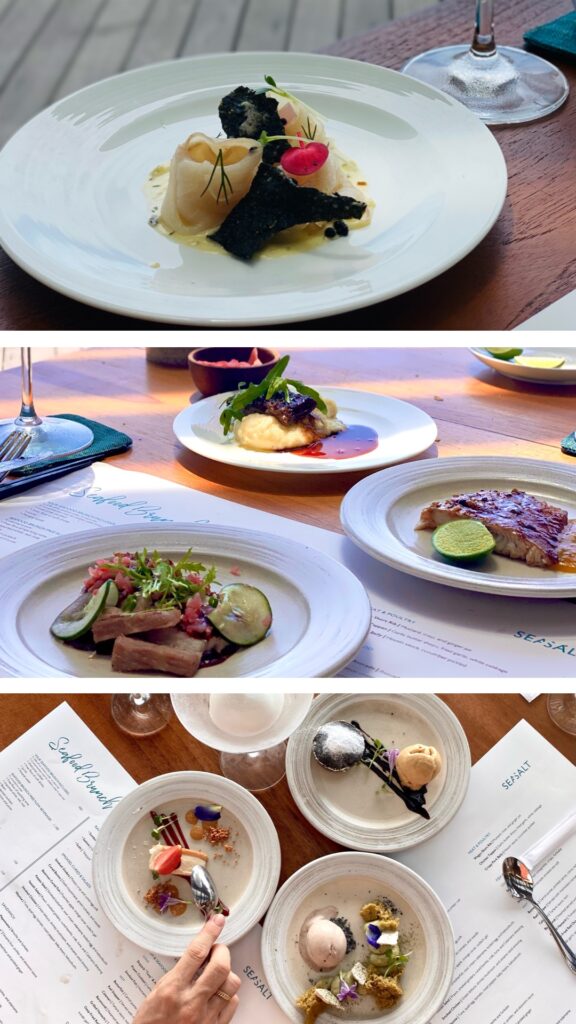 Feeling in the mood for an extravagant Seafood Sunday feast with the majestic Indian ocean as a background and a delicate sea breeze? Seasalt at Alila Seminyak beachfront resort has got you covered. Oyster and Prawn enthusiasts will be in heaven. The extensive menu features numerous creative dishes from the sea, delicious sashimi and sushi, excellent smocked and cured fish as well as a selection of salads, sandwiches, and fresh vegetables.  Those craving meat will be delighted to try the extra tender Wagyu Short Rib and the mouthwatering crispy pork belly.
Want to finish with a sweet touch? Seasalt has a special dessert menu that will satisfy the most demanding palates.
A special mention to the live music entertainment by the singer Phil Stoodley that set the perfect tone for a Lazy Sunday by the Sea.
Must try :
-Beetroot Cured Fish, Poached apple, orange caviar, sudachi gel
-Crab Mayonnaise, Brioche and furikake
-Sashimi, Gindara, Mahi-Mahi, Hamachi
Click here to get more information about Seafood Sunday Brunch at Alila Seminyak: https://seasaltseminyak.com/happenings/seafood-brunch.html
---
FIRE SUNDAY BRUNCH AT W SEMINYAK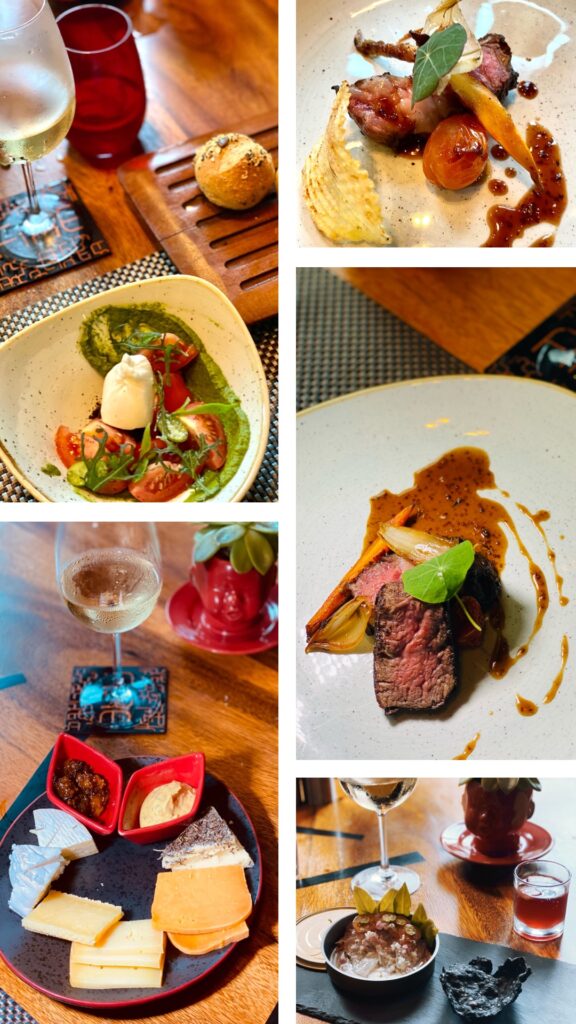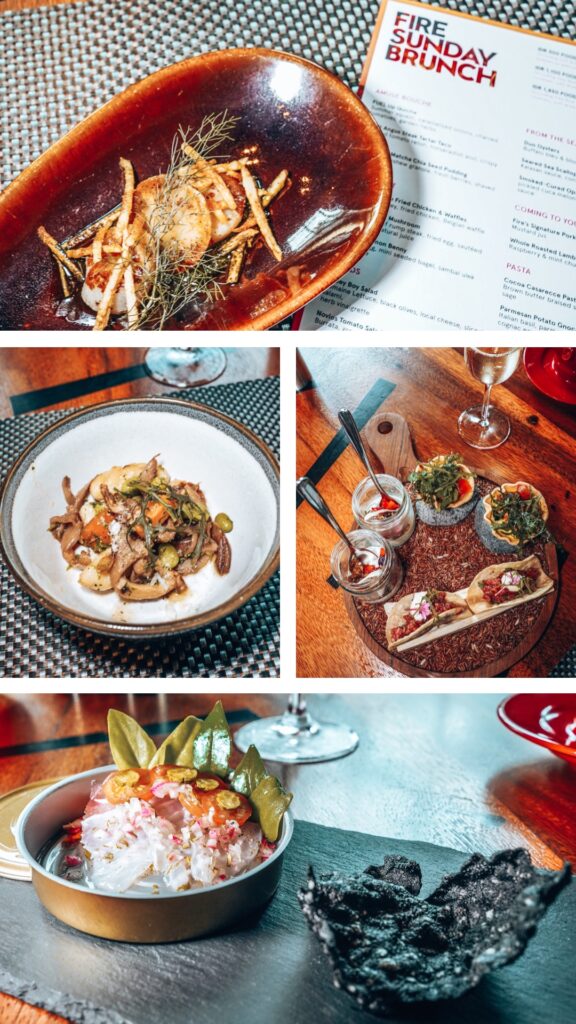 Get ready to start the experience as soon as you enter Fire Restaurant.
From spectacular high ceilings with colourful crystal chandeliers to the impressive floating velvet benches, to shiny black terrazzo floor and the maestro's open kitchen with chefs in action, everything is made to transport you to an eclectic place. Those willing to enjoy the view outside can also enjoy some seating on the terrace. The A La Carte menu offers a range of delightful amuse-bouches as well as a breakfast selection to begin.
The experience continues with delicious grilled whole pieces of meat served next to the table such as Fire's Signature Pork Tomahoawk and the mouth-watering Roasted Lamb Leg.
Several meat and fish dishes can also be ordered to give you a taste of what are the standout Fire grill restaurant's best offerings. To finish the feast, a locally-sourced selection of cheese is presented as well as a sweets trolley offering delicious desserts, ice creams, and sorbets.

Must Try :
Stockyard Black Angus 200+ Days – Strip Loin grass-fed Black Angus
Fire's Signature Pork Tomahawk, mustard jus
Parmesan Potato Gnocchi – Italian basil, parmesan, toasted pumpkin seeds, cognac emulsion
Click here to get more information about Fire Sunday Brunch at W Seminyak : https://marriottbonvoyasia.com/restaurants-bars/W-Bali-Seminyak-fire
---
KAYUPUTI SUNDAY BRUNCH AT THE ST. REGIS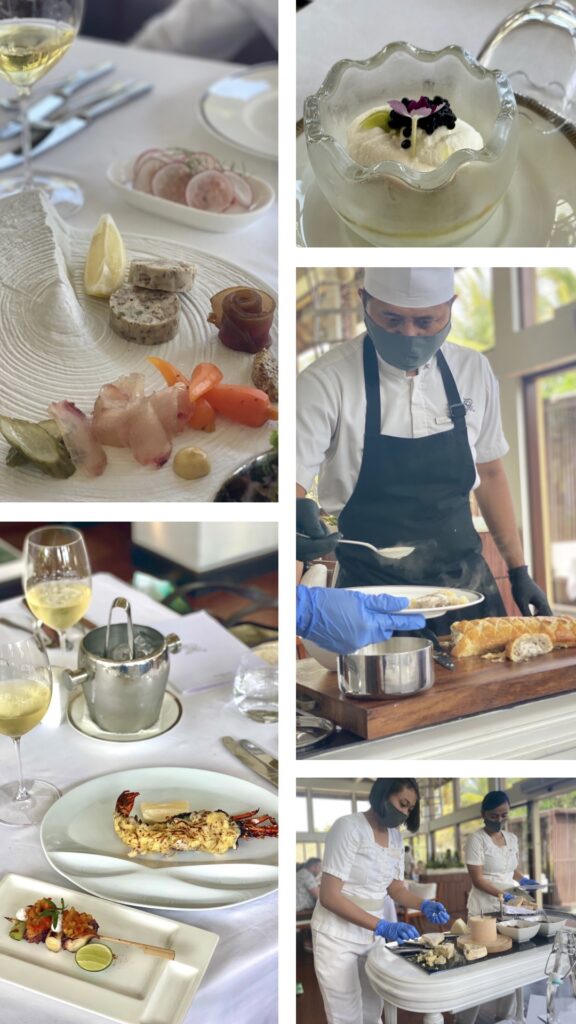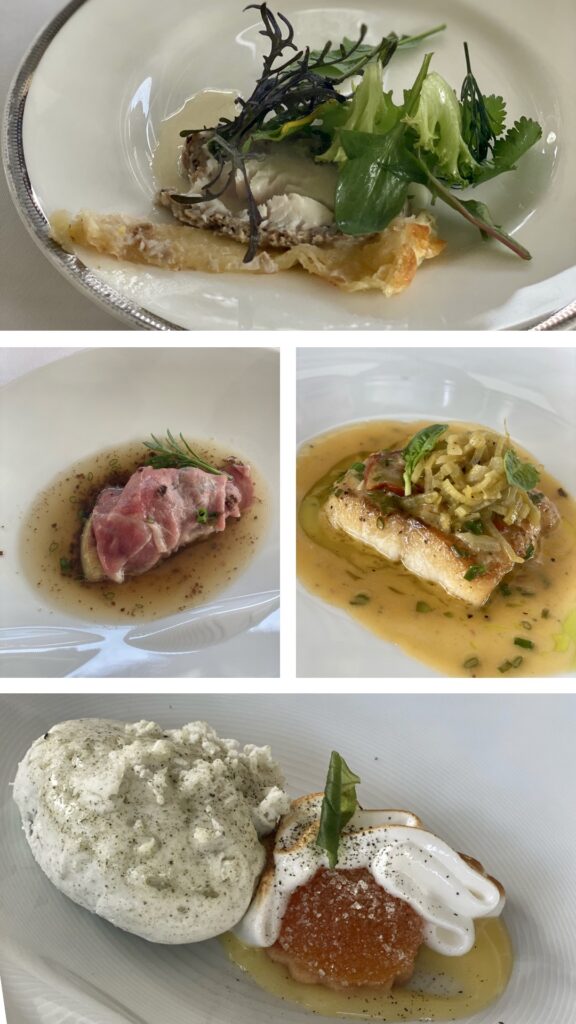 Embark on a gastronomic journey at the elegant and award-winning Kayuputi restaurant at The St. Regis Bali Nusa Dua.
Start your Sunday Brunch with complimentary refreshing cocktails from 11am-12pm while brunch runs from 12pm until 3pm. Get ready to indulge yourself with a unique experience prepared by Chef Agung Gede and his exemplary culinary team.
From the sophisticated Amuse-bouche and Entrées, to the original foie gras creations, from the international delicacies prepared à la minute to a selection of incredible dishes showcased at the table, you can rest assured you will have an unforgettable time with your loved one at one of the island's finest addresses.
Must try :
-Foie Gras "Rossini", Wagyu beef carpaccio, mushrooms, roasted onion broth
-Bamboo Lobster – mushroom gratin
-Bali coffee soufflé, Gianduja – coffee velouté, insomnia ice cream
Read more about St-Regis Bali in our full hotel review blog post :https://thehoneydreamers.com/blog/dreamy-staycation-at-the-st-regis-bali/

Click here to get more information about Sunday Brunch at The St-Regis Bali: https://www.marriott.com/hotels/hotel-information/restaurant/details/dpsxr-the-st-regis-bali-resort/5968687/
---
PREGO ITALIAN SUNDAY BRUNCH AT THE WESTIN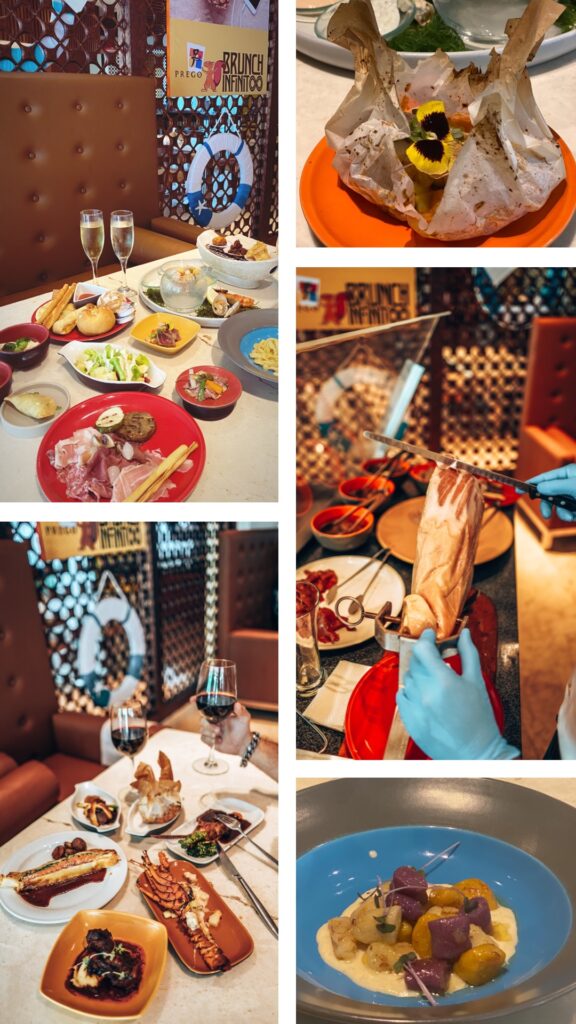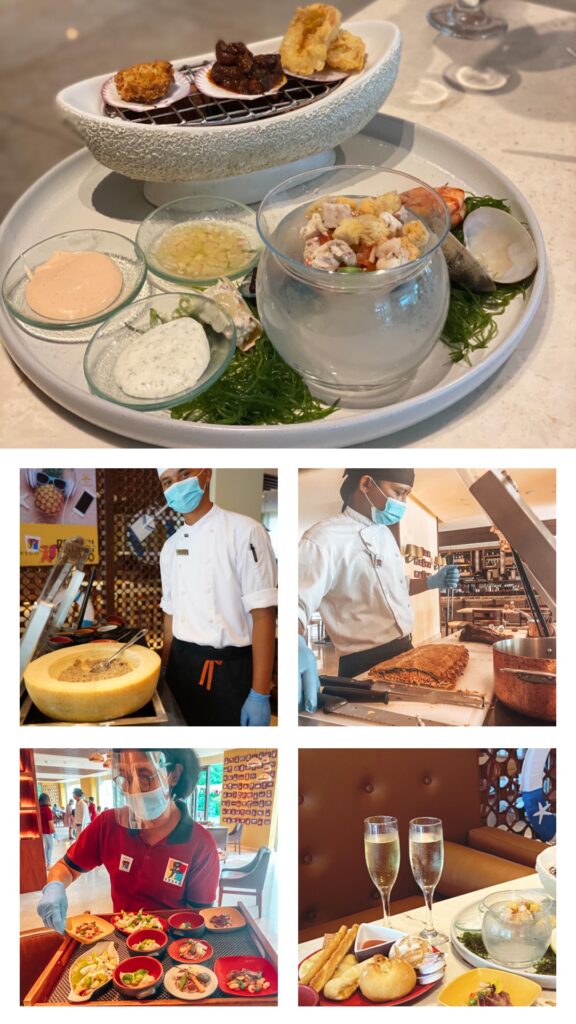 Those in search of authentic Italian food will find happiness at Prego at The Westin, home to Bali's first Italian brunch.
In a warming and family friendly atmosphere, Brunch Infinito offers an extensive A la carte menu with delicious starters, passed around antipasto, pizza and pasta, as well as a large selection of excellent seafood and meat. Half of the menu, including Norwegian salmon, cold cuts, roast beef, risotto and cheeses is served by the table by the chefs. To wrap up the day, a full range of inviting desserts are also available along with a live station of Crepe Suzette, ice cream, chocolate fountain and cotton candy.
Parents that want to enjoy some good times can rest assure their little one is taken care of at the garden located in front of the restaurant, supervised by the team from Westin Family. A play zone is available, and some games and activities are organized during the brunch. Moreover, all brunch guest is entitled to free access to the resort's swimming pools, beach and free rental of resort bicycle (based on availability).
Must-Try :
– Seafood platter – Timika crab tartare, Mussels, Poached prawns, Fried crispy calamari, Pan seared moon scallops, Tuscany slow-cooked octopus
– Norwegian salmon with ricotta cheese and spinach wrap in puff pastry
– Orata Al Cartocccio – Baked sea bream with cherry tomato and basil

Click here to get more information about Sunday Brunch at The Westin Bali : https://www.marriott.com/hotels/hotel-information/restaurant/dpswi-the-westin-resort-nusa-dua-bali/